Comics
Published December 21, 2017
Doctor Strange: Rivals
Donny Cates weighs the similarities between Stephen Strange and Loki!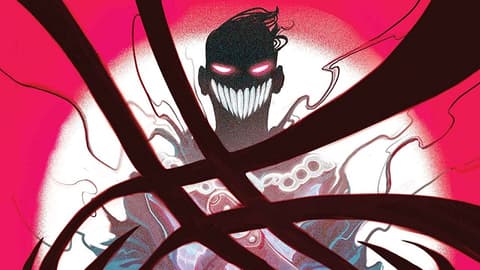 Ceding the title of Sorcerer Supreme to Loki never factored into Stephen Strange's plans. But plans—like Sorcerers Supreme—change.
In response to the situation, issue #383 of DOCTOR STRANGE saw the enchanter travel to his rival's home realm of Asgard, where he communed with the World Tree to gain strength and prepare for the journey ahead. And on January 17, writer Donny Cates and artist Gabriel Hernandez Walta continue to escalate this swelling magical storm in DOCTOR STRANGE #384!
We caught up with Cates for his insight into where Strange stands ahead of the new issue.
Marvel.com: Stephen has bound a powerful spell, "the Exile of Singhsoon," to the souls of the people he cares about. What might he eventually use it for?
Donny Cates: Stephen talks about the Exile of Singhsoon as the kind of "break in case of emergency" spell. It's supposed to be just for the Sorcerer Supreme, and it's something that Stephen just hates—he doesn't think that anyone should have that much power. And he doesn't believe in himself enough to be able to use it.
So yeah, he's been hiding it in the souls of people he loves. He's confident that he could get it out if he absolutely had to, but it's an incredibly difficult thing to. He did this because the risk of pulling it out could potentially rip someone's soul and kill them—or at least kill their eternal soul. If push came to shove, I tend to believe that Stephen would use it if he could guarantee that he could extract it out without hurting those people. But the problem here is that Stephen doesn't believe that Loki can do it, and doesn't believe that the God of Mischief will have the same gentle hand that he would. He actually calls it a surgical procedure.
Stephen kind of sees Loki as this bull in a china shop, which, if you read the series, isn't an entirely founded fear. Loki hasn't done anything wrong outright. It's really a failing within Stephen to see that Loki might not be what he thinks. So you find Stephen having what could be, in my personal opinion, an overreaction.
Marvel.com: In issue #381, Loki shows Jane Foster that the Frost Giants have plans to invade Earth—and says he's trying to stop them. So Stephen assumes that Loki wants access to the Exile of Singhsoon for his own selfish ends, but maybe he actually has nobler intentions?
Donny Cates: If you're Stephen Strange, you only have history to go on. And with Loki, history's really not on his side when it comes to trust. I mean, he's the God of Lies! So I think Stephen has good reason in his own heart to not believe that Loki has the greatest of intentions with this thing. But, so far, Loki hasn't given us—the audience—any reason to think that his motives are anything but pure.
But that's the great thing about this Loki: after Kieron Gillen brought him back from the dead, he gave him a blank slate. He can kind of trick you, the audience, into trusting him as well—he's not this mustache-twirling bad guy anymore. But we won't know until we know!
He surprises me, too. Sometimes, I'll be writing Loki and then, in bed that night, I'll realize, "Oh wait, he was lying!" He was lying to me on the page, right to my face!
Marvel.com: Stephen also has something hidden in a locked room in the Sanctum Santorum. Without giving too much away…could he potentially use it against Loki?
Donny Cates: Come on! You put a big, secret room in the middle of a story about sorcerers and gods fighting each other—it's a big deal!
Marvel.com: And Sentry has come into play too. Can you give us any hints about how he might join in?
Donny Coates: I don't think it's that weird that, of all the people in the Marvel Universe, Strange knows where The Sentry is; he's Doctor Strange, he knows everything. And when you bring a character like that into this story specifically…The Sentry and The Void killed Loki last time. So that's something that I know and something that Stephen knows. When you want to find something that can scare the crap out of a god, well, The Sentry's a pretty good candidate.
Marvel.com: It seems like Stephen has started weaving together a bit of a sneaky plan in the same way Loki would…
Donny Cates: Yeah, that's the interesting thing, right? That jumped out at me when I was writing this book, too. There's a scene in issue #382 where Bats, his little talking basset hound friend, basically says, "You've really got to start lying to your patients, Doc." And Stephen says, "I'm not overly fond of liars"—a fun little nod to how much he hates Loki. But then, in the next panel, Bats says, "Oh cool, do you want to hear about that super secret spy thing that you sent me on?"
Stephen doesn't even get that he's being as duplicitous as Loki. And the idea that he hid these things in the people he loves, without their knowledge…it makes them very similar characters. They both have their own very secret agendas. And as we go along, I think it's quite obvious that this whole thing will lead to a pretty grand confrontation between this man and this God. And as we'll see, these two are more alike than either of them would ever care to admit. They both keep things close to the chest in a way that continually comes back to bite them. I'm very attracted to the way that those to characters vibrate against one another.
I might have been the happiest boy in the world when I went to "Thor: Ragnarok" and saw those two guys talking to each other in the Sanctum!
Marvel.com: Would you like to tease anything else?
Donny Cates: I hope that, after reading DOCTOR STRANGE #383, people will forgive me a little bit for the death of Bats. There's a payoff to that moment. If you thought that the emotional strangling that I was doing of you in issue #382 was over, it's sure not!
You know, it's always a bummer when a dog dies. But part of the reason I wanted to do that, and to make Strange a vet, was that my cat died the same month that I got the DOCTOR STRANGE gig. She was my best friend and she sat on my lap when I wrote. When she passed away, the veterinarian's office was great and they were like my heroes. So I thought that'd be a noble choice for Stephen. Because he's a little bit different for a Marvel character in that he was a hero, saving lives, before becoming a super hero. He was a doctor. A lot of people only know him as hero because he operated on them and saved their lives. That's a really cool part of his character that sometimes gets glossed over. So to find Stephen now kind of dethroned but still finding a way to be people's hero every day is, to me, very beautiful.
Donny Cates and artist Gabriel Hernandez Walta's DOCTOR STRANGE #384 drops on January 17!
The Hype Box
Can't-miss news and updates from across the Marvel Universe!