Comics
Published August 25, 2017
Doctor Strange: Supreme Mischief
Donny Cates conjures up magical plans for Marvel Legacy Doctor Strange!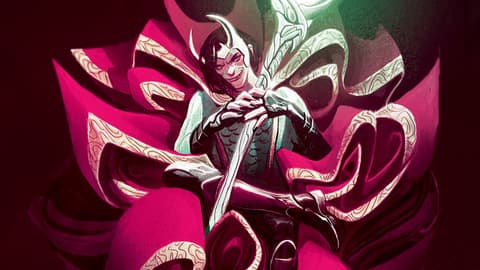 After battling the magic-purging forces of the Empirikul and being held captive in a Darkforce prison during the events of Secret Empire, you might think Doctor Strange would need a vacation. Well, at the outset of Marvel Legacy, the Doctor is out—and Loki is more than willing to take his spot!
The God of Mischief becomes the new Sorcerer Supreme on November 15 as writer Donny Cates and artist Gabriel Hernandez Walta take the reins of DOCTOR STRANGE with issue #381!
We spoke with Donny to hear a few whispers about what to expect when the Lord of Lies becomes the chief master of magic in the Marvel Universe.
Marvel.com: Writer Jason Aaron and artist Chris Bachalo put Stephen Strange through the ringer recently, culminating with the Doctor getting locked in a Darkforce prison by Captain America. Does the poor guy get any downtime before Loki steals his job?
Donny Cates: Oh not at all! [Laughs] The Doctor has had a pretty rough year, and I'm sad to report that I'm not much nicer to him than the previous captains of this ship! But that's not to say this arc isn't going to be fun, because honestly, when you have both Stephen Strange and Loki in the same book, it's just going to be so much fun. And so, so weird!
Marvel.com: So how does Loki end up as Sorcerer Supreme?
Donny Cates: You know I can't tell you that! I'll say this, though: we do not tease out and play coy with the way that that Loki achieves. It's stated upfront, and honestly, in the first issue of my run.
Or is it? I mean, he is the Prince of Lies, right?
Marvel.com: Given Strange's recent problems—not to mention the compromised state of his magical powers—how will he handle the Asgardian trickster?
Donny Cates: Not well. In a lot of ways, this story shares its roots in the origin of DOCTOR STRANGE itself. With his ego laid low—and his previous profession taken away from him—he heads on a new journey of self-discovery that will challenge him to grow stronger and reclaim his life and his identity.
Marvel.com: Speaking of which, this seems like it might be a good opportunity for a crossover. Will we see any other Asgardians in the title?
Donny Cates: Well, I might be the biggest THOR fan alive, so if that were to happen, I would certainly love writing such a thing.
Marvel.com: What's it like working alongside artist Gabriel Hernandez Walta and colorist Jordie Bellaire on this title?
Donny Cates: Unbelievable. Honestly, people are not going to believe the art coming from Gabriel and Jordie on this book. The most frustrating thing is that I can't just share all of this amazing artwork with the world as soon as it hits my inbox. I think I can speak for the entire team when I say our days essentially grind to a halt when Gabriel turns in pages. We all just stop what we're doing and stare at this gorgeous art that he's made. It's unreal.
And Jordie! I don't have the words to express how excited I am to finally work with one of my favorite creators in the industry. I'm very, very fortunate to be working with this crew. I'm fighting above my weight class for sure! Just doing my best to keep up with these artistic titans.
Marvel.com: You recently mentioned how much you enjoyed writing a despicable Captain America when discussing your collaboration with Nick Spencer on Steve Rogers: Captain America #18. And now, between THANOS and Loki, you're working on two titles featuring bad guys in prominent roles—what makes villains so much fun to write?
Donny Cates: I had a blast writing Cap. I co-wrote that scene of him addressing the United Nations, and I just channeled my inner pro wrestler and went nuts.
With Loki, though, I think it's important to realize that he's no longer the mustache-twirling bad guy of old. He really is trying to atone for the sins of his past, you know? Kieron Gillen's JOURNEY INTO MYSTERY run is a wonderful story that really exemplifies that sentiment. I love that run, and it's become a touchstone for me when writing the character. The wonderful thing about Loki these days is that, while he is trying his best to change his ways and be a better god, no one on Earth (or in any realm, really) trusts him as far as they can throw him.
So it's a constant exercise in restraint for our trickster friend. He's not used to having to bite his tongue and suffer people's judgment—but at the same time, he very much understands that this general mistrust is his own doing; that he sowed those seeds himself in a past life. So he's a very interesting character to play with, and I think his role in all of this new story will surprise a lot of people.
DOCTOR STRANGE #381, by Donny Cates and Gabriel Hernandez Walta, hits shelves on November 15!
The Hype Box
Can't-miss news and updates from across the Marvel Universe!