Comics
Published January 17, 2017
Drawing the Avengers Together
Artist Mike del Mundo pits Earth's Mightiest Heroes against Kang in a time-warping epic!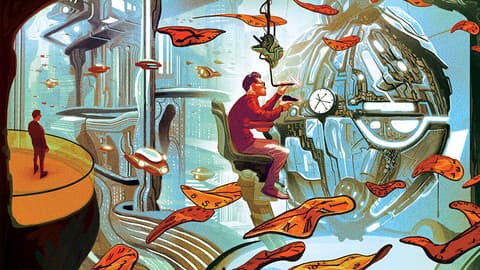 Even the mightiest of hero teams struggle to start off on the right foot. The Avengers know this better than anyone as many of their rosters—including the original one—came together under unforeseen circumstances.
In the latest AVENGERS series by Mark Waid and Mike del Mundo, that tradition carries through as this squad—consisting of Spider-Man, Thor, Hercules, Captain America, Vision, and the new Wasp—tries to figure out where they stand with one another in the wake of Civil War II. As if that didn't put enough on an already full plate, they also have to face off against one of the team's deadliest and most powerful enemies: Kang!
We talked with del Mundo about working with Waid on a seminal title, balancing these heroes off of one another, and the joys of designing a variety of villains.
Marvel.com: You're no stranger to team books, but is there an added element to a group when they're Avengers?
Mike del Mundo: For sure; [AVENGERS] is the staple team book of Marvel.
Marvel.com: This new Avengers book came out of a troubling time in the Marvel Universe with Civil War II. How has that changed the way you draw these characters while in action?
Mike del Mundo: There hasn't been a conscious change in a how I draw but I have noticed I've been drawing them with more of a chip on their shoulder since the aftermath of Civil War II. More angry squinting and eyebrows mainly targeted to Peter Parker. [Laughs] Now that you've mentioned, the only smile I've drawn is from the villains. The irony!
Marvel.com: It's a diverse looking group from Herc's raw physicality to Vision's synthezoid nature. Do you enjoy playing with all of those different elements on the page?
Mike del Mundo: Absolutely; there's so much to play with I can't get bored. I think that's the trade off with a team book. There's a lot of characters to draw but a lot of different elements to play with and discover to keep it fun.
Marvel.com: The "Kang War" story involves a lot of time-bending elements. Have any of the moments in the script made you stop and scratch your head about how you're going to bring it to the page?
Mike del Mundo: So yeah, there [are] a few of those in each issue but I'm more rubbing my hands together eager to brainstorm and visualize Mark's ideas.
There's moment on a page where Vision is explaining Kang multiplying into new Kangs through time so I had to figure out how we could do that creatively instead of just drawing 100 Kangs. I came up with this vision of multiple Kangs forming a Kang head to visualize that scene.
Marvel.com: Speaking of Kang, this book features a fluid take on the villain with a variety of different looks. How was it designing all of those takes and using different aspects of the original design?
Mike del Mundo: It was so much fun! Mainly because [there] weren't any restrictions on how Kang should look since Kang could fission to really…anything. I basically merged Kang with one of my favorite villains, M.O.D.O.K., since they have a similar design and voila: Mokang was born!
Marvel.com: Overall how has it been working with Mark on these issues?
Mike del Mundo: Amazing! It's been a dream to be paired with one of my favorite writers and I'm enjoying it just like a reader, anticipating what will happen next!
To see what happens next yourself, be sure to check out AVENGERS #4 by Mark Waid and Mike del Mundo in February!
The Hype Box
Can't-miss news and updates from across the Marvel Universe!