Comics
Published July 15, 2020
'Empyre' Co-Writers Al Ewing and Dan Slott Provide a Spoiler-Free Look at the Characters and the Conflict
With so much at stake in the Marvel Universe, it will take more than one super team to bring peace to the galaxy!
EMPYRE is finally upon us! The Kree and the Skrulls, following millennia of constant battle, unite against the Cotati, with Earth, the Avengers, and the Fantastic Four caught in the crossfire. 
Recently, we talked to the creators behind this year's massive comic book event, Al Ewing (IMMORTAL HULK) and Dan Slott (FANTASTIC FOUR, IRON MAN 2020), to give us a preview of what to expect as the series unfolds.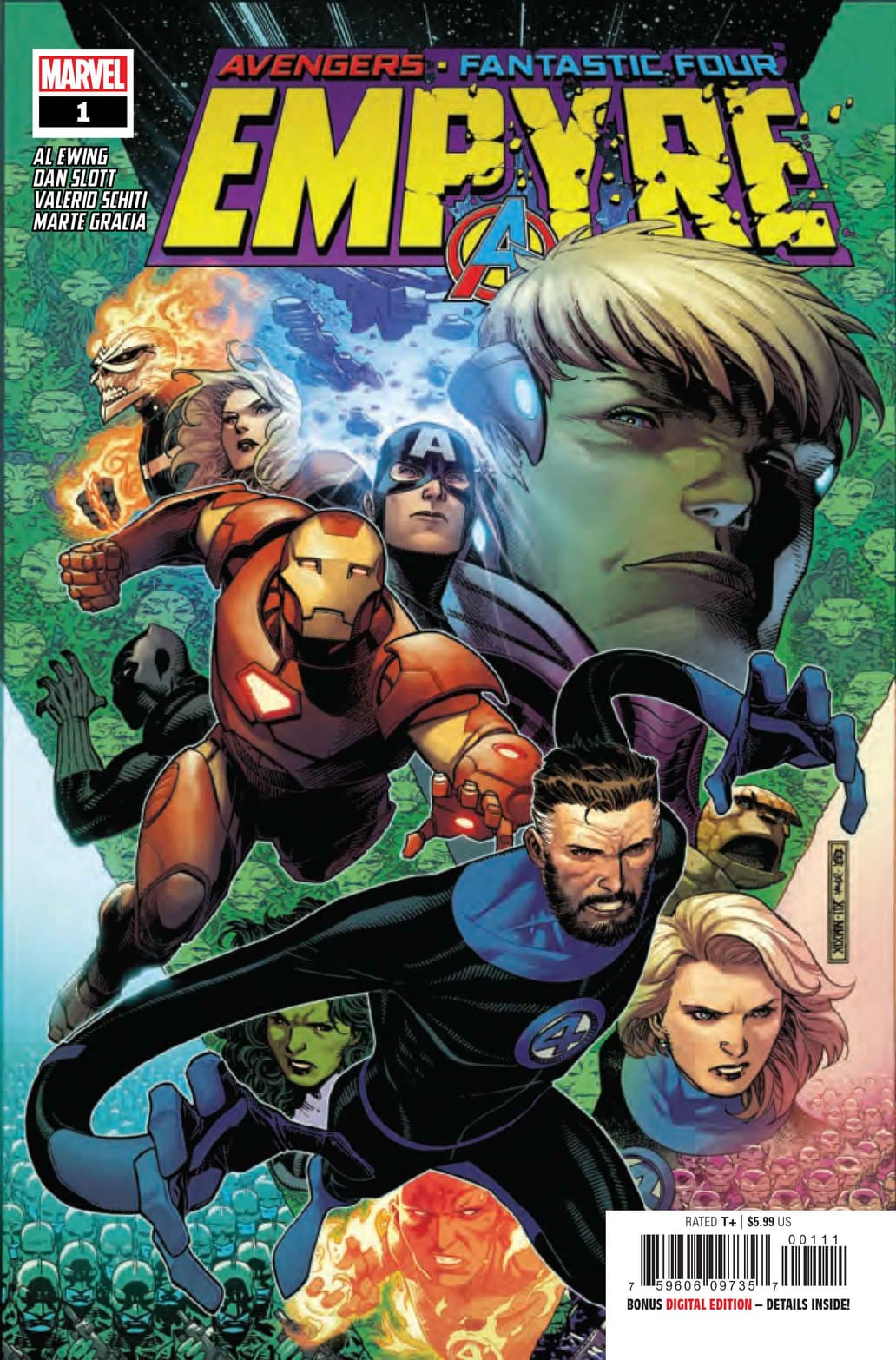 Ewing is in the midst of his groundbreaking run on IMMORTAL HULK, which has virtually taken over the "horror" corner of the Marvel Universe. He's shown readers the outright gross to the downright surreal. We asked him if these aspects of his writing would creep into EMPYRE.
"It's entirely possible that elements from IMMORTAL HULK will pop up! The Marvel Universe is one big tapestry, after all. But EMPYRE is a different genre - it's much more about jet-propelled sci-fi action than the more creepy, thoughtful aesthetics of HULK," he said, "Although there are thoughtful beats, and if you enjoy some of the more in-depth character moments of HULK, I think you'll find plenty to enjoy here."
In EMPYRE: AVENGERS #0, Ewing brought Swordsman back to the team. He discussed what it was like to re-introduce a character who went from teaching Hawkeye to shoot to becoming primarily a sentient plant.
"Swordsman is a fascinating character, both in his human identity and as a Cotati elder. As Jacques Duquesne, he was a tragic hero, dealing with extreme levels of self-loathing. Maybe with hindsight, he'd have benefited from a more modern understanding of depression - with therapy or medication, his story might have had a happier ending. As it was, he was one of the first Avengers to give his life in battle. And now a Cotati Elder has based his personality on that human template - he is Jacques Duquesne, but he also isn't. On the surface, he's a swashbuckling hero - what lies underneath? We'll see."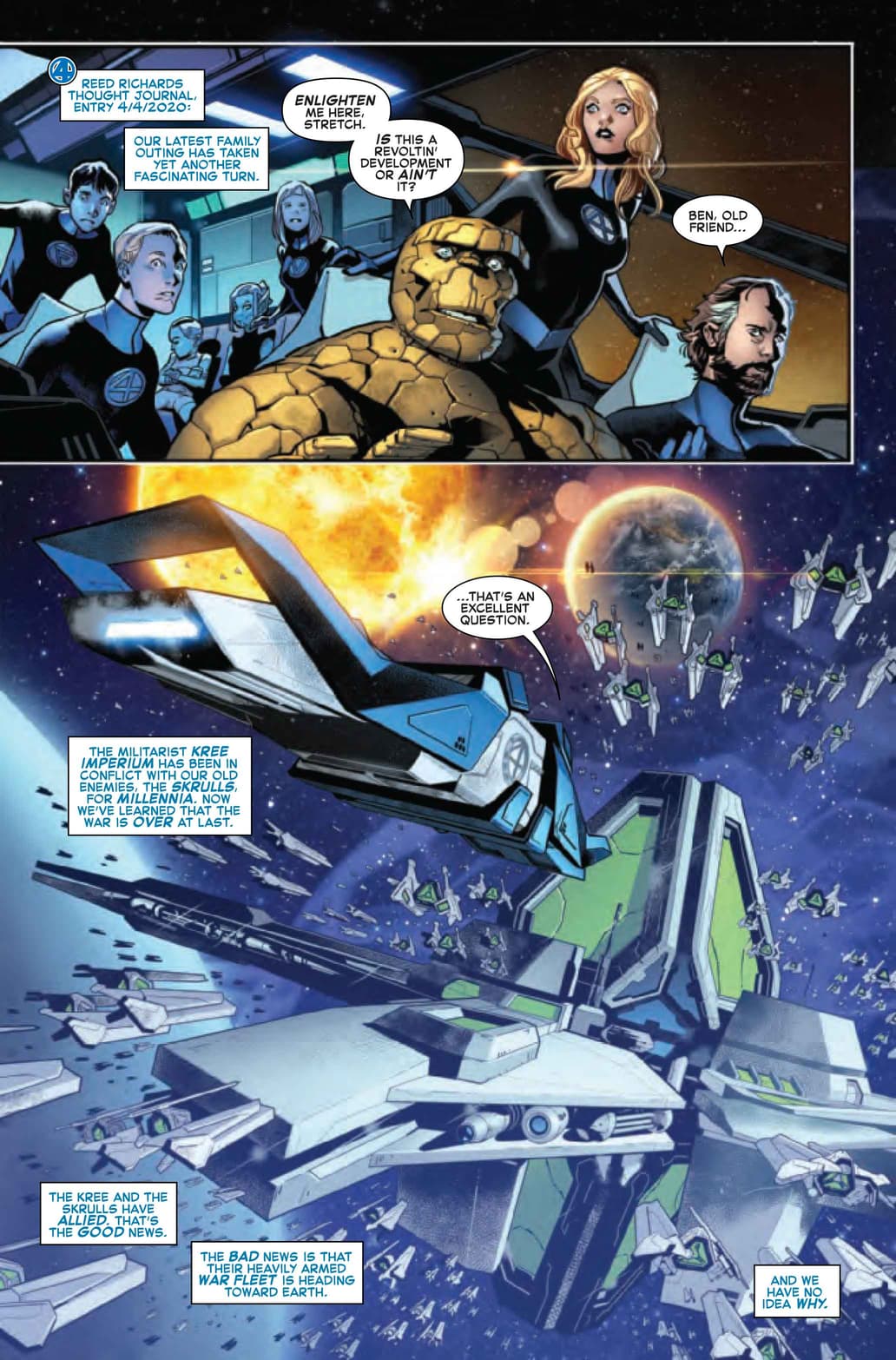 Dan Slott is known for his long-form storytelling. With Spider-Man, he went from "Brand New Day" to SUPERIOR SPIDER-MAN to SPIDER-VERSE" etc. With Iron Man, it was IRON MAN 2020. We asked him if EMPYRE was part of his overall plan for the Fantastic Four, or if it was just a pleasant addition to the story he wanted to tell.
"There are major, long term developments for both the Fantastic Four and the Marvel Universe that take place during EMPYRE," he said. "If you're a regular FF reader, you will not want to miss out on EMPYRE: FANTASTIC FOUR #0 and FANTASTIC FOUR: EMPYRE FALLOUT specifically. Those are issues that will have ramifications for years to come! This is no mere hyperbole."
Speaking of EMPYRE: FANTASTIC FOUR #0, this issue introduced us to the newest member of the "Elder Family," the Profiteer. We asked Slott if she'll turn up again.

"We'll see the Profiteer again... soon. All of the Elders have one obsessive defining trait (collecting, gardening, playing games, etc.). And having an Elder whose sole ambition is the acquisition of wealth? That's a fun motivation that will have her scheming and crossing other characters' paths for some time to come.
 "She's a really fun character to write— and R.B. [Silva] and Sean [Izaakse] have really brought her to life and made her something special. I also can't wait for people to see some of the all-new characters that Sean and Paco [Medina] are bringing over in the three FF EMPYRE tie-in issues!"
The COVID-19 pandemic also caused some changes to EMPYRE. We asked Ewing and Slott to discuss how these changes affected the writing of the story.
"Well, we already had quite a bit of script in the can when COVID-19 hit - at this point, with issue #1 about to come out, Valerio's in the middle of drawing the epilogue, which is a situation I haven't really been in since the days of AVENGERS: NO SURRENDER. I'm already neck-deep in planning what's coming out of this," Ewing said. "In terms of adapting to the changes, in particular, the tie-ins we thought we'd be doing that may not now happen - there may be one or two places where I rely on the readers to accept a little 'tell' where previously there was at least the option of 'show.' But hopefully, there's enough meat in the core event book to sustain everyone despite that."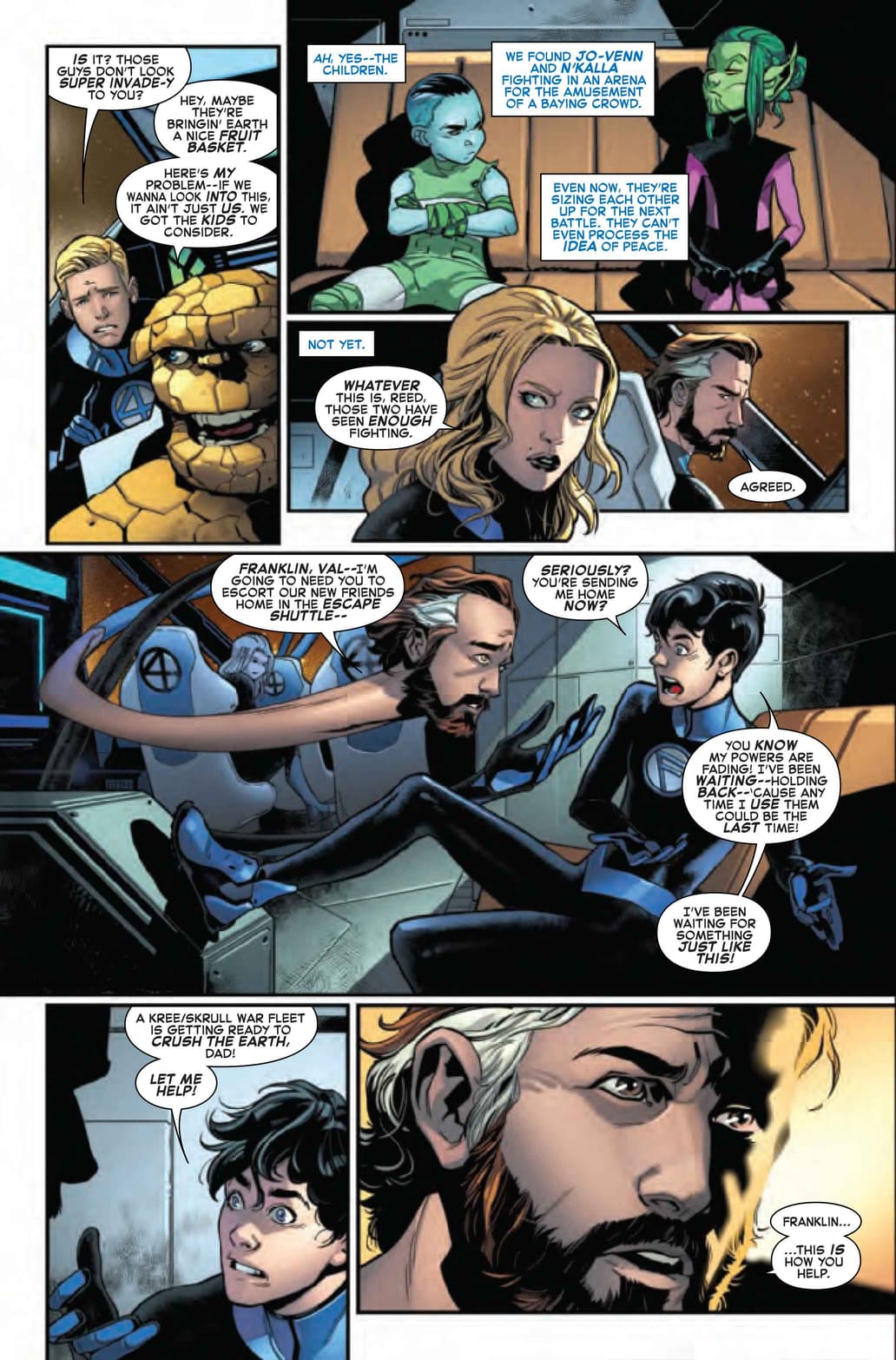 Teddy Altman AKA Hulkling is at the center of EMPYRE, having taken the title of Dorrek VII. He left behind his love Wiccan to become the leader of the Kree/Skrull alliance. Ewing gave us a spoiler-free hint that their relationship with be a primary focus throughout the event.
"Some of the answers you seek can be found in the LORDS OF EMPYRE: EMPEROR HULKLING one-shot, which goes into detail on how the events leading up to EMPYRE have affected them as a couple. Beyond that, I don't want even to breathe a hint of a spoiler - and there are some big spoilers."
By co-writing the book, Ewing and Slott both had access to a plethora of characters, some of which they never had the chance to write before. They discussed which ones they were excited to tackle. Ewing started by talking about an ever-lovin', blue-eyed hero.
"I haven't written the Thing before now - I thought going in that he'd be quite straightforward, but once I started writing him, I could see how much depth was there, and how he'd react both when things were relatively easy and when he was fighting on his last ounce of strength, seconds from death. Which I guess is a spoiler of sorts! Sorry, Thing fans, but we're going to put the idol of millions through some tough times…"
We wrapped up by asking the two to give readers a little insight into the future of EMPYRE. We asked if they could describe what fans can expect throughout the event in one emotion, what would it be?
"In one word - awe. Every time I think about these issues, I think of the amazing art of Valerio Schiti and Marte Gracia - from massive fight scenes of armies at war to gorgeous vistas both in space and on Earth, every page is just awe-inspiring," Ewing said. "And they're not even done! Valerio just now got through what he says is the hardest spread he's ever had to do - I'd feel guilty about that, except it brought me so much joy, and I know it'll do the same for readers. They're the best team I could wish for on this."
Slott added, "EPIC! When people read all the twists and turns that Al's executing in this event— and all the big screen visuals Valerio and Marte are putting up on every page— you're going to freak! You've been waiting for the latest Marvel Blockbuster? Guess what— it's HERE, and it's called EMPYRE!"
Be a part of the awe-inspiring epic today! You can pick up EMPYRE #1, written by Al Ewing and Dan Slott with art by Valerio Schiti, at your favorite local comic book shop or digitally today! Be sure to ask your local comic book shop about their current business policies to observe social distancing or other services they may offer, including holding or creating pull lists, curbside pick-ups, special deliveries and other options to accommodate. Find and support your local comic book shop at http://comicshoplocator.com or by visiting http://marvel.com/lovecomicshops.
For digital comics, all purchases in the Marvel Comics app can be read on iPhone®, iPad® and select Android™ devices! Our smart-paneling feature provides an intuitive reader experience, ideal for all types of mobile device and tablet users!
For Marvel's most up-to-date release schedule for your favorite comics, visit http://marvel.com/newcomics.
The Hype Box
Can't-miss news and updates from across the Marvel Universe!