Comics
Published February 10, 2020
Eve L. Ewing Is Shaping the Future of the Marvel Universe
Prep for 'Champions' and 'Outlawed' with the all-star scribe!
Hey Marvel Insiders – did you know reading this article could earn you 250 points?  All you need to do is sign in or join now before you keep reading!
Take a guided tour of Marvel's mightiest creators with Marvel Tales! Ben Morse, currently a visiting lecturer at UNLV, previously spent a decade working within the House of Ideas. In each installment of this series, he utilizes that insider knowledge—plus his lifelong fandom—to connect with comics professionals as they spin stories about the Marvel Universe and its inhabitants!
Eve L. Ewing has played many important roles over the course of her life and career, from poet to podcaster, journalist to professor—in each iteration, she has done her best to make the world a little brighter for the next generation. Next month, Ewing takes that stewardship to a new level, guiding nascent Marvel heroes such as Kamala Khan and Miles Morales through their latest and most dire challenge in the pages of the OUTLAWED one-shot with art by Kim Jacinto!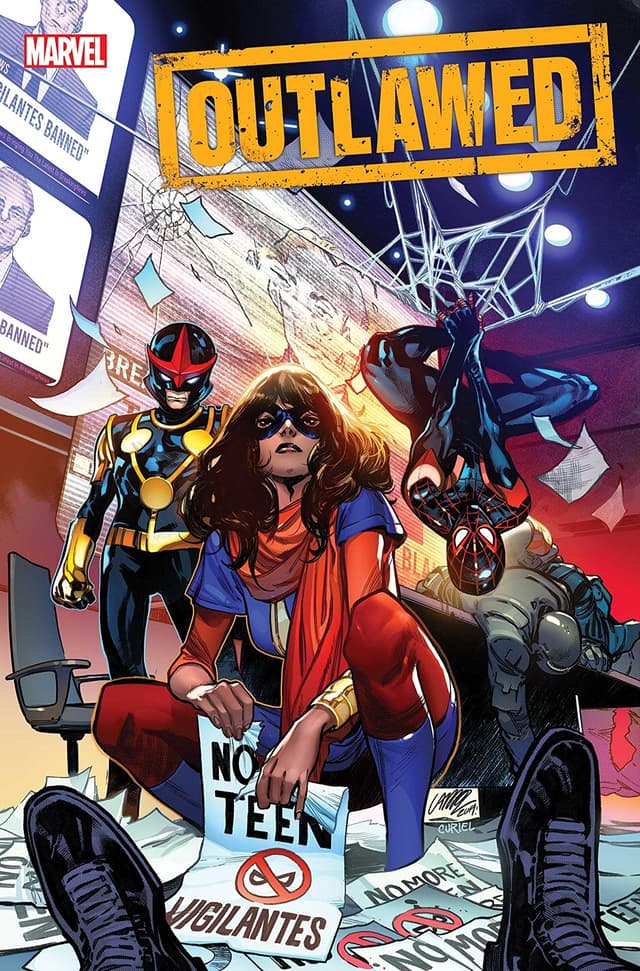 "The question of young people's political power and their countercultural challenges to what older people consider 'common sense' is something that we've seen generation after generation," Ewing reflects. "At the same time, I think the question of some of the hypocritical ways with which we regard young people is especially timely. For example, it's become almost easy for people to just say offhandedly that climate change is ruining the future for younger generations, ruining their right to even life a full life...but what does it mean to really take that to heart, and nevertheless deny young people the chance to meaningfully make decisions about what our society should look like."
Looking beyond OUTLAWED—which will spawn its own corner of the Marvel Universe with tie-ins taking place across MILES MORALES: SPIDER-MAN and MAGNIFICENT MS. MARVEL as well as new POWER PACK and NEW WARRIORS series—Eve continues to guide these new charges alongside artist Simone Di Meo in the pages of CHAMPIONS! There, Sam Alexander and others join the new world order enacted as a result of Kamala's Law banning unsupervised super heroics by those under 21.
"Without giving away too much, the Champions are going to have to contend with the reality of the new law, as a team and as individuals," forecasts Ewing. "And if you think about their individual circumstances, they're not all going to be affected in the same way."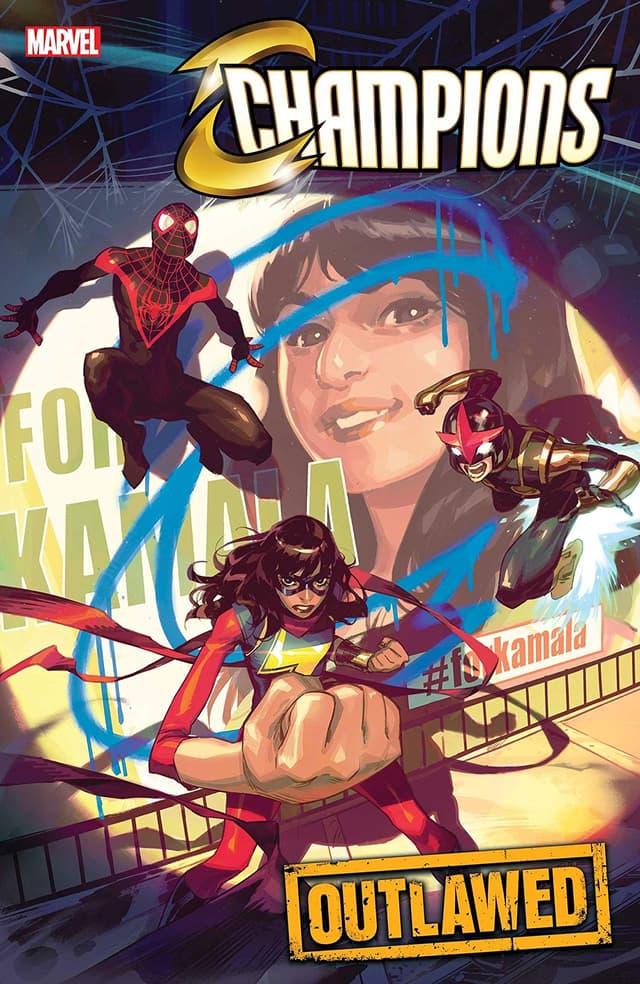 While she never possessed the kind of super powers the subjects of her latest tales tout—that she's willing to admit at least—Ewing vividly recalls her own youth spent growing up in Chicago where reading, games, puzzles, and "an intense inner fantasy life of [her] own creation" led to a decision that she would pursue writing as a life path by the age of 12. As a journalist and prose writer, Eve has always faced issues she deems crucial to our world head on.
"All writing is challenging and rewarding," she insists. "It's not that any one genre is harder or easier—it's more the moments that arise throughout the process. In all writing, you get to a point where you're just wildly stuck, where you hate everything you've written, where you feel like 'what was I thinking?! I don't know how to write. This is hopeless.' And then you talk yourself through it, take a break, have a few deep breaths, come back, and you write something halfway decent. That's the most rewarding part. Those moments arise like clockwork regardless of what you're writing."
Ewing made her Marvel debut with the IRONHEART (2018) ongoing series starring Riri Williams, which ran 12 issues from 2018 to 2019. Despite a wealth of experience writing across so many disciplines, she still found herself recalibrating when approaching this genre.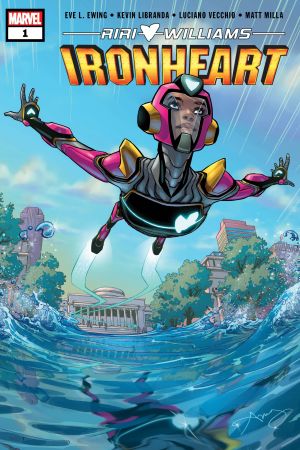 Ironheart (2018) #1
published

added to marvel unlimited

colorist

letterer

inker

penciler

painter (cover)

penciler (cover)

editor

writer
What is Marvel Unlimited?
"It was an awesome challenge and really humbling," Eve says of making the switch to comics. "I'm sort of addicted to doing things where I have to start as a beginner and step into it with humility and study—I love to learn, I love to ask myself how to get better incrementally, I love reaching out for mentorship and feedback. Plus it was so inspiring to have the support of so many fans who were open to giving me a shot. I'm still in love with it. I can't believe I get to do this."
Having earned the opportunity to work with not only artistic partners such as Jacinto and Di Meo but also the editors who bring it all together, Ewing expresses appreciation for being part of the team that keeps the House of Ideas churning.
"Almost all of my work is collaborative in some way," she notes. "Even things that seem like they're solo work, I'm always working with editors and other artists. I think it's one of the most rewarding part of being a writer for me, especially in comics. I get to work with talented and brilliant people, and when I come up with an idea, they bring it to life beyond what I ever could have imagined. It's awesome."
As she prepares for the next stage of her Marvel journey with OUTLAWED and CHAMPIONS, Eve can be counted on to take a hard look at the complex notions of right and wrong in the Marvel Universe. Her work to this point has questioned long held values and expectations—what comes next will be no exception.
"I don't think there's anything inherently moral about the Marvel Universe, and that's what I think makes it interesting," concludes Ewing. "Moral ambiguity and ethical complexity and unanswerable questions are what give us kind of endless stories."
Pre-order OUTLAWED #1 and CHAMPIONS #1 at your local comic shop today!
The Hype Box
Can't-miss news and updates from across the Marvel Universe!