Comics
Published May 21, 2019
Everybody Was Kung Fu Fighting at Marvel in the 1970s
See how a surge of martial arts popularity built all new rooms in the House of Ideas.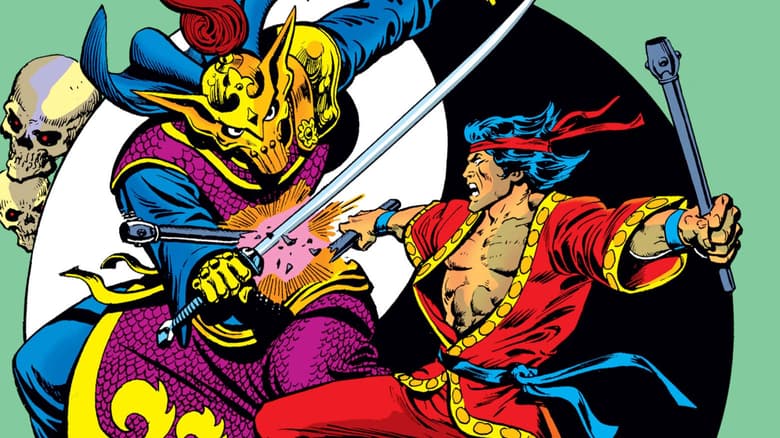 Looking back at the early '70s from today's vantage point, it seems like the kung fu craze kicked its way across the oceans and swept through the States like a tidal wave. However, it really began with small punches into our collective consciousness.
Some movie theaters showed dubbed versions of the modern action films coming over from Hong Kong. These showings gained enough popularity for ABC to launch the David Carradine-led "Kung Fu" in 1972. By the following year, the genre exploded in popularity to the point where Bruce Lee's "Enter the Dragon" became the ninth-highest grossing film of the year and Carl Douglas' single "Kung Fu Fighting" earned a gold record. It's impossible to predict what more would have happened had Bruce Lee not died far too young that same year.
In between the debut of "Kung Fu" and the craze fully hitting, Steve Englehart threw a party that was about to move to another location when an artist friend said he'd rather stay there and watch this new show, according to Englehart's introduction to the first SHANG-CHI, MASTER OF KUNG FU OMNIBUS.
Englehart and Jim Starlin liked the idea so much that they went in to pitch Marvel's then-Editor-in-Chief Roy Thomas on the idea of doing a book that would focus on Eastern philosophy and martial arts. According to Englehart, Thomas wasn't super into the idea, but Marvel had recently made a deal to create comics based on Sax Rohmer's Fu Manchu novels. The EIC told the young creators that, if they could incorporate the villain, he'd give them the green light. Before Englehart and Starlin dove in, Thomas gave one more marching order: the lead had to be half-white.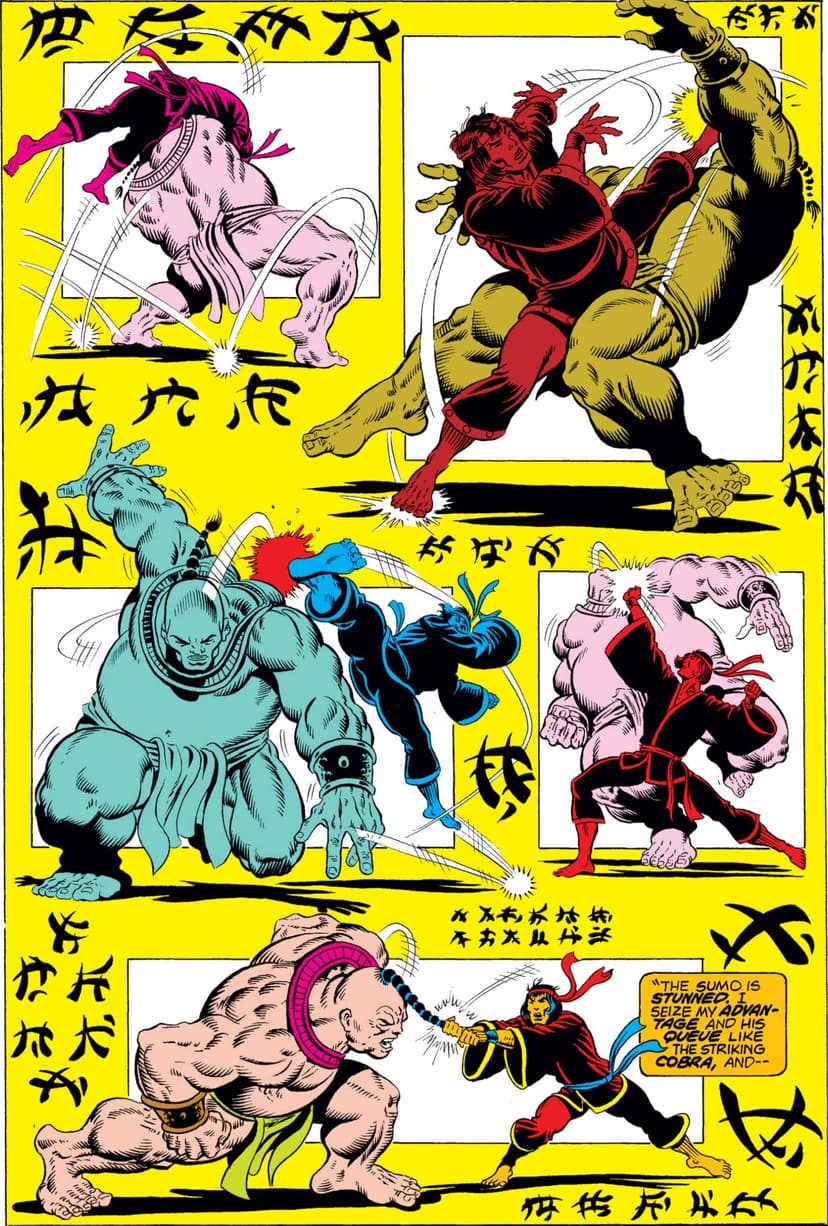 Enter: Shang-Chi in 1973's SPECIAL MARVEL EDITION #15. Up until that point, that series was home to reprints featuring Thor, Sgt. Nick Fury and his Howling Commandos. However, the Master of Kung Fu proved so popular that he took over with #17 when it became THE HANDS OF SHANG-CHI: MASTER OF KUNG FU.
In that debut issue, readers met a 19-year-old young man who grew up a dutiful son, studying martial arts all his life at his father's behest. He'd spent all of those years training in a secluded retreat, but when he made his way out into the world on a mission for his father, he came to know the truth of his patriarch's villainous ways. Even his American mother confirmed these ideas, sending Shang-Chi on a crusade to stop Fu Manchu's reign of terror chronicled at first by Englehart and Starlin, but on a more long-term basis by Doug Moench, Paul Gulacy, Jim Craig, Mike Zeck, and others.
Shang-Chi worked hard towards this goal over the course of his series, which not only lasted 125 issues, but also spawned four Giant-Size specials and an annual. He also became a regular fixture in Marvel's black and white magazine THE DEADLY HANDS OF KUNG FU.
The mag launched the year after Shang-Chi made his own debut. Like the black and white horror and sci-fi offerings that Magazine Management -- Marvel's parent company at the time -- put out, DEADLY HANDS featured a mix of color-free comic stories as well as reviews and commentary on the genre. Early on, readers could even try moves out for themselves thanks to descriptions written and drawn by Frank McLaughlin, Head Instructor of the Westport, Connecticut YMCA.
DEADLY HANDS not only offered a place for the likes of Shang-Chi and Iron Fist to continue their action-packed adventures, but also introduced newcomers. Even better, it made great strides to include real-life super stars both on and between the covers.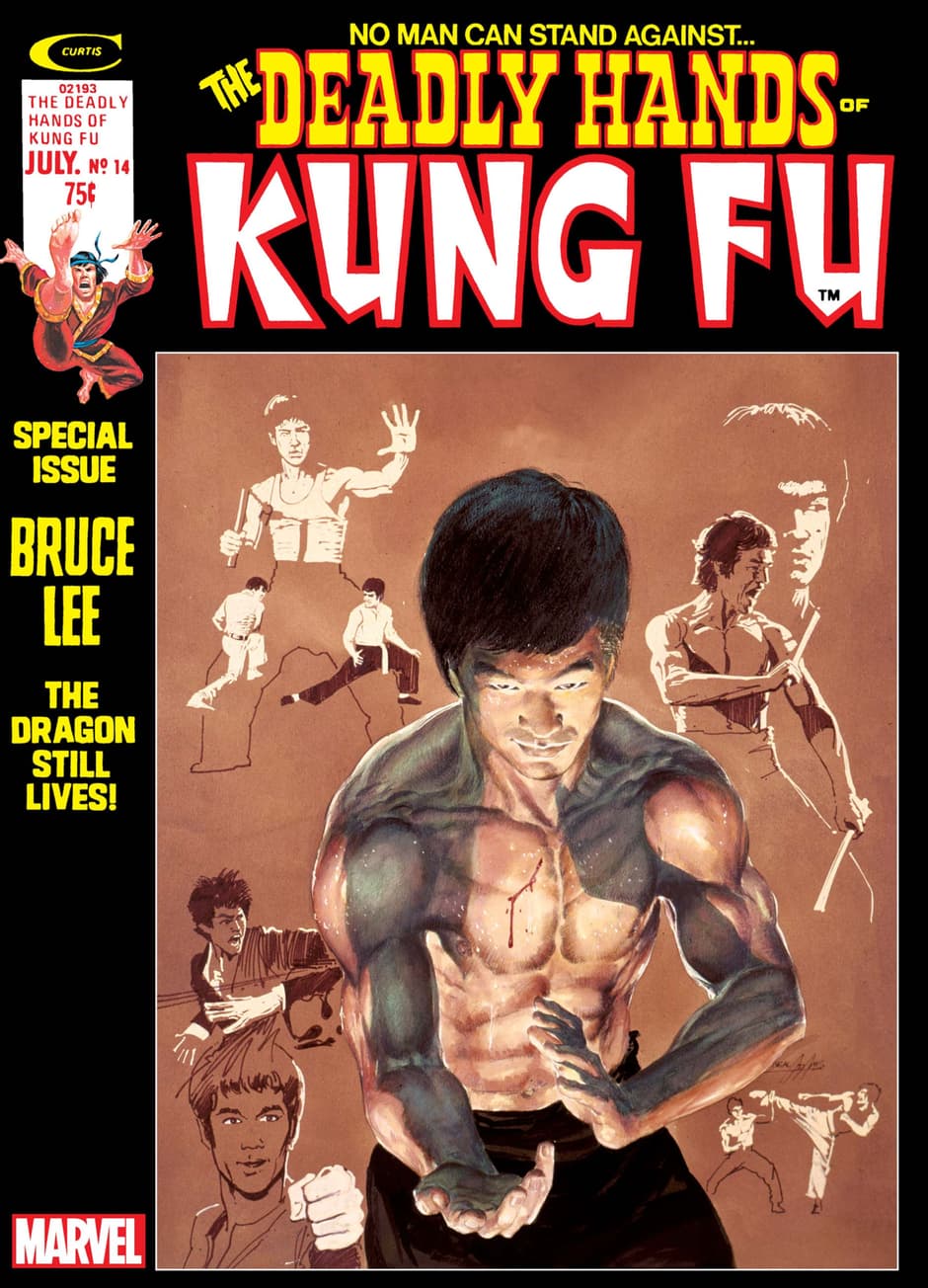 Bruce Lee appeared on plenty of covers, including the first (by Neal Adams) and was the sole focus of issue #28. Adams also drew Roger Moore's James Bond on the cover of issue #12 while Ken Barr presented Chuck Norris on issue #20. "Kung Fu" star David Carradine also appeared in a variety of stories covering the show's run, which ended in 1975. Many of these and other famous folks were even interviewed in the magazine.
These stories would delve into darker and sometimes more violent territory because the magazines did not fall under the Comics Code Authority's umbrella of influence. As such, creators like Englehart, Starlin, Gerry Conway, Dick Giordano, Doug Moench, Paul Gulacy, Bill Mantlo, George Perez, and many more got to flex different creative muscles!
The very first issue of DEADLY HANDS introduced the world to a trio of fighters known as the Sons of the Tiger. Created by Conway and Giordano, this trio consisted of Lin Sun, Abe Brown, and Bob Diamond. Already accomplished fighters, they earned a supernatural upgrade when the dying Master Kee passed on three Jade talismans that formed a tiger and its paws. When working together, the trio's power increased three-fold, allowing them to take on most comers.
An interesting reflection of the big-screen influence on comics: Diamond was actually an actor who began studying at the Tiger Dojo because he saw how popular the movies were getting in the States! In the real world, actors like Steve McQueen, Lee Marvin, James Garner, one-time James Bond George Lazenby, and James Coburn all studied with Bruce Lee himself. 
Speaking of wealthy guys learning martial arts, you can't talk about the kung fu boom without mentioning Iron Fist. In Danny Rand's case, he trained in the mystical city of K'un-L'un and eventually earned the title and power of Iron Fist after plunging his hand into the heart of a dragon.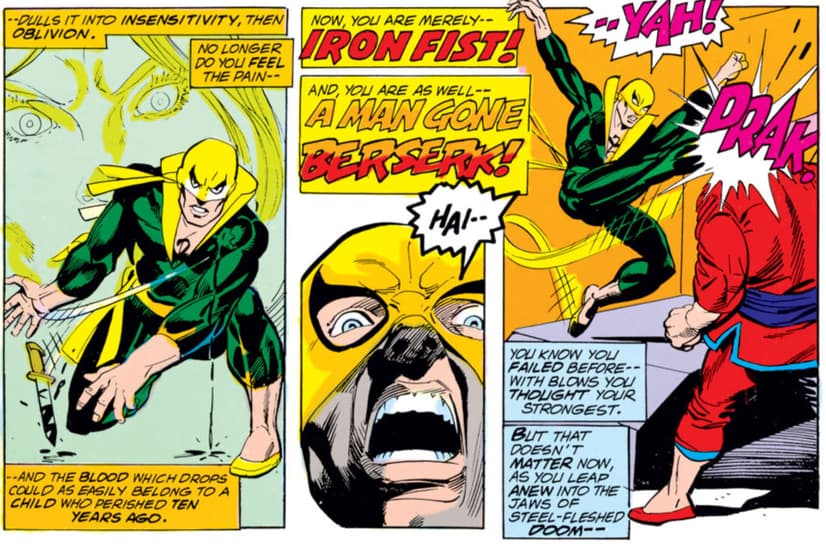 Iron Fist began his reign in comics with a mid-'70s run in MARVEL PREMIERE #15-25 before jump-kicking his way into a solo series that finished its path after 15 installments in 1977. In that time, legends like Roy Thomas, Gil Kane, Len Wein, Larry Hama, Doug Moench, Tony Isabella, Chris Claremont, Pat Broderick, and John Byrne helped build a character who used his family's wealth to try and make the world a better place.
Along the way, his adventures opened the door for other characters with martial arts experience to find a home. The residents of K'un-L'un all knew some form of kung fu, from the average citizen all the way up the ranks to the August Personage in Jade and the Thunderer. We also came to know more than a few practitioners of the martial arts who were less than noble like his nemesis Davos, the Steel Serpent.
Iron Fist's MARVEL PREMIERE tenure also created a launching pad for two of the baddest women in comics, Colleen Wing and Misty Knight, who burst onto the scene in issues #19 and #21, respectively (though we later found out in MARVEL TEAM-UP #64 that Spider-Man and the Human Torch helped a then-unnamed Knight out in 1972's MARVEL TEAM-UP #1).
Rand met Wing on his first trip to the States after spending a decade training. Thanks to her samurai training, Colleen could take on any opponent. She also became a successful detective, a skillset she honed with Misty Knight, a former New York cop with a bionic arm who still wanted to help people after she was kicked off the force. The duo even started their own company, KnightWing Restorations. In the last two issues of DEADLY HANDS OF KUNG FU, they took on the name they'd be more widely known as: the Daughters of the Dragon!
Together, Colleen Wing and Misty Knight played important parts in the life of Iron Fist, but also went on to become recurring characters in Rand's next series, 1978's POWER MAN AND IRON FIST. Both of these duos featured one super-tough African-American member alongside a master of the martial arts. Together their might could take on most opponents.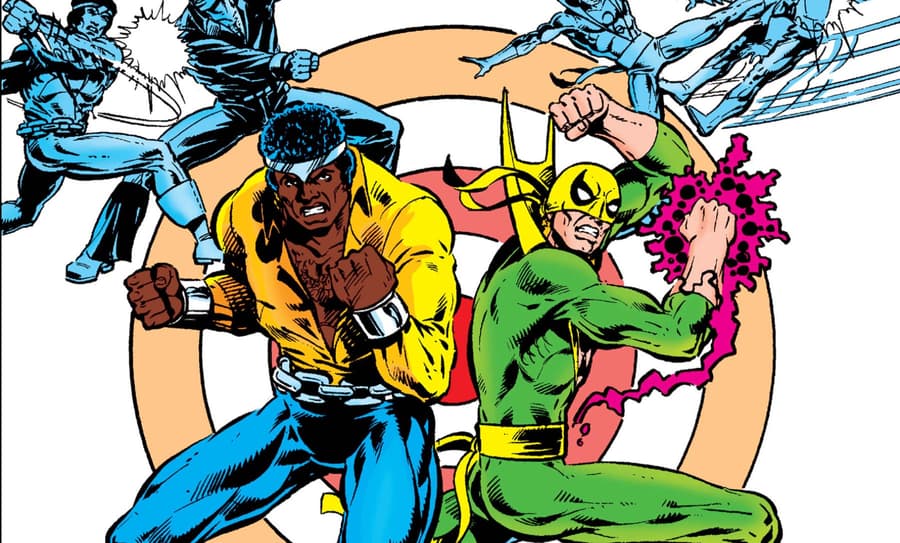 Speaking of groups, the Sons of the Tiger called it quits in DEADLY HANDS OF KUNG FU #19 after infighting tore them apart. Having literally tossed their mystic amulets aside, they sat next to a trash can in an alley until Hector Ayala found all three and put them on, becoming the White Tiger, the very first Puerto Rican masked Super Hero.
According to David Yurkovich's piece in the second installment of the DEADLY HANDS OF KUNG FU OMNIBUS series, creators Bill Mantlo and George Perez "sought to create a hero of Puerto Rican descent [who] would reflect the grim reality of life in the South Bronx," an idea that Yurkovich posits acted "as a precursor to the grim-and-gritty Super Hero tales of the 1980s."
Mantlo continued chronicling White Tiger's adventures, diving into the hard streets the character protected for most of the remaining issues of DEADLY HANDS which ended in 1977. When the magazine shuttered, Hector went on to become a fairly regular character in SPECTACULAR SPIDER-MAN. Since then, Hector's niece Angela del Toro took on his heroic legacy, though these days his younger sister Ava Ayala wears the mantle.
By the end of the decade, most of the fervor over kung fu comics had died down, though both SHANG-CHI and POWER MAN AND IRON FIST carried on. The other characters also appeared here and there, but the purveyance of the martial arts would be felt throughout other books as well to the point where, these days, it's hard to think of a Super Hero who hasn't had at least a little training in that field.
In Moon Knight's first appearance -- WEREWOLF BY NIGHT #32 -- Mark Spector's his employers referred to him as a "versatile practitioner of virtually all the martial arts." Even Howard the Duck became a master of "quack fu" in the third issue of his first series.
Though he would become even more associated with ninjas in the early '80s, Daredevil's fighting style began to evolve in the '70s to include a variety of martial arts styles in addition to the brawling and boxing he learned on the streets of Hell's Kitchen.
Living with Black Widow in San Francisco throughout the mid-'70s also surely enhanced his skills. She exhibited a more graceful fighting style going back to her run in the first eight issues of 1970's AMAZING ADVENTURES, drawn first by John Buscema and then Gene Colan and Don Heck. Now she and Daredevil are considered two of the better hand-to-hand fighters in the Marvel Universe, which as translated to screens large and small.
In addition to fortifying the heroes -- and villains -- of the Marvel Universe, these titles performed an even greater service by offering more representation in the House of Ideas for readers to see and identify with. Though not always handled with the sensitivity of today, these books allowed characters identifying as Black, Chinese, Japanese, Puerto Rican, and combinations thereof to be seen as strong role models who could not only take care of themselves, but those around them.
For more about Marvel's 80th anniversary, visit https://www.marvel.com/marvel80www.marvel.com/marvel80.
The Hype Box
Can't-miss news and updates from across the Marvel Universe!