Comics
Published September 14, 2017
Falcon: On Windy City Winds
Sam Wilson takes flight in his new ongoing series with writer Rodney Barnes!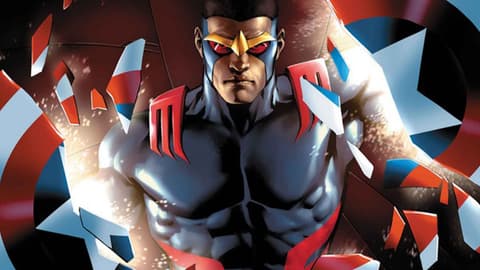 Sam Wilson's time as Captain America may be over, but he doesn't intend to stop protecting the country and the world. After helping end the threat of Hydra dominance in Secret Empire, Sam has decided that he needs to embrace the identity of The Falcon once again.
And on October 11, he returns to the skies with Marvel Legacy in FALCON #1! Written by Rodney Barnes with art by Joshua Cassara, Sam Wilson engages enemies on the global stage and in quiet in Chicago back alleys alike.
Barnes took a few minutes away from writing the new series to tell us about the return of The Falcon.
Marvel.com: What's it like kicking off the FALCON ongoing series on the back of the character becoming more high profile than ever before?
Rodney Barnes: It's exciting, anxiety-creating, and an honor all at once! I grew up reading the Falcon when he teamed with Captain America so being a part of his adventures at this point in time ticks off a bucket list endeavor for me.
Marvel.com: How would you describe the essence of Sam Wilson?
Rodney Barnes: He's a leader and a patriot; those two aspects of him must be omnipresent in any storyline. He's confident, but realistic in regards to the task at hand.
The work comes in making sure there's a human being behind the mask and not a "perfect" person. We all have flaws, but super heroes operate from a higher place so finding balance will always be the key.
Marvel.com: What role does Falcon play in the Marvel Universe as this story begins?
Rodney Barnes: This goes back to your first question. He's at the highest profile of his career. Having been Captain America, leader of the Avengers, and having been front and center during the events of Secret Empire, the whole world has an awareness of him. He's no longer the sidekick I knew as a kid.
Although he's viewed as a prime time player by his peers and the public, in his own mind Sam doesn't want the everyday problems of everyday people to get lost in the shuffle of the higher profile events he's now associated with.
Marvel.com: Where do we find Sam's state of mind at the start of this book?
Rodney Barnes: Sam feels a need to reconnect with the issues that moved him to become a super hero in the first place. He wanted to help people, so he's taking a grassroots approach to doing just that. The new costume acts as a symbol of that desire. It's a new look—not identifiable with the hats he's worn as of late. He's proud of his time as Captain America, but it felt like an act of duty as much as a goal he sought after. He's most comfortable as The Falcon and reconnecting with his former persona feels like coming home.
Marvel.com: What can you tell readers about his new partner The Patriot?
Rodney Barnes: He's a fun character. Having written the story where he began his career—SECRET EMPIRE: BRAVE NEW WORLD #2—Patriot captures the mindset of a current day hero. He's motivated by the same desire to help people as any other super hero, but he sees the world from today's fast paced, optimistic, millennial mindset. He's not only learning to be a hero—he's growing up at the same time. And his points of view are being tested by the trials and tribulations of the heroes' journey.
Marvel.com: Your opening arc pits Wilson against Blackheart. What made Blackheart an appealing choice for this storyline?
Rodney Barnes: It felt different. I knew I wanted to discuss gangs and issues of race and culture, but I didn't want to be predictable by telling a one dimensional story. Blackheart acted as the right choice because, while he's not someone like Mephisto, he's still more powerful than those trying to stop him.
He's second tier on the dark magic totem pole, so he fit the role of antagonist I needed for the story I wanted to tell. Blackheart's presence gives me the opportunity to blend genres—I'm not just telling a story of current social ills. I'm not straying so far from the Marvel Universe that the story becomes medicine.
Marvel.com: How would you describe the tone of the book? And how does artist Joshua Cassara help create that feeling?
Rodney Barnes: The tone feels both grounded and mystical. We're operating in the hard scrabble streets of the South Side of Chicago. Then again, we're in hell. So it's not something I've ever seen before.
I can't say enough about Josh. He's fantastic! He blends worlds better than I could've ever imagined. He's been the perfect collaborator. I've never worked on an ongoing comic before but I can't think of a better partner in this venture. I had the pleasure of meeting him at San Diego Comic Con and we had a blast talking about all of the visual possibilities of our journey with Falcon. It's been a highlight of this experience for me. I love the guy.
Marvel.com: Lastly, what would you say directly to fans to persuade them to pick up this title? What makes FALCON a can't-miss?
Rodney Barnes: This adventure will be one of the most personal in the history of The Falcon. He'll have to battle a demon set on conquering mankind as well as the demons that have haunted his own psyche. If you've ever wanted to see the Falcon tested beyond anything he's ever faced, this book's for you!
FALCON #1, by Rodney Barnes and artist Joshua Cassara, takes off on October 11!
The Hype Box
Can't-miss news and updates from across the Marvel Universe!