Comics
Published April 8, 2022
Get a First Look at Marvel's Voices: Identity #1
Marvel celebrates Asian Pacific American Heritage Month with AAPI heroes and creators on May 25.
Shang-Chi, Ms. Marvel, Wong, Mantis, and Jimmy Woo will headline MARVEL'S VOICES: IDENTITY 2022.

The second Marvel's Voices anthology honoring Asian Pacific American Heritage Month will showcase brand new stories crafted by both emerging and established Asian and AAPI talent. Arriving on May 25, MARVEL'S VOICES: IDENTITY #1 2022 will feature four action-packed and heartfelt adventures set throughout the Marvel Universe plus an introduction by Isabel Hsu, Senior Manager of Creative Development at Marvel Games and exclusive interview with longtime comic book letterer and industry pioneer, Janice Chiang.

Right now, fans can get their first look at all four covers and preview each of the featured stories, including: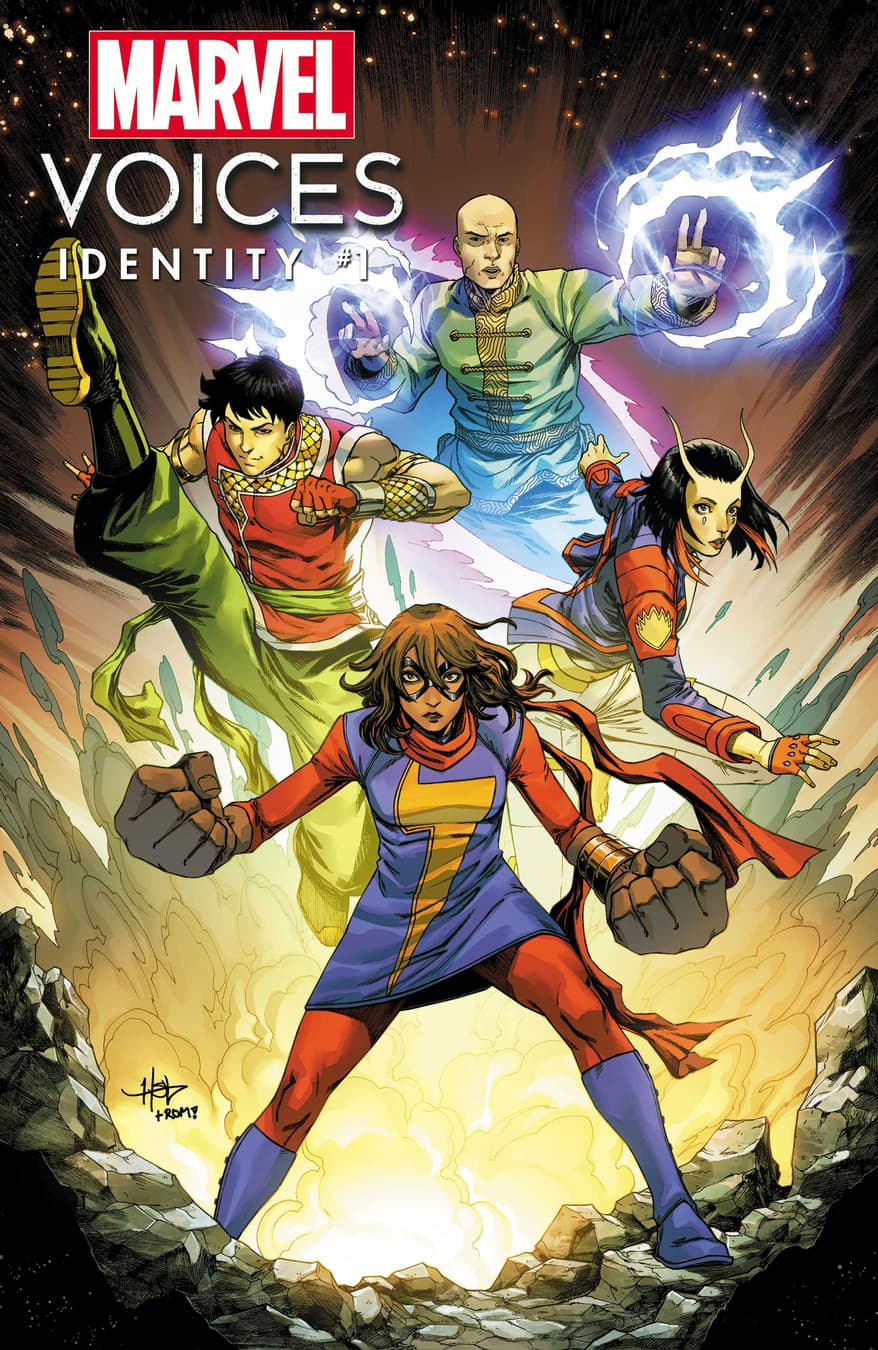 "Secrets" starring Shang-Chi and Jimmy Woo
Written by PORNSAK PICHETSHOTE
Art by CREEES LEE
Colors by BRYAN VALENZA
Writer Pornsak Pichetshote and artist Creees Lee take Shang-Chi and Jimmy Woo on a vital mission with some unexpected surprises.
"It was a complete honor being asked to contribute to MARVEL VOICES: IDENTITY # 1, and I was surprised by how immediately I knew the story I wanted to tell," Pichetshote shared. "Jimmy Woo and Shang-Chi are two of Marvel's highest profile, non-superpowered Asian heroes, and I was instantly drawn to the things they had in common as well as the surprising things that set them apart."
"It was an amazing opportunity and honor to continue Jimmy Woo's story in the Marvel Voices series," Lee added. "The main inspiration for this story definitely made it more fun and interesting as I am a fan of that as well."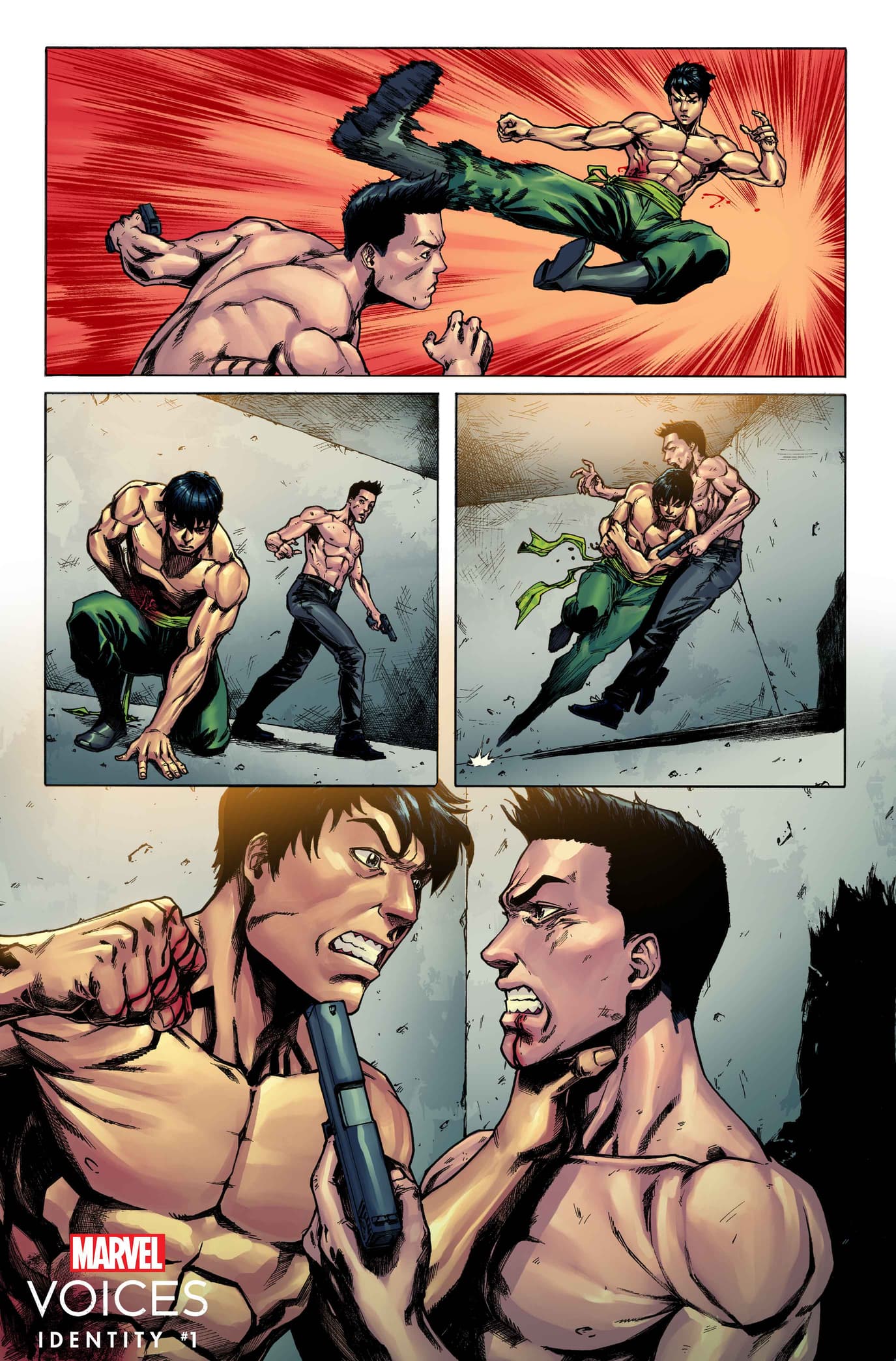 "Fool Me Twice" starring Ms. Marvel and Shang-Chi
Written by SABIR PIRZADA
Art by ERIC KODA
Colors by BRIAN REBER
Writer Sabir Pirzada and artist Eric Koda teams up Ms. Marvel with Shang-Chi in a story that explore these two heroes' differences and similarities.
"I could not be more excited to be back on a MARVEL'S VOICES issue, this time pairing Ms. Marvel with Shang-Chi, two of the most iconic heroes among Asian Americans who have very different life experiences, especially when it comes to relationships with their families," Pirzada said. "How that might inform their value systems at this specific point in their lives was a question I had to explore."
"For me, it's an honor to draw these characters. In a way, they're outsiders in this universe and, dang, can I relate to that!" Koda shared.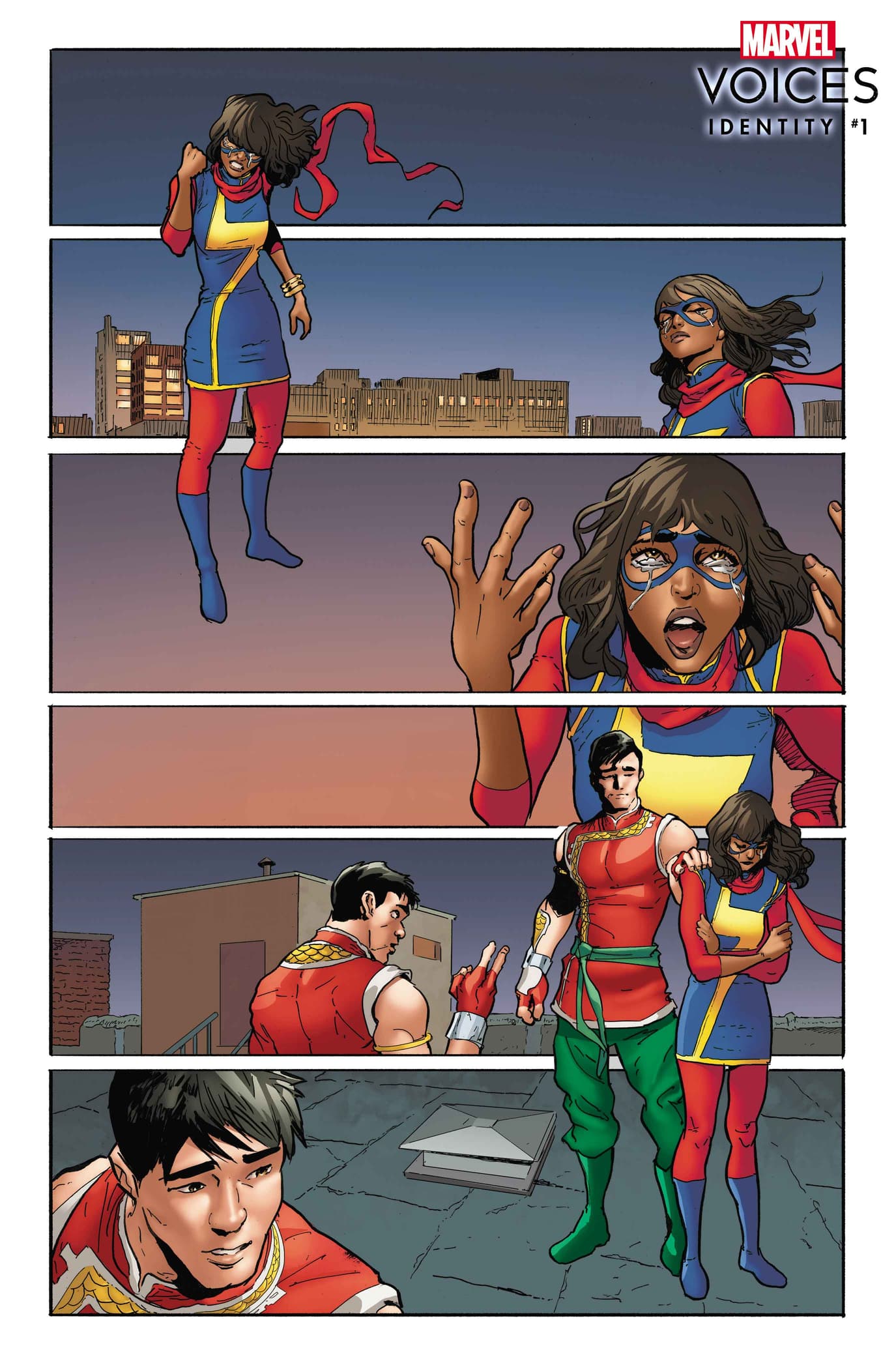 "The Primeval Paradox" starring Mantis
Written by JEREMY HOLT
Art by KEI ZAMA
Colors by IRMA KNIIVILA
Writer Jeremy Holt and artist Kei Zama spotlight the Guardians of the Galaxy's Mantis, diving into the iconic character's fascinating past and gearing her up for a bright future.
"When my editor asked me to write a story focusing on Mantis, I was excited for the opportunity to reintroduce an original Avenger to the fans," Holt recalled. "Forget what you know of her from the films, artist superstar Kei Zama and I are going to show you exactly how extraordinary this Guardian of the Galaxy truly is."
"Usually, I don't have the opportunity to draw stories filled with nature, so I enjoyed drawing it with my favorite character Mantis," Zama added. "And collaborating with Jeremy, who is a non-binary Asian creator like me, was a very cool experience."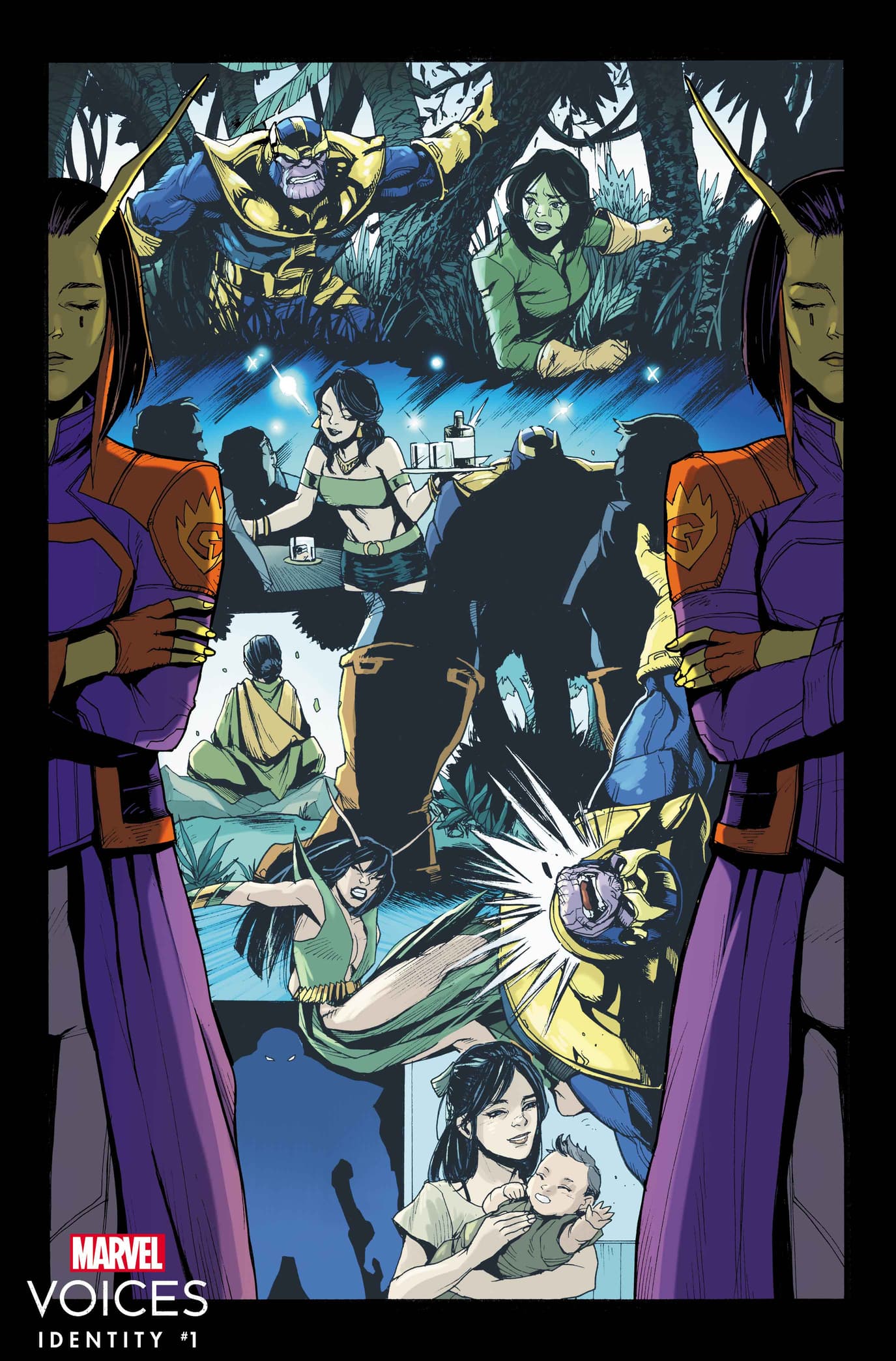 "While You Were Out" Starring Wong
Written by EMILY KIM
Art by RICKIE YAGAWA
Colors by SEBASTIAN CHENG
Writer Emily Kim and artist Rickie Yagawa showcase the power and expertise of master of the mystic arts, Wong, in an exciting solo adventure.
"Wong is a fan favorite character, but we don't actually know much about him. He hasn't had a lot of story devoted to just him," Kim explained. "Everyone thinks of themselves as the main characters of their lives and I wanted to explore that idea with a character who has always been known as a 'sidekick.' I also realized that feeling like a sidekick is closely tied to Asian American themes, so everything came together in a really special way for this one-shot. I also really enjoyed being able to work with such a great team on this."
"Wong is one of my favorite Marvel characters and I always hoped he'd be featured more," Yagawa said. "So I'm really honored by the opportunity to be a part of MARVEL'S VOICES: IDENTITY as an artist for this such a cute slice-of-life story with Wong and Bats by Emily Kim!"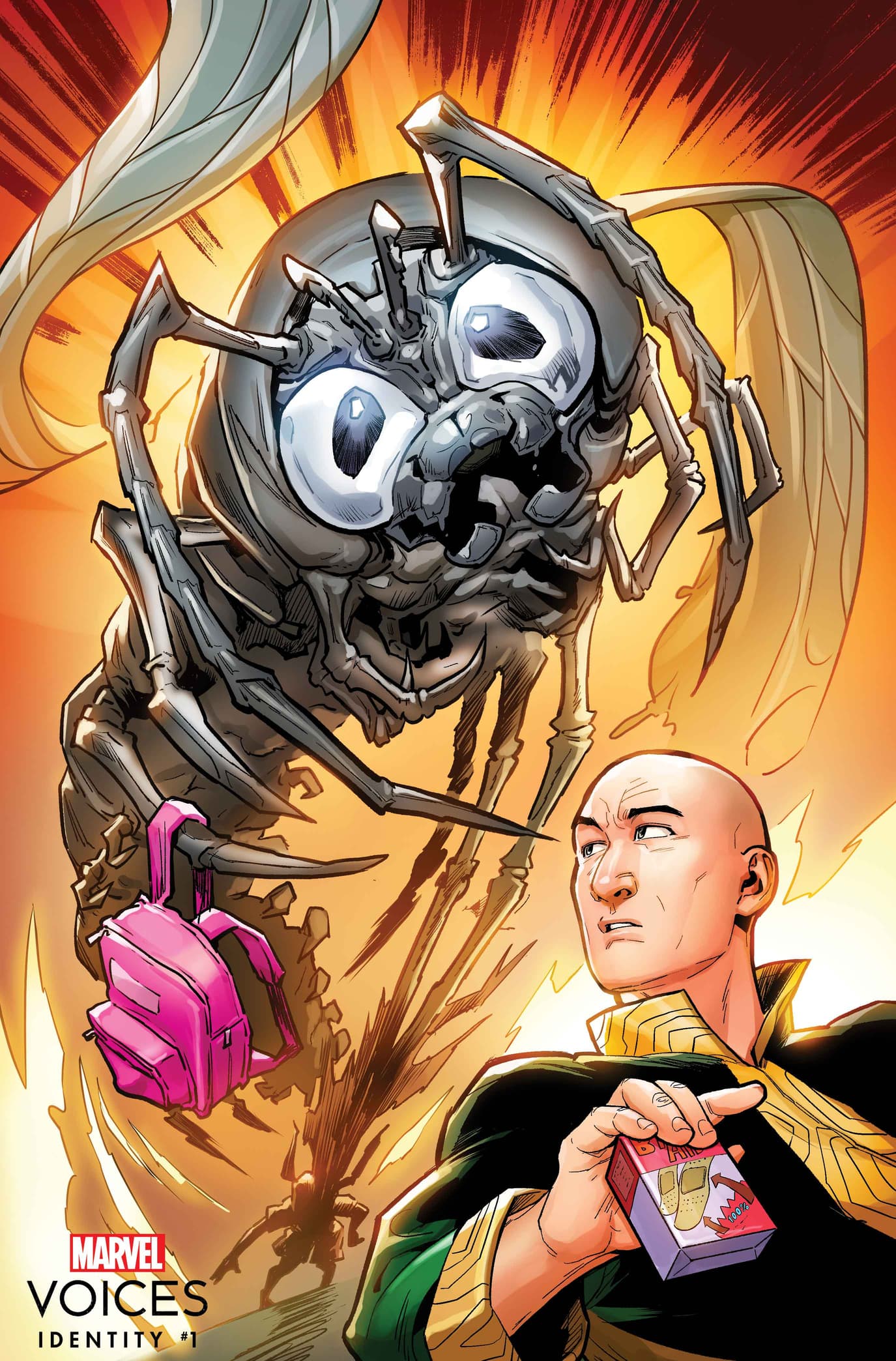 MARVEL'S VOICES: IDENTITY #1 2022 continues the tradition of featuring inspiring and uplifting storytelling that truly reflects "the world outside your window." These new stories will celebrate Marvel's ongoing, ever-expanding representation and the vastness of all Asian, Asian American and Pacific Island cultures and identities. Check out all four covers and see an exclusive sneak peek of the book below!
Pre-order MARVEL'S VOICES: IDENTITY #1 today, then read on May 25!
You can grab these comics and more digitally or at your favorite local comic book shop. Be sure to ask your local shop about their current business policies to observe social distancing or other services they may offer, including holding or creating pull lists, curbside pick-ups, special deliveries, and other options to accommodate. Find and support your local comic book shop at ComicShopLocator.com or by visiting Marvel.com/LoveComicShops.
For digital comics, all purchases in the Marvel Comics app can be read on iPhone®, iPad® and select Android™ devices! Our smart-paneling feature provides an intuitive reader experience, ideal for all types of mobile device and tablet users! Download the app on iOS and Android now!
The Hype Box
Can't-miss news and updates from across the Marvel Universe!