Comics
Published September 9, 2017
Flashback Friday: Arcade
See how Marvel's number one deathtrap builder got his start!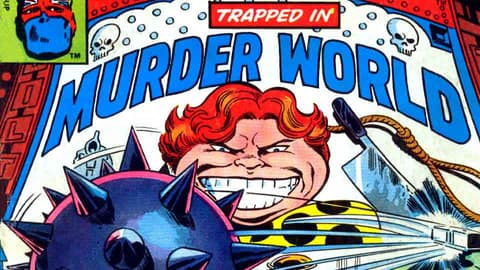 Every Friday we use the powers of Marvel Unlimited to look back at the very first appearance of a major character, place or object that made waves this week.
Arcade resurfaced this week in the pages of SPIDER-MAN/DEADPOOL #21 by Elliott Kalan and Todd Nauk looking to test his brand new Murderworld on the title characters! This, of course, fits right in with his history of putting the Wall-Crawler through a series of deathtraps going back to his first appearance in 1978's MARVEL TEAM-UP #65 and 66.
Created by Chris Claremont and John Byrne, Arcade made his first appearance right after the Dean introduced Peter Parker to his new roommate, Brian Braddock, otherwise known as Captain Britain!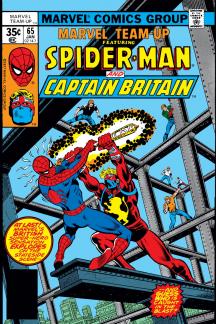 Back in England, representatives of the Commission inquired about hiring Arcade, a master assassin, to kill Braddock because they think he might be Captain Britain.
Meanwhile, in NYC, thanks to a misunderstanding, Braddock assumed that Spider-Man had done something shady to Peter Parker's apartment, turned into Captain Britain and gave chase. After the requisite fight and origin swap, the heroes made friends just in time for a tricked-out trash truck to trap them both!
In the following issue, Spidey and Cap found out why Arcade charged so much for his hits. Instead of simply killing his targets, the murderer put them inside incredibly complex death traps. In this case, they awoke inside large clear balls that turned out to be part of an enormous, murderous pinball machine.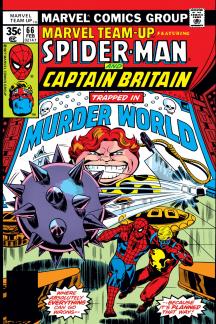 The implements of death proved more outlandish and dangerous from there. The heroes figured out how to work together in order to eventually escape Murder World, and also save Braddock's girlfriend Courtney Ross, destroying what Arcade built in the process. Surprisingly, undeterred by the fact that his quarry escaped and that the people who hired him died, Arcade jauntily moved on to his next project.
Over the years, Arcade's plied his wicked wares on everyone from various X-Men and The Thing to Hellcat. Luckily, he always leaves a small chance of escape to keep things fair, so our heroes tend to walk away relatively unscathed.
Flash Forward
One group of heroes who did not walk unharmed starred in the book AVENGERS ARENA. In that 18 issue series by Dennis Hopeless and Kev Walker, the bow tie-loving villain had 16 young heroes captured and brought to an elaborate island version of Murderworld. The captured young men and women – including X-23, Chase and Nico from RUNAWAYS and AVENGERS ACADEMY alums Hazmat and Mettle – found themselves dealing with a very serious version of Arcade, not averse to killing kids or releasing the footage he recorded of the event to the public in an effort to expose their actions to the world. Some of the survivors decided to go after their enemy once and for all in the follow-up series AVENGERS UNDERCOVER.
The Hype Box
Can't-miss news and updates from across the Marvel Universe!