Comics
Published March 17, 2017
Flashback Friday: Psylocke
Betsy Braddock has had one weird road to being a super hero!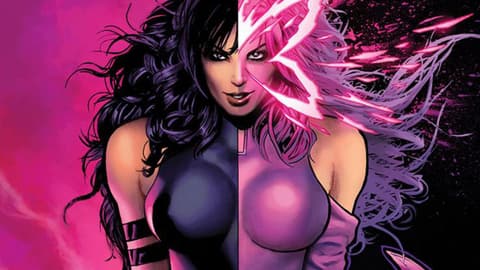 Every Friday we use the powers of Marvel Unlimited to look back at the very first appearance of a major character, place or object that made waves this week.
Psylocke might be throwing down with Magneto in this week's UNCANNY X-MEN #19, but she might not have been so bold back in her first appearance. In fact, as longtime X-fans will know, the woman known as Betsy Braddock has actually changed more than her appearance since she first showed up in the Marvel UK comic CAPTAIN BRITAIN #8 in 1976 by Chris Claremont and Herb Trimpe.
The sister of the title hero, Betsy displayed some telepathic abilities, worked with S.T.R.I.K.E., and even took over as Captain Britain for a brief adventure. She would go on to appear in other Marvel UK books like THE DAREDEVILS and SUPER SPIDER-MAN AND CAPTAIN BRITAIN before making the jump across the pond in NEW MUTANTS ANNUAL #2.
In that issue, Mojo and Spiral jumped her and used her to help dazzle the children of Earth with a new animated series. Though executing the usual evil plan, Mojo did help restore Betsy's previously lost sight and granted her the name Psylocke. After the New Mutants rescued her, she decided to attend Xavier's school in order to get a better handle on her powers.
After serving with the X-Men for a while, an amnesiac Psylocke wound up in the Hand's possession where they continued to brainwash her into thinking herself the assassin Lady Mandarin. The group also altered her appearance so she would more seamlessly blend in with Hong Kong. Luckily, Wolverine restored Psylocke, as seen in the pages of UNCANNY X-MEN #256–258, but Betsy retained the incredible fighting skills she learned as well as her now-iconic psychic knife.
Around this same time a ninja named Kwannon also appeared with Betsy's old face. The case of mistaken identity bounced back and forth for a while until ultimately coming to a conclusion that left Psylocke in control once again. Braddock continued fighting the good fight, even getting a power upgrade thanks to the Crimson Dawn, but she fell in the first few issues of X-TREME X-MEN; she got better in UNCANNY X-MEN #455.
Later she helped the reality-hopping Exiles save several existences in the pages of both EXILES and NEW EXILES. She also played a big part in X-MEN: SWORD OF THE BRADDOCKS and starred in her own 2010 limited series. Upon fully returning to the Marvel Universe, Psylocke has become a big part of the X-Men again, appearing in books like UNCANNY X-FORCE, X-MEN, and UNCANNY X-MEN.
Flash Forward
The most recent volume of UNCANNY X-MEN marks just one more step in the long relationship between Psylocke and Sabretooth. They first met one another in the pages of UNCANNY X-MEN #213, not long after Betsy enrolled at the school. After quickly taking out Rogue, the then-villainous 'Tooth entered the mansion to do the same with Betsy, but she used her powers—enhanced by Cerebro—to stun him before running away. Braddock held her own pretty well, but ultimately Sabretooth got the drop on her, but not before Storm and Wolverine showed up to pick up the slack. Later in UNCANNY X-MEN #328, Psylocke stepped in to stop an enraged Boom Boom from getting herself killed in Sabretooth's cell, an act that led to her own evisceration. While running around with the Exiles, Psylocke actually started a relationship with the Age of Apocalypse version of her enemy. Most recently, the two came together on the same team.
The Hype Box
Can't-miss news and updates from across the Marvel Universe!