Comics
Published September 1, 2017
Flashback Friday: Scarlet Witch
A look back at Wanda's checkered past.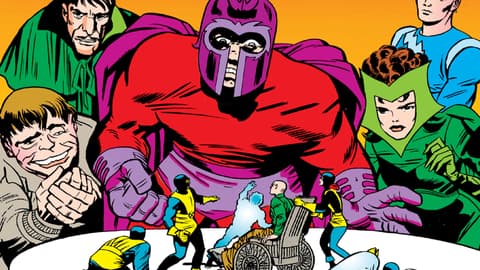 Every Friday we use the powers of Marvel Unlimited to look back at the very first appearance of a major character, place or object that made waves this week.
We bet Wanda Maximoff would feel a bit green if she looked back at her first appearance in 1964's X-MEN #4 and not just because she was mis-colored on the cover!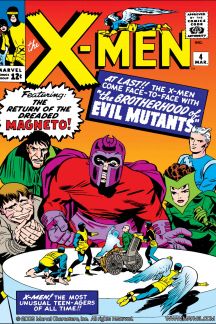 Earlier that year, Stan Lee and Jack Kirby introduced the merry mutants starring in the series as well as their number one enemy, Magneto. By this issue, he'd surrounded himself with a group calling themselves the Brotherhood of Evil Mutants.
Consisting of all-new characters Toad, Mastermind and the sister-brother combo of Scarlet Witch and Quicksilver, the group seemed as focused on giving each other trouble as they were the X-Men.
In fact, Pietro and Wanda almost left, but then Magneto recounted their shared history which saw Magneto saving her from a mob of angry villagers. She pledged her loyalty to him right there and was soon joined by her brother.
By sticking around, the super powered siblings played a part in Magneto's plot to use a stolen battleship to take over the small nation of Santo Marco. Though not a fan of Magneto's fear-mongering, Wanda did take on the X-Men, specifically Angel with her mysterious hex powers.
The X-Men gained the upper hand and the villains made their escape, but before doing so, Quicksilver ran back to stop a bomb Magneto left behind. After several more missions with Magneto, the siblings' distaste for Magneto and his methods outweighed their loyalty to him and the broke out on their own after the Stranger took their one-time leader in X-MEN #11.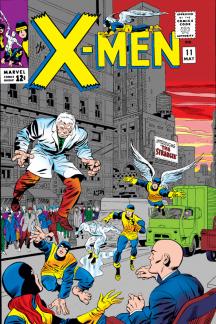 Not long after, the Avengers found themselves at a crossroads. The team of Iron Man, Thor, Giant-Man, Wasp and Captain America had been getting along pretty well, but other concerns lead to a massive roster change. Pietro read about their acceptance of former villain Hawkeye to the squad in the newspaper and told Wanda. Before long, the two traveled to New York City to see about joining up.
By the end of that same issue – 1965's AVENGERS #16 to be exact – all of the original members left, leaving Captain America to lead three former criminals on the world's most renowned super team! Wanda soon proved herself and became an integral part of many Avengers line-ups. She's also known as one of the team's biggest threats, having played a part in destroying the team, creating the House of M universe and diminishing the mutant population severely.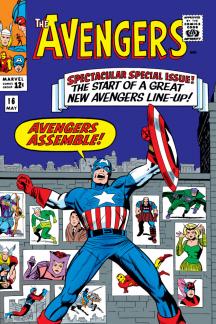 Back in good standing now, she returned to fight alongside her teammates in the pages of UNCANNY AVENGERS #26 after being controlled by the demon Chthon during Secret Empire, which ended with #10 this week.
Flash Forward
For a more detailed account of Wanda and Pietro's past, check out AVENGERS ORIGINS: SCARLET WITCH AND QUICKSILVER by Sean McKeever and Mirco Pierfederici. In this OGN we see the siblings trying to make their way alone in the world until Magneto appeared to help them. We then see the Maximoffs join up with the Brotherhood, even though they don't exactly see eye to eye with its leader, who we know is actually their father! The issue shows some of the parent-child moments behind-the-scenes even if the participants didn't know it!
The Hype Box
Can't-miss news and updates from across the Marvel Universe!