Comics
Published January 27, 2017
Flashback Friday: Shuri
Celebrate the former queen of Wakanda's regal return with a look back at her first appearance!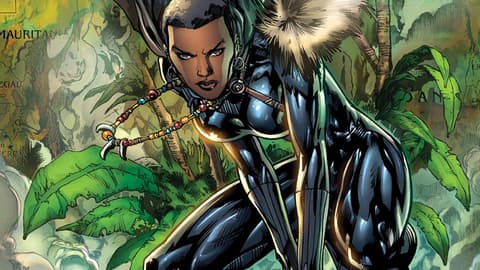 Every Friday we use the powers of Marvel Unlimited to look back at the very first appearance of a major character, place or object that made waves this week.
The queen was dead, long live the queen! That's right, the one-time ruler of Wakanda, Shuri, fully returned this week in the pages of BLACK PANTHER #10 by Ta-Nehisi Coates and Chris Sprouse. Considering how important she has become to the world of Wakanda and her brother T'Challa, it might surprise some that Shuri first appeared only 12 years ago in the pages of BLACK PANTHER #2 by Reginald Hudlin and John Romita Jr.!
Shuri passed away fighting for Wakanda during Jonathan Hickman's NEW AVENGERS #24, but has been hanging out on spirit plane in the current series ever since Coates kicked it off right after Secret Wars. Recently, in BLACK PANTHER #9, Shuri returned to the land of the living with mysterious supernatural powers only to find her homeland going through tumultuous times.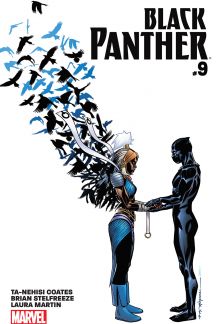 All of this makes you wonder what might have happened had she been just a bit faster in getting to the tournament in her first appearance. In a scene narrated by Everett K. Ross as he explains the nature of the Black Panther title to a group of U.S. officials, we get a glimpse at the trials for deciding the role.
Each year, the Panther must take on any and all challengers who wish to try out for the sacred post. As the scene unfolds, the Panther holds his own against a series of competitors. At the same time, T'Challa's sister Princess Shuri attempts to race to the ring, intending to try out herself. She had just about made it when the Panther tossed a rather large opponent out of the ring who landed on her.
In that brief amount of time, a masked challenger leaped over both, landed in the ring and bested The Black Panther. That masked man turned out to be T'Challa. That's how he took the mantle of Black Panther from his uncle S'yan, literally leapfrogging his sister in the process.
Of course, Shuri did not shrink into the background. She continued her training and proved herself an able warrior time and time again. She even achieved her dream of becoming Black Panther after a confrontation with Doctor Doom nearly killed T'Challa. She served in that same capacity until her relatively brief death at the hands of Proxima Midnight.
Flash Forward
Though Shuri's time as her country's totem did not last long in the grand scheme of things, she still starred in three different series: BLACK PANTHER, DOOMWAR, and KLAWS OF THE PANTHER. The first sees her becoming the hero and going on missions to figure out what happened to her brother which leads directly into conflict with the Latverian leader who stole all of Wakdanda's Vibranium. Then, in KLAWS, she learns a variety of lessons about being a hero from the likes of Shanna the She-Devil, Wolverine, Spider-Man, and others.
The Hype Box
Can't-miss news and updates from across the Marvel Universe!