Comics
Published July 12, 2017
Follow the History of Kang Pt. 4
Death means very little to the Conqueror.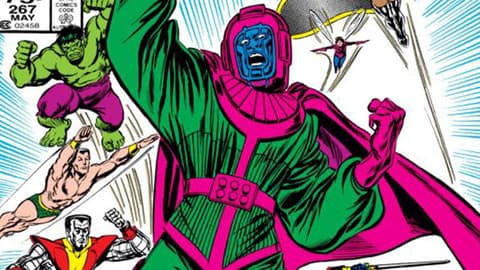 Since the early days of Earth's Mightiest Heroes, Kang the Conqueror has agitated the Avengers and then some with his mastery of multiple eras and desire to add the Marvel Universe to his empire. On November 14, the time tyrant takes on a new role as central antagonist in the "LEGO Marvel Super Heroes 2," creating a campaign that crisscrosses all reality and space.
Before you play the game, discover the story behind this agent of chronological chaos with the History of Kang!
When you're a time-tripping chrono-despot like Kang the Conqueror, death means very little when somewhere out there in the time-stream there's another you just waiting to take your place and prove their worth. When we last left Kang, he'd been fried crispy by his own overloaded armor, but as the next phase of his history—which may or may not be accurate in your reality—illustrates, you just can't keep a good—or bad—Kang down.
Imagine the surprise on the part of the Avengers who took part in the Beyonder's first great "Secret Wars" when they witnessed their old buddy the Conqueror seemingly hale and hearty and on the side of the villains on Battleworld. Doctor Doom himself described Kang as a future version of himself, but when push came to shove, Doom acted on his own behalf, despite any supposed family ties.
That Kang, or maybe another one, later ended up in front of a trio of Kangs who displayed acute unhappiness over their "brother's" reckless behavior throughout the time-stream. One of them, known as Kang-Prime, executed a campaign to rid the universe of all other versions of himself, which of course brought him into conflict with the Avengers. Turns out that Immortus—yet another Kang of sorts—pulled the strings on Prime's actions and after driving the guy mad, Immortus walked away, full of himself and his cleverness.
Still yet another Kang—we think—tumbled into an entire arena filled with thousands and thousands of Kangs who called themselves the Council of Kross-Time Kangs and wanted their wayward brethren to join their ranks. That Conqueror ended up in a scrap with a female version known as Nebula-Kang who sought a powerful weapon and, well, it didn't go well. Not for Kang or anyone else.
Remember that whole Celestial Madonna thing? Kang did and wanted revenge on Mantis—the Madonna—for fouling things up for him at that time. The Fantastic Four got involved and the whole thing devolved into a fight with a being called Necrodamus and a battle between Kang and the Silver Surfer. Later, the Human Torch caught up with that Kang and while under the influence of Nebula, fried the despot in his own armor.
Then, returning things full circle, Kang—well, it looked like Kang!—allied himself with his ancestor Doctor Doom yet again during that whole Infinity War brouhaha. You can bet that turned out as well as that Secret Wars thing for Kang.
Around that time, Kang decided he needed to knuckle down and show everybody once again why he ranked as one of the great villains of all time. And he did…
Check Out: SECRET WARS #1-6. AVENGERS (1963) #267–269, #291–297. FANTASTIC FOUR #323–325, #337–341. INFINITY WAR #1-6.
The Hype Box
Can't-miss news and updates from across the Marvel Universe!