Comics
Published December 16, 2016
Follow the History of the Black Panther Pt. 25
T'Challa brokers peace with Doctor Doom, battles Man-Ape, and more!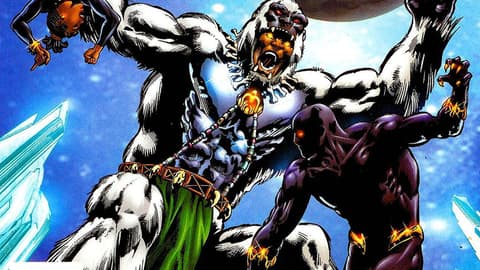 For 50 years, the Black Panther has stood at the forefront on the Marvel Universe. As we count down to a vision of T'Challa on the big screen coming soon, take a look back at five decades' worth of comic book adventures…
The Black Panther joined forces with Storm of the X-Men in BLACK PANTHER #26 to search for a missing Lemurian child while his former protégé Vibraxas made his return to Wakanda. In BLACK PANTHER #27, full-blown hostilities broke out between the small African nation and Lemuria, prompting T'Challa to open negotiations with both Doctor Doom and Namor the Sub-Mariner.
Juggling dealings with Doom, Namor, and Magneto in BLACK PANTHER #28, the Panther confronted an attempt by his long-time enemy Klaw to disrupt the fragile peace. T'Challa's friend Everett Ross secured a more solid truce in BLACK PANTHER #29, while the Panther battled Klaw and once defeating him traveled to New York City with Namor.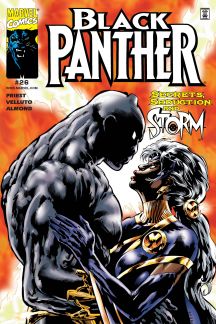 Back in the U.S., The Black Panther faced a Senate intelligence committee over recent events in BLACK PANTHER #30, but stepped back to allow Everett Ross to defend him and his actions. Malice lured T'Challa into a devious trap in BLACK PANTHER #31, and sent her slaves to seize the Panther's friend Monica Lynne in BLACK PANTHER #32. Her final defeat came about in BLACK PANTHER #33.
T'Challa and Vibraxas entered the dreaded Crystal Forest of Wakanda in BLACK PANTHER #34 to find Queen Divine Justice, but found the Man-Ape instead. Government operative Henry Gyrich became involved in the struggle against Man-Ape in BLACK PANTHER #35, while Vibraxas found himself lost in the Crystal Forest.
Beyond all this, a resurrected Erik Killmonger captured Everett Ross in BLACK PANTHER #36, and T'Challa's daughter teamed with the White Wolf for an adventure.
The Hype Box
Can't-miss news and updates from across the Marvel Universe!