Comics
Published December 1, 2016
Follow the History of the Hulk Pt. 40
The emerald giant's Defenders days come to a close and Bruce Banner finds himself on the run once mo
For over 50 years, the Incredible Hulk has been smashing his way through the Marvel Universe and into the hearts of fans. Whether you've discovered the tale of Bruce Banner and his other self through comics, TV, or film, get the whole story here…
Hulk and the Defenders invaded Atlantis in DEFENDERS #11 to restore their comrade Namor to the throne, and in DEFENDERS #12 warded off an attack by strange stone creatures. When the jade giant returned to the side of his non-team partners in THE ORDER #1, he joined them in a reign of terror against cities across the globe.
The other Defenders discovered the core personalities of Hulk, Doctor Strange, Namor, and The Silver Surfer to be missing in THE ORDER #2, and when they failed to defeat their comrades, the Avengers swept in to engage the now-evil group. As Earth's Mightiest Heroes fought valiantly against the Hulk and his partners in THE ORDER #3, the Defenders rallied to gather Namorita, Clea, and She-Hulk to aid them against their male counterparts.
Stabbed with a mystic blade in THE ORDER #4, Silver Surfer unwittingly created his own female counterpart, Ardina. Later, Hulk helped send the Defenders into exile to the planet Yann in THE ORDER #5, where the heroes learned of a way to break Yandroth's curse on their comrades. As Earth's heroes continued their struggle, the Defenders restored the Hulk's true self as well as his friends' personalities in THE ORDER #6 and broke Yandroth's hold on them.
In INCREDIBLE HULK #34, Bruce Banner found himself on the run again and his alter-ego accused of the death of a young boy, Ricky Myers. Federal agents joined the hunt in INCREDIBLE HULK #35, as well as a woman named Sandra Verdugo and Banner's old rival Doc Samson in INCREDIBLE HULK #36.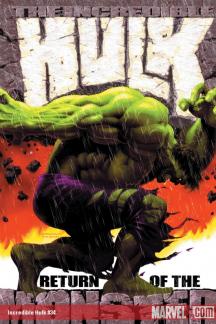 All the pursuers convened in INCREDIBLE HULK #37 to face off against Hulk in a small diner in INCREDIBLE HULK #38. Sandra managed to capture Banner's laptop in INCREDIBLE HULK #39, and then revealed to the scientist that she and Samson lost their son: Ricky Myers.
Bruce Banner stood in the way of a convenience store hold-up in INCREDIBLE HULK #40, and while holding Hulk back from emerging during the crisis in INCREDIBLE HULK #41 ended up in the crosshairs of Agent Pratt, a representative of a shadowy government cell. Pratt went after the rampaging green behemoth in INCREDIBLE HULK #42, but when faced with his opponent in INCREDIBLE HULK #43 he seemingly died during the battle.
The secret organization placed a camera in Doc Samson's eye in INCREDIBLE HULK #44 to spy on Bruce Banner, who ran once again in INCREDIBLE HULK #45 only to run headlong into a resurrected Agent Pratt. When Banner wound up in a hospital afterward in INCREDIBLE HULK #46, Pratt kidnapped him and offered a few explanations for who and what he seemed to be.
The Hype Box
Can't-miss news and updates from across the Marvel Universe!