Comics
Published December 30, 2016
Follow the History of the Hulk Pt. 44
The Thing drops by for a scrap and the saga of Planet Hulk begins!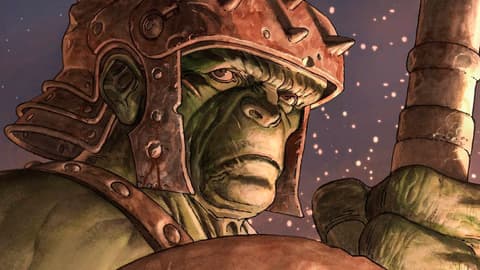 For over 50 years, the Incredible Hulk has been smashing his way through the Marvel Universe and into the hearts of fans. Whether you've discovered the tale of Bruce Banner and his other self through comics, TV, or film, get the whole story here…
The world's premiere super hero family received a call for help in FANTASTIC FOUR #533, one that informed them of the Hulk's latest rampage, this time outside of Las Vegas. The Thing and the Human Torch confronted the jade giant in FANTASTIC FOUR #534, and learned that The Hulk suffered from a direct gamma ray blast, which dredged up bad memories from his past.
The Hulk and Thing traded crushing blows in FANTASTIC FOUR #535, until Ben Grimm literally knocked some sense into the behemoth and the army then spirited him away on a helicopter. Later, in INCREDIBLE HULK #88, a S.H.I.E.L.D. agent approached the Hulk in Alaska with a message from none other than Nick Fury.
Fury directed the green goliath into space to destroy a killer satellite in INCREDIBLE HULK #89, but when Hulk reached his destination in INCREDIBLE HULK #90, he found it impossible to stop. The satellite took human form in INCREDIBLE HULK #91, but Hulk won his battle, though discovered that he couldn't return to Earth, thanks to Fury's betrayal.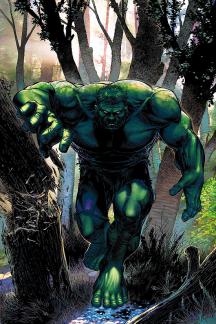 Locked in a ship able to rocket through interstellar space, thanks to the combined efforts of Fury, Reed Richards, Tony Stark, and other, Hulk crash-landed on the far-off planet of Sakaar in INCREDIBLE HULK #92. There, he became a gladiator in the Red King's arena, and forged a force from among the fighters in INCREDIBLE HULK #93.
When insurgents attacked the arena to disrupt the emperor's games in INCREDIBLE HULK #94, Hulk and his fellows drew together to confront all enemies as one unit. After dueling with a captured Silver Surfer in INCREDIBLE HULK #95, he and the other slaves escaped with the Red King's guard hot on the green gladiator's trail in INCREDIBLE HULK #96.
Soon, the people of Sakaar began to believe that The Hulk fulfilled an ancient prophecy of freedom from bondage in INCREDIBLE HULK #97, but when the jade giant's coalition started to splinter in INCREDIBLE HULK #98, it took one of the emperor's greatest fighters, Caiera, to betray her liege and join the Hulk's side in INCREDIBLE HULK #99.
The Hype Box
Can't-miss news and updates from across the Marvel Universe!