Comics
Published March 3, 2017
Follow the History of the Hulk Pt. 52
The Jade Giant tackles Inhumanity, gamma monsters, and much more!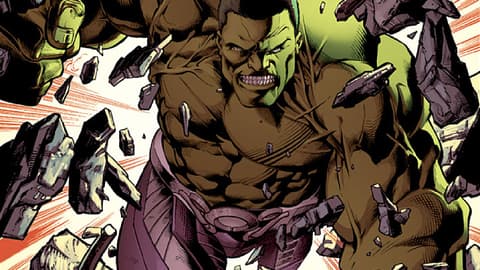 For over 50 years, the Incredible Hulk has been smashing his way through the Marvel Universe and into the hearts of fans. Whether you've discovered the tale of Bruce Banner and his other self through comics, TV, or film, get the whole story here…
The Hulk and Earth's Mightiest Heroes returned to that planet's orbit in AVENGERS #23 to find Black Dwarf waiting for them. During the battle, Ronan the Accuser arrived to declare judgment on Thanos' lackey. Later, after the Mad Titan's defeat in INFINITY #6, and the release of the Terrigen Mist over the entire planet, Earth's scientists looked to Bruce Banner to solve the problem in INDESTRUCTIBLE HULK #16.
Banner began working on the situation in INDESTRUCTIBLE HULK #17, unaware that one of his assistants, Randall Jessup, held the Inhuman gene within him. Jessup transformed into an Inhuman-Hulk hybrid of sorts in INDESTRUCTIBLE HULK #18 while his boss fought Iron Man and Beast as the original green giant.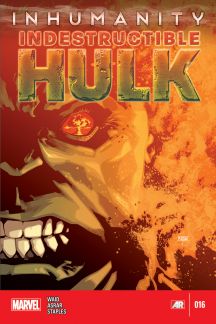 The group called the Enclave abducted Jessup after Banner helped him change back to normal in INDESTRUCTIBLE HULK #19, and The Hulk leapt at rescuing him from his kidnappers in INDESTRUCTIBLE HULK #20. Afterward, Banner left S.H.I.E.L.D., unhappy with their treatment of him and his assistants.
The Hulk joined with the Avengers to confront The Orb in ORIGINAL SIN #2, and when the costumed criminal set off a strange bomb that revealed hidden secrets in ORIGINAL SIN #3, the jade giant flew into a rage when he learned Tony Stark stood responsible for the accident that turned Banner into his hulking alter-ego. Later, Hulk joined with Wolverine to interrogate the captured Orb, got blasted by The Punisher in ORIGINAL SIN #4, and crash-landed on the Moon in ORIGINAL SIN #7.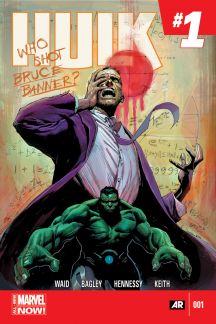 An unknown assailant shot the scientist in HULK #1, targeting a sensitive area of Banner's brain that would cripple him mentally, but not force the transformation into The Hulk. The Abomination returned from the dead in HULK #2, and after surgery, Hulk battled the Avengers in HULK #3. Tony Stark used the Extremis Virus to cure Banner in HULK #4, but when it increased his intelligence, Bruce tweaked Extremis to create a new, smart Hulk persona nicknamed "Doc Green."
Doc Green's first task in HULK #5 involved tracking down everybody who ever "suffered" from gamma ray exposure, including his oldest friend, Rick Jones. After "curing" Rick in HULK #6, Doc Green set his sights on his son Skaar in HULK #7.
The Hype Box
Can't-miss news and updates from across the Marvel Universe!