Comics
Published October 4, 2017
Generation X: Gap Years
Christina Strain unites the original team with the current mutant squad!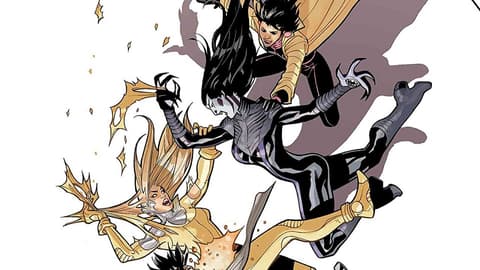 The original team returns in GENERATION X #85—and they've come together to help one of their own!
On December 20, writer Christina Strain and artist Amilcar Pinna cross mutant generations as Marvel Legacy begins! Jubilee's students at The Xavier Institute for Higher Learning will meet their predecessors as she, Chamber, and Husk look to assist a former teammate, Monet.
Can they save her? What role with Jubilee's students play? We met up with Christina Strain to find out.
Marvel.com: How has writing GENERATION X been? List a few of your favorite moments so far.  
Christina Strain: It's been stressful—but good. It's crazy juggling writing a monthly book while also writing for TV and being a new mom…but, hey! It's almost October, which means I've almost survived the year!
But through it all, there have been some really rewarding moments. Roxy's struggles feel near and dear to my heart—and probably most encapsulate what we want to say with this book. The relationship between Quentin, Benjamin, and Nathaniel also represents something I've had mapped out from the beginning, so watching that unfold on the page has been so satisfying. And because Trevor and Lin are so much fun, they made writing issue #5 some of the most fun I've ever had doing this job.
Then with Jubilee…look, as an Asian kid, she meant a lot to me as one of the few visible—and awesome—Asian X-Men characters. And now that I'm an adult, with an adopted child, juggling a lot of responsibilities, it's crazy, because I still identify with her—just on a totally different level. So getting to write her right now in particular has been incredible for me.
Marvel.com: What's it like working with Amilcar Pinna on the title? 
Christina Strain: A dream! He's so sweet and so good and he works so hard. His enthusiasm feels totally infectious and every time he turns in new pages, he gives me life.
I've been killing myself with work this year, and every time I feel like I've about died, Amilcar turns in pages and I am resurrected. Like, it makes me legit annoyed that people haven't seen the most recent issues he's drawn yet. They look gorgeous!
Marvel.com: Who can we expect to see from the old team as part of this new storyline?
Christina Strain: I hate spoilers! So I'm going to say this: You can search for [artist] Terry Dodson's Legacy covers and that'll tell you for sure who's showing up—but something to keep in mind is that he drew it forever ago, before I finished outlining this arc…and I won't say any more than that.
Marvel.com: I can't imagine the new kids will just sit back while Jubilee and her friends go to work. What will their role be in the story?
Christina Strain: No, they won't. As excited as I am to get into it with the OG crew, this book still feels primarily about Jubilee, Quentin, Roxy, Benjamin, Nathaniel, Trevor, and Lin—and what goes on with them, so they'll still be front and center. The arc really focuses more on continuing the story we set out to tell while simultaneously using the OG character's arcs as a foil.
Marvel.com: What old and new Generation X pairings have you enjoyed most?
Christina Strain: The interactions between Roxy and the group of Chamber, Husk, and Jubilee have probably been my favorite scenes to write. Because, for me, Roxy's had the most complicated arc of all the characters and it really touches on several of the OG character's own arcs. So there's a lot to mine there. There's also an interaction between Jubilee and Quentin in issue #85 that I've really loved writing and I'll be curious to see how people react to that.
Read Christina Strain and artist Amilcar Pinna's GENERATION X #85 on December 20!
The Hype Box
Can't-miss news and updates from across the Marvel Universe!