Comics
Published August 30, 2017
Generations: Spider-Man – School Days
It's a blast from the past as Miles Morales hits the halls of Empire State University!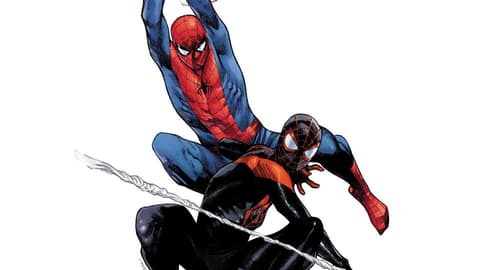 On September 27, Miles Morales swings back in time to barge in and complicate the already overly complex and stressful life of a young Peter Parker. In GENERATIONS: MILES MORALES SPIDER-MAN & PETER PARKER SPIDER-MAN #1, writer Brian Michael Bendis and artist Ramon Perez throw Miles into the world imagined by Stan Lee and Steve Ditko to help him learn just where he fits in to the Spider-Man legacy from the kid who started it all.
"I was very excited about this because the Generations project allows heroes from today to meet their heroes, but at a very specific time in their development," notes Bendis, "This moment I've chosen, as tiny as it is, it's everything as far as the characters are concerned." Looks like Peter's first day of college will be a learning experience for not just one, but two Spider-Men.
As it stands Miles has only ever met the older, wiser and more successful Peter Parker of his time, so it's understandable that the teenager has come down with a case of "woe is me, no one can possibly understand my solely unique and never felt before struggles of spider life."
Okay, so Miles may not be that dramatic but you get the gist.
"Miles is always struggling to balance his Spider-Man life, and his Miles life, and his friends, and his family, and his appearance and, you know, Peter doesn't have any friends, he doesn't have any parents, he doesn't have any of these things that Miles is struggling with," Bendis reminds. Nothing like popping in on a low point in someone else's life to hit you with a good old-fashioned reality check.
Miles has never seen this Peter before, explains Bendis; it's a Peter much darker and Miles will see something he can never un-see. And though the writer says seeing the darkness that inspired Peter's choices at this crossroads in his life will be surprising it will also be a big influence on Miles and his choices moving directly into Marvel Legacy beginning in SPIDER-MAN #234.
The two stand apart as very different characters leading pretty different lives, especially in the years following the receipt of their powers. Peter has established himself as the independent, go it alone type, while Miles almost always has the help of his friends. Peter stands out as an exceptional student, while Miles remains more, as Bendis puts it, "intuitive." Peter has not much in the way of accountability when it comes to showing up, whereas there is always someone looking for Miles. Peter gets lost in his own world and disregards those around him, while Miles stays more concerned with keeping up appearances and figuring out how to manage each aspect of his life.
This juxtaposition of Miles and Peter's character will be showcased in not just the writing of this issue but the art as well, as Perez tries to infuse his own unique style with some Steve Ditko inspired flares: "To capture the spirit of it without imitating it was a big deal to me," insists Bendis. "That extra level of staying true to yourself yet somehow processing the spirit of Steve Ditko was the challenge we put to Ramon Perez, and boy did he deliver," adding that as new pages come in he finds himself slow clapping his computer.
So while Peter may or may not think Miles just a delusion caused by a stress induced psychotic breakdown—we've all been there, Pete—this meeting will weigh pretty heavily on Miles' future. "This is the beginning of what I think is a big, surprising year," teases Bendis, "He's a young man about to crawl above the influence of his parents, and Uncle Aaron, and Peter Parker and become his own man and that's pretty exciting, whatever form that takes."
Catch all the life altering excitement in GENERATIONS: MILES MORALES SPIDER-MAN & PETER PARKER SPIDER-MAN #1 written by Brian Michael Bendis with art by Ramon Perez out September 27.
The Hype Box
Can't-miss news and updates from across the Marvel Universe!