Comics
Published September 26, 2023
Marvel Launches a Giant-Sized Celebration for the 50th Anniversary of Giant-Size Storytelling
Celebrate the impact and legacy of 1970s' Giant-Size issues with all new Giant-Size one-shots next year, starting with Cody Ziglar and Iban Coello's 'Giant-Size Spider-Man' #1 in January.
Throughout Marvel's historic Bronze Age of the 1970s, there were tales so titanic, adventures so grand, and battles so larger than life that they could only be told in special GIANT-SIZE comics!
Now, 50 years later, GIANT-SIZE is back and more pivotal than ever! Throughout 2024, Marvel will celebrate the milestone anniversary of the first GIANT-SIZE comic with all-new spectacular one-shots featuring your favorite heroes, starting with January's GIANT-SIZE SPIDER-MAN #1. 
Before crossover events became the norm, True Believers knew that GIANT-SIZE issues were home to Marvel's most earth-shattering developments! During its original run, the pages of GIANT-SIZE included legendary Marvel moments like the groundbreaking debut of the all-new, all-different X-Men, the wedding of Vision and Scarlet Witch, Spider-Man's run-in with Dracula, and the first appearances of Multiple Man, Lilith, Korvac, and Tigra!
Ever since then, when fans see GIANT-SIZE on a comic, they know they were in for an epic ride, and these new GIANT-SIZE one-shots will pack the same punch! These new installments will also include backup reprints of key stories, giving readers a gigantic dose of Marvel brilliance, past and present! 
First up, MILES MORALES: SPIDER-MAN scribe Cody Ziglar and Marvel Stormbreaker artist Iban Coello spin a showdown between the next generation's Spider-Man and Venom in GIANT-SIZE SPIDER-MAN #1! Dylan Brock has a bone…or a brain…to pick with Miles Morales in a GIANT-SIZED Spidey story that can't be missed! GIANT-SIZE SPIDER-MAN #1 will also reprint ULTIMATE COMICS: SPIDER-MAN #22 by Spidey-legends Brian Michael Bendis and Sara Pichelli that features the epic conclusion of Miles' first battle with Ultimate Venom!
And that's not all! In December, Marvel proudly re-presents the very first Giant-Size title ever, GIANT-SIZE SUPER-STARS #1, in a special facsimile edition. Experience one of the all-time great Marvel comic books from industry legends Gerry Conway and Rich Buckler, in its original form, ads and all! The Thing and the Hulk have one of the most powerhouse rivalries in the entire Marvel Universe—and in 1974, it spilled out of the pages of both of their own books into a double-length slobberknocker!
Like all the best bouts, this one takes place in the ring at Madison Square Garden—with the Fantastic Four watching on! In the green corner, it's Bruce Banner's incredible alter ego! In the orange corner, it's bashful Benjamin J. Grimm! But there's a twist to this fight that you won't believe—and the formidable warrior Thundra is on hand to tag in! Will it be Clobberin' Time for the Hulk? Or will the ever-lovin' Thing get smashed?
GIANT-SIZE SUPER-STARS #1 FACSIMILE EDITION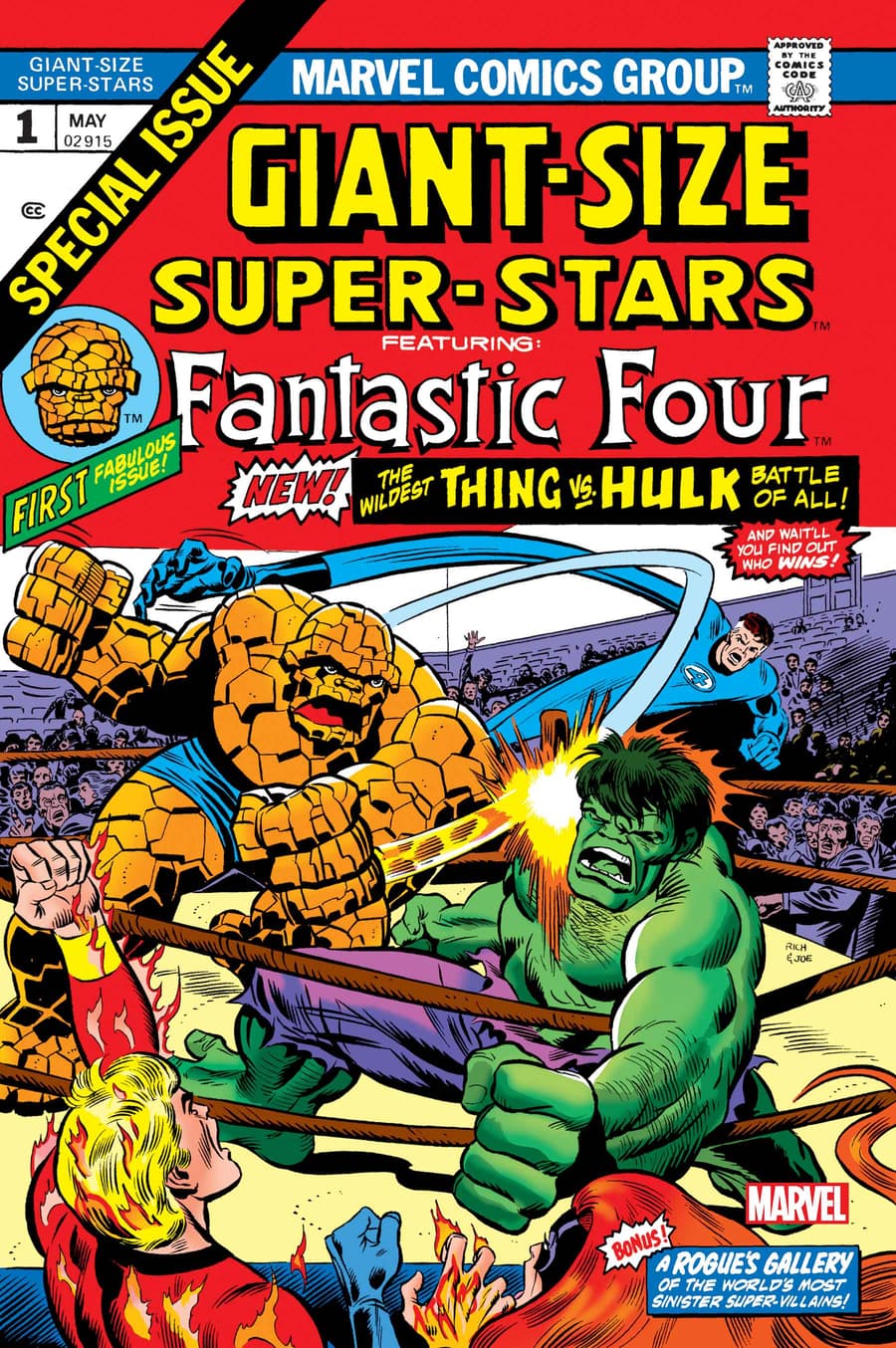 GIANT-SIZE SUPER-STARS #1 FACSIMILE EDITION
Written by GERRY CONWAY
Art and Cover by RICH BUCKLER
On Sale 12/27
GIANT-SIZE SPIDER-MAN #1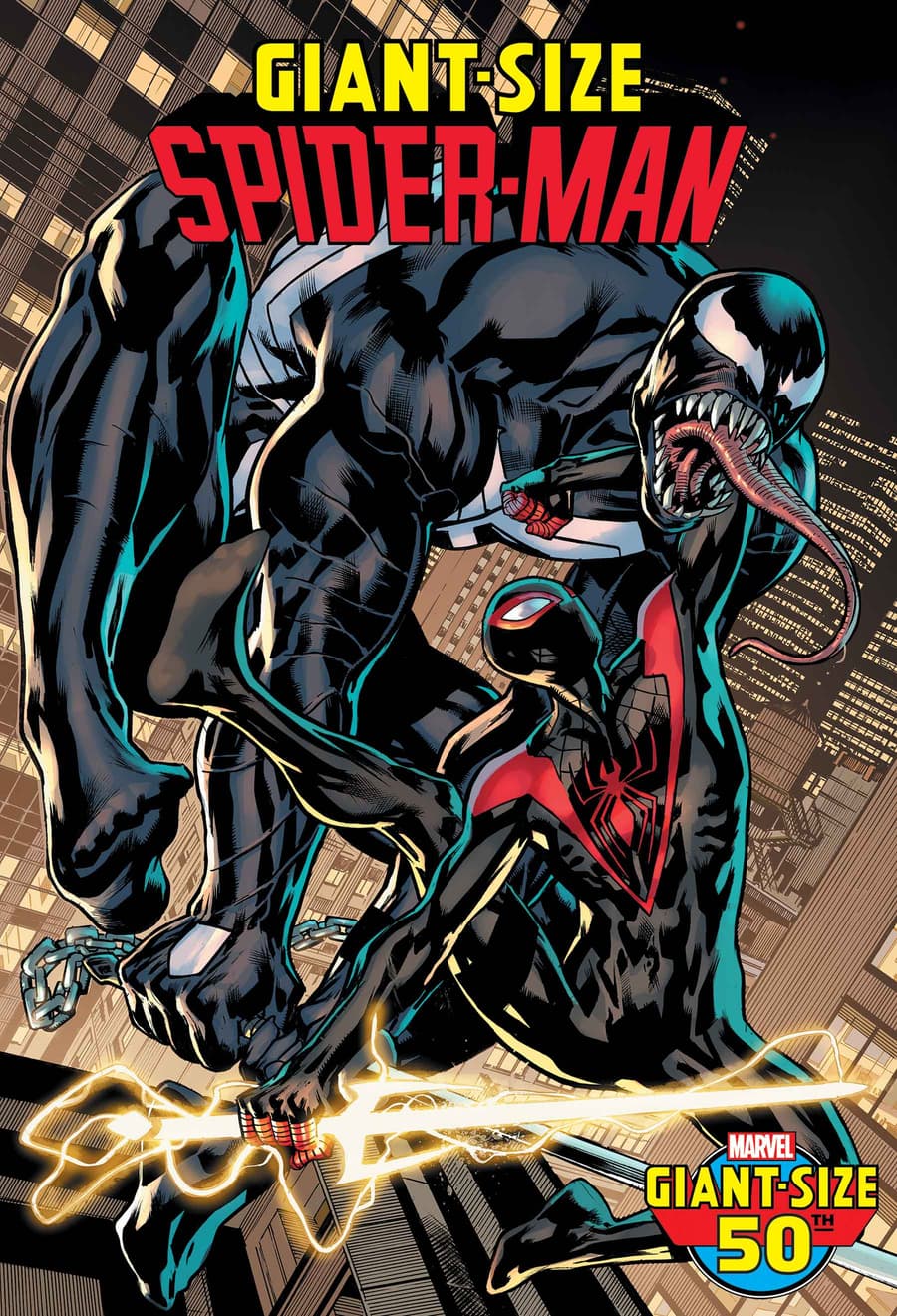 GIANT-SIZE SPIDER-MAN #1
Written by CODY ZIGLAR
Art by IBAN COELLO
Cover by BRYAN HITCH
On Sale 1/10
Check out superstar artist Bryan Hitch's cover for GIANT-SIZE SPIDER-MAN #1 below and stay tuned for more giant-sized announcements in the months ahead!
Grab these comics and more at your local comic book shop! Or redeem then read your digital copy on the Marvel Unlimited app by using the code found in your print comic. Find and support your local comic book shop at ComicShopLocator.com.
To read your Marvel comics digitally, download the Marvel Unlimited app for iOS and Android devices. Gain an expansive catalog of 30,000+ comics spanning Marvel Comics history, plus access your entire digital library including comics redeemed from print.
The Hype Box
Can't-miss news and updates from across the Marvel Universe!