Comics
Published June 13, 2022
The 10 Most Impactful Neal Adams Pages in Marvel History
We look back at some of the most iconic and monumental pages from the storied legacy of artist Neal Adams.
Earlier this year, Marvel Comics mourned the passing of the indomitable Neal Adams. Adams was regarded as a top artist and a titan of the comic book industry. His 63-year career revolutionized the world of comics with his photorealistic renderings and dynamic sequential storytelling. Adams also left his mark as a writer, a publisher, and as the founder of Continuity Comics—he also devoted a large part of his professional life toward advocacy for creators' rights with the formation of the Comics Creators Guild.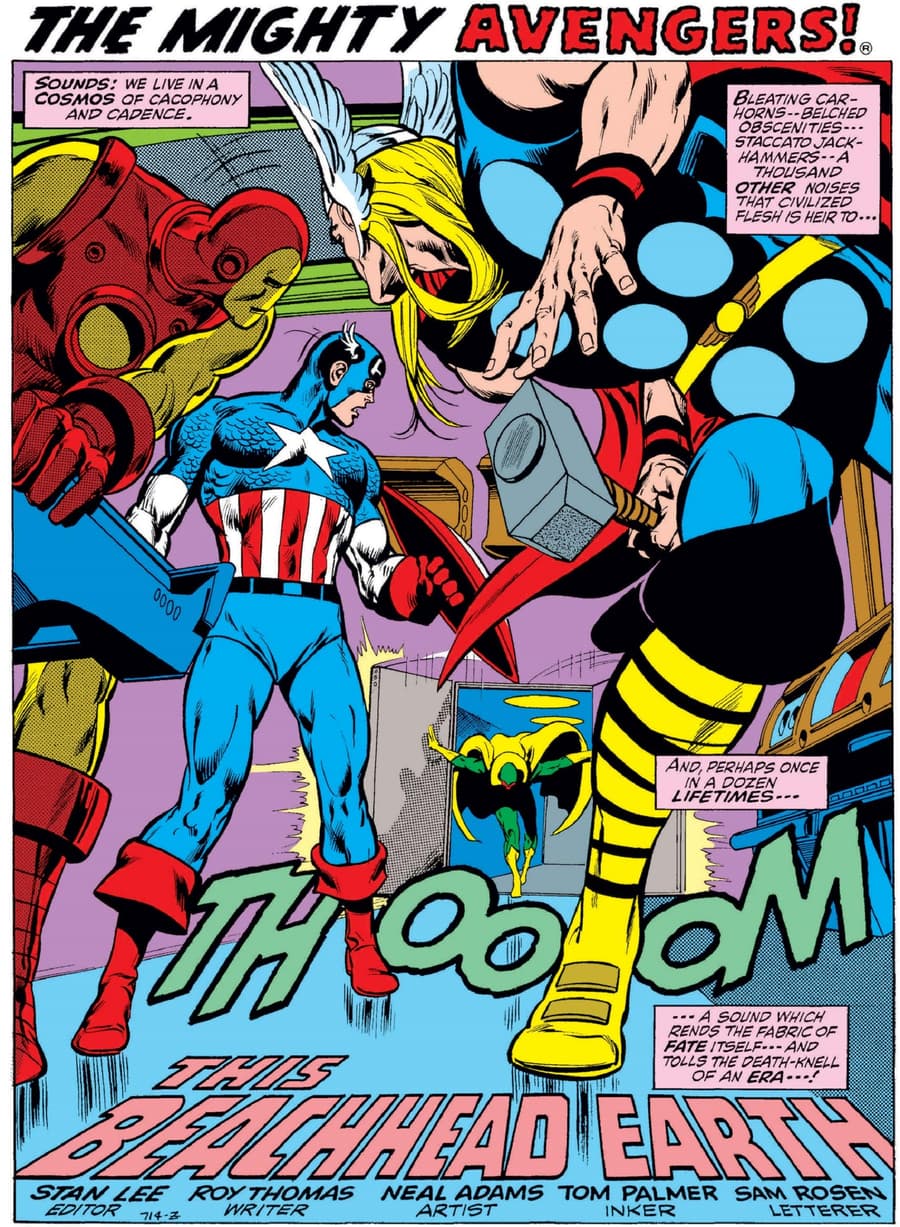 To celebrate the life and legacy of Adams, Marvel.com takes a look back at some of the most impactful pages that he illustrated during his time with the House of Ideas. The majority of these issues are also available on Marvel Unlimited, where you can fully enjoy the stories within their original context. We could have selected several additional pages, but we felt that these images in particular convey everything that we admire about Adams' immense talent.
LIKE A BLACK BOLT FROM THE BLUE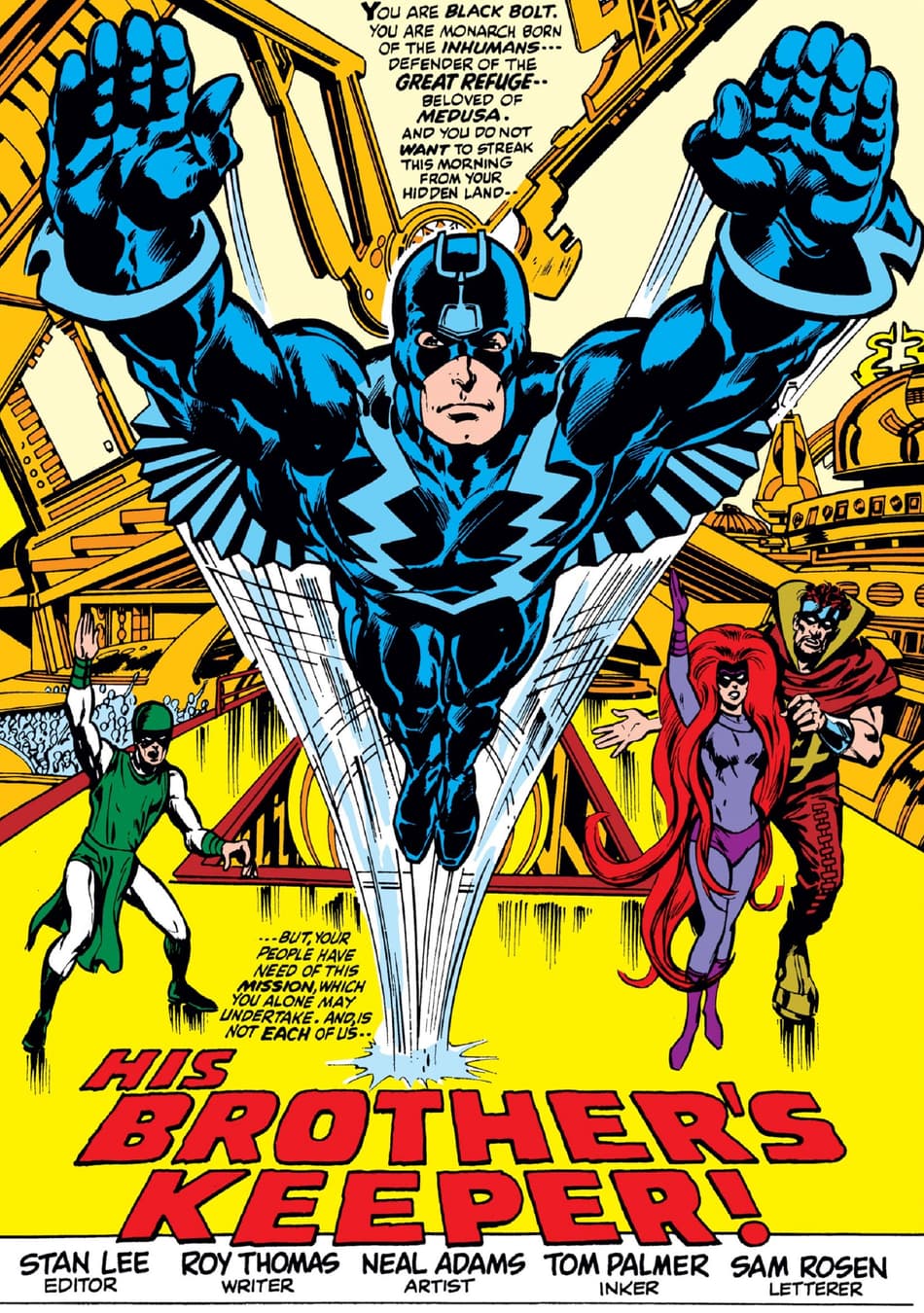 The king of the Inhumans, Blackagar Boltagon ("Black Bolt" to his peers), appears to leap from the page in this opening splash from AMAZING ADVENTURES (1970) #5. Adams' frequent Marvel collaborator, writer Roy Thomas, provided the rare second-person narration for Black Bolt as he soars away from the rest of the Inhuman Royal Family. Inker Tom Palmer also contributes to the page's power and majesty.
THE LIVING MONOLITH
Adams and Thomas' time on the X-Men's first volume, UNCANNY X-MEN (1963), reinvigorated the mutant team and gave the series bold visuals that were revolutionary for its time. Their collaboration also marked a major step forward for the sequential medium. In this page from UNCANNY X-MEN #56, the team is menaced by the Living Monolith, an enhanced incarnation of the villain formerly known as "the Pharaoh." And what better way for the Living Monolith to announce his intentions than by destroying a wall and threatening to crush the life out of Angel?
NIGHT OF THE SENTINELS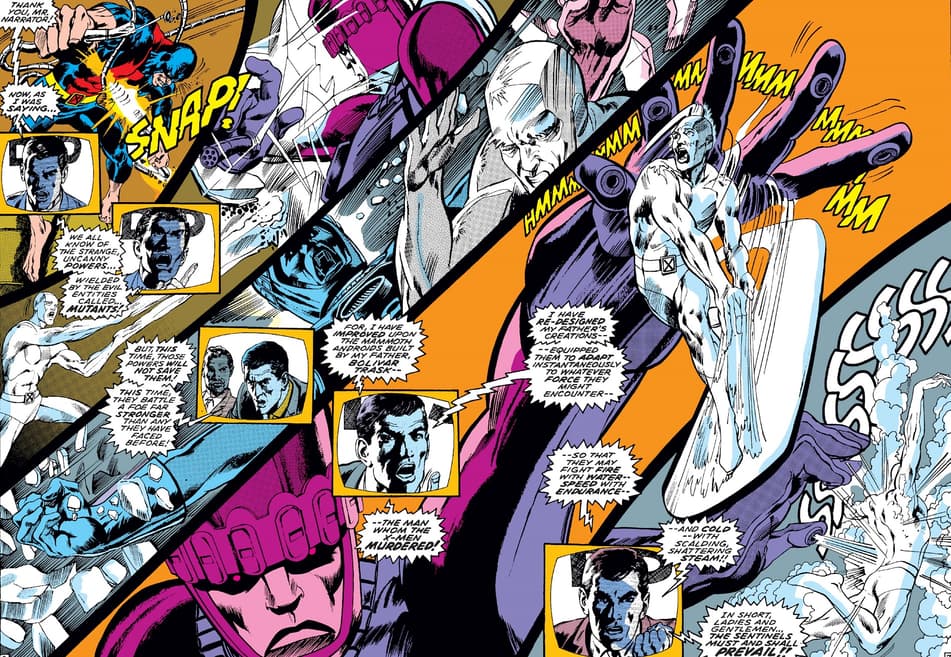 The double page splash was not an invention of Adams, but he utilized it to great effect in these two pages from UNCANNY X-MEN #58. Keep in mind too, Adams usually inked and colored his own art during this run. Nearly every visual choice on the page came from Adams, as we watch poor Iceman get overwhelmed by the new generation of mutant-hunting Sentinels. Once again, Roy Thomas contributes a memorable monologue by Larry Trask as he touts his anti-mutant machines, unaware that he is a mutant himself.
THE ORIGIN OF SAURON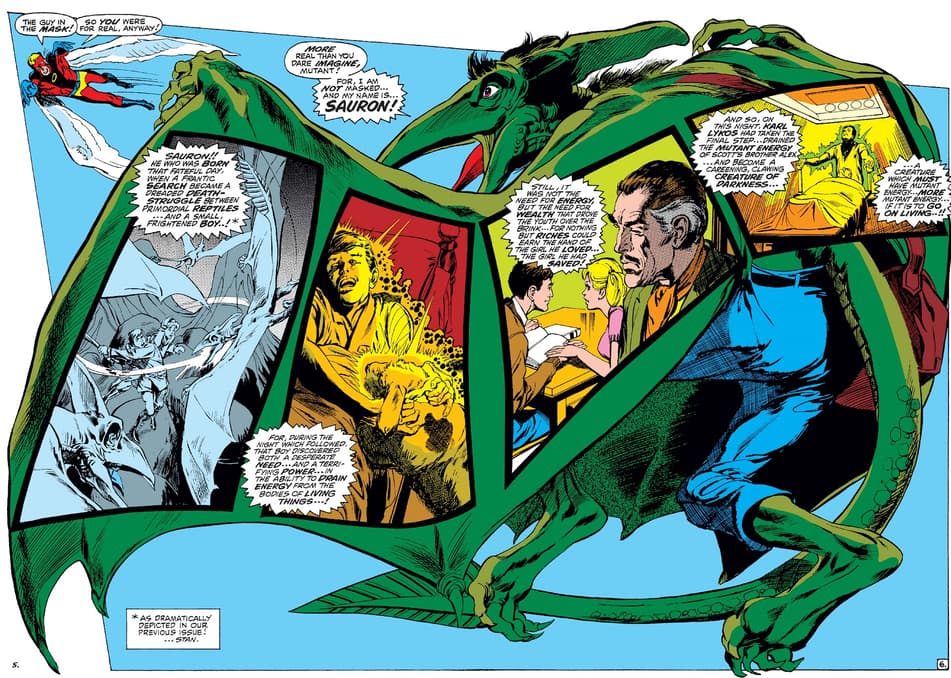 In this era, the Comics Code Authority didn't allow vampires within any of the scripts submitted for its approval. Adams and Thomas found a way around that when they introduced the reptilian Sauron in UNCANNY X-MEN #59-60. Outwardly, Karl Lykos looked like a normal man despite his desperate need to drain the life force from others in order to survive. But when Lykos took the life force from mutants, he mutated into the malevolent humanoid Pteranodon known as Sauron.
As an example of Adams' visual flare, this double page splash from UNCANNY X-MEN #61 not only establishes Sauron as a threat to Angel, it also recaps his origin story from the previous issue in the form of panels that unfold on Sauron's wings. It was an inventive choice by Adams, who was already well on his way to becoming a master.
SAURON STRIKES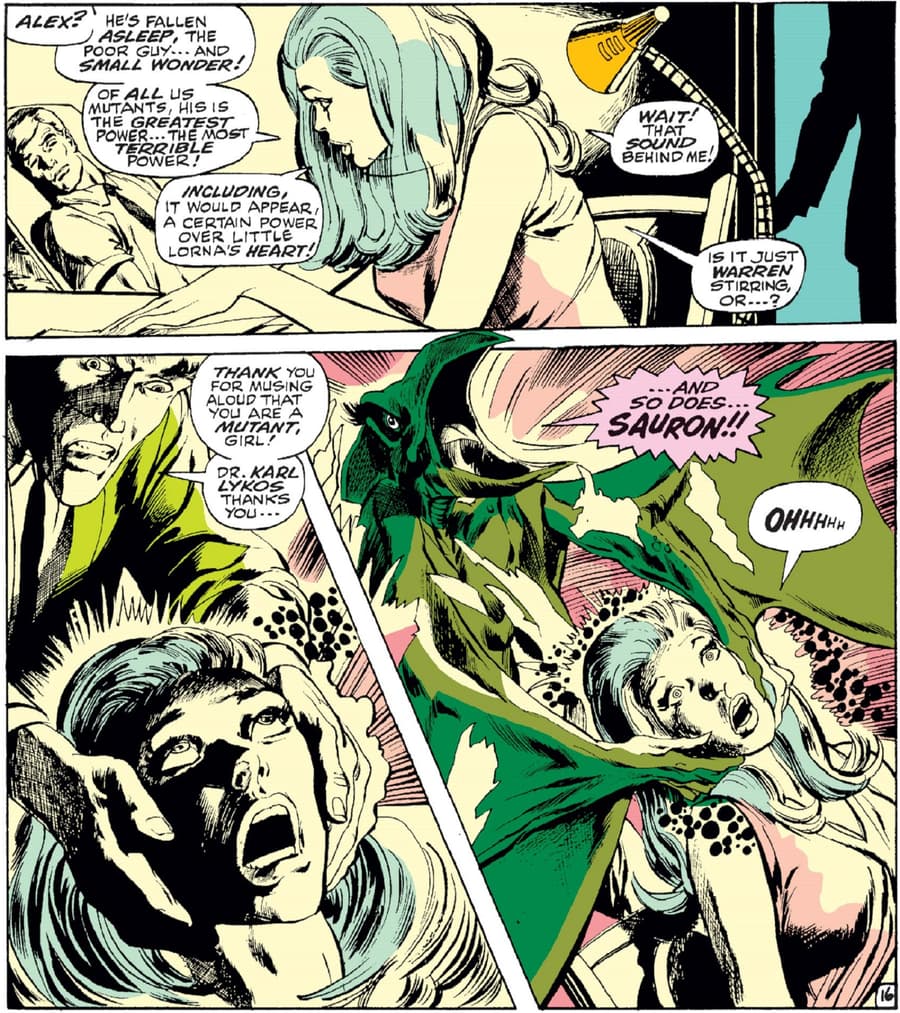 This page is also from UNCANNY X-MEN #61, and it perfectly captures the vampire motif that Adams and Thomas were going for as poor Polaris falls prey to Sauron's energy-draining touch. Polaris' expressions sell her ordeal, but the way Adams used color and the energy effect gives the page its urgency and horror. In one panel, Karl Lykos is a man. In the next panel, he is a monster. 
THE RETURN OF PROFESSOR X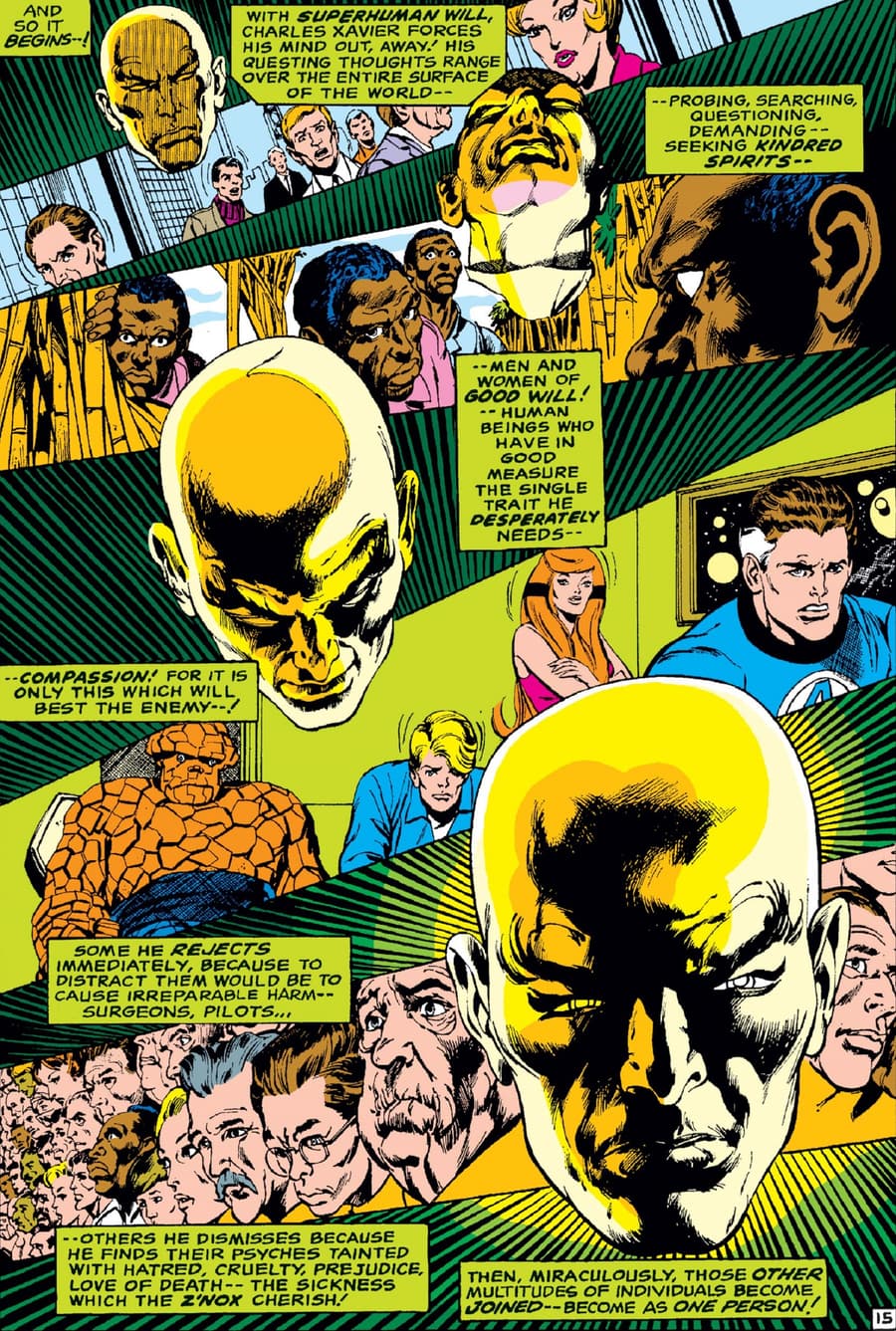 When Thomas and Adams joined UNCANNY X-MEN (1963), Professor Charles Xavier had already been killed off. But in UNCANNY X-MEN #65, the duo brought Xavier back and revealed that his death had been a ploy while he prepared to defend Earth from an alien invasion. In this page, Adams depicts Xavier reaching out to people all over the globe to lend their mental might to his own. The Fantastic Four make a memorable cameo as well, including Crystal of the Inhumans, who was a member of their team at the time. It also has to be said that this page illustrates Adams' mastery of expressions. Xavier truly looks like he's struggling as he pushes his powers beyond their natural limits.
"A JOURNEY TO THE CENTER OF THE ANDROID!"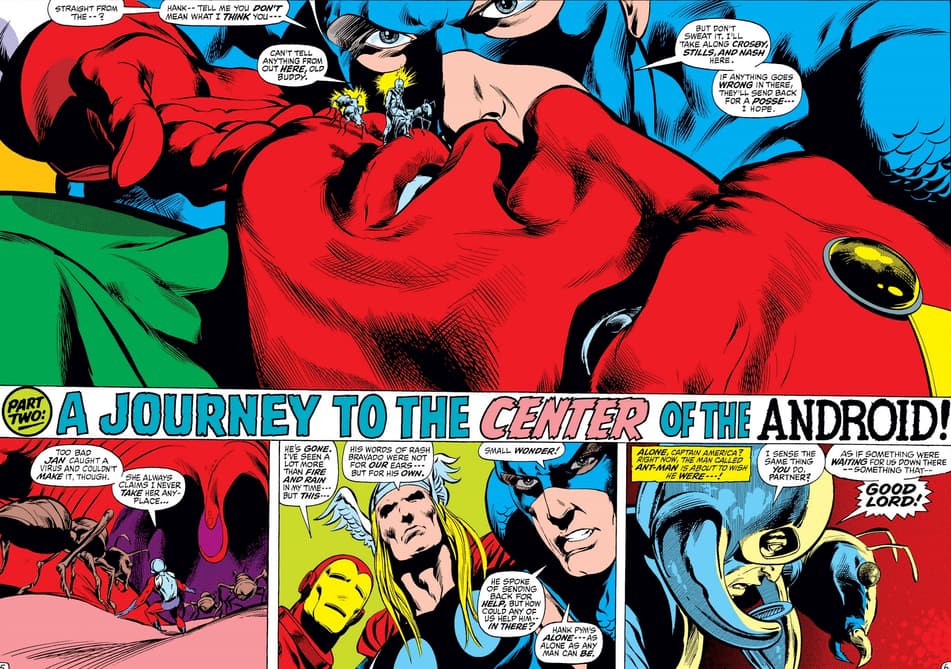 In AVENGERS (1963) #93, the Vision badly needed the help of his friends. But the only one who could truly save him was Hank Pym, the original Ant-Man. To do so, Pym had to shrink down and enter Vision's body and attempt to repair it from within. In this arresting page from the same issue, Pym plus fellow Avengers Thor, Iron Man, and Captain America assess the situation at hand. From its opening page of a bedraggled Vision, to the sequence where Pym must flee the synthezoid's automated defenses, AVENGERS #93 is Adams at his best.
"SOMETHING INHUMAN THIS WAY COMES…!"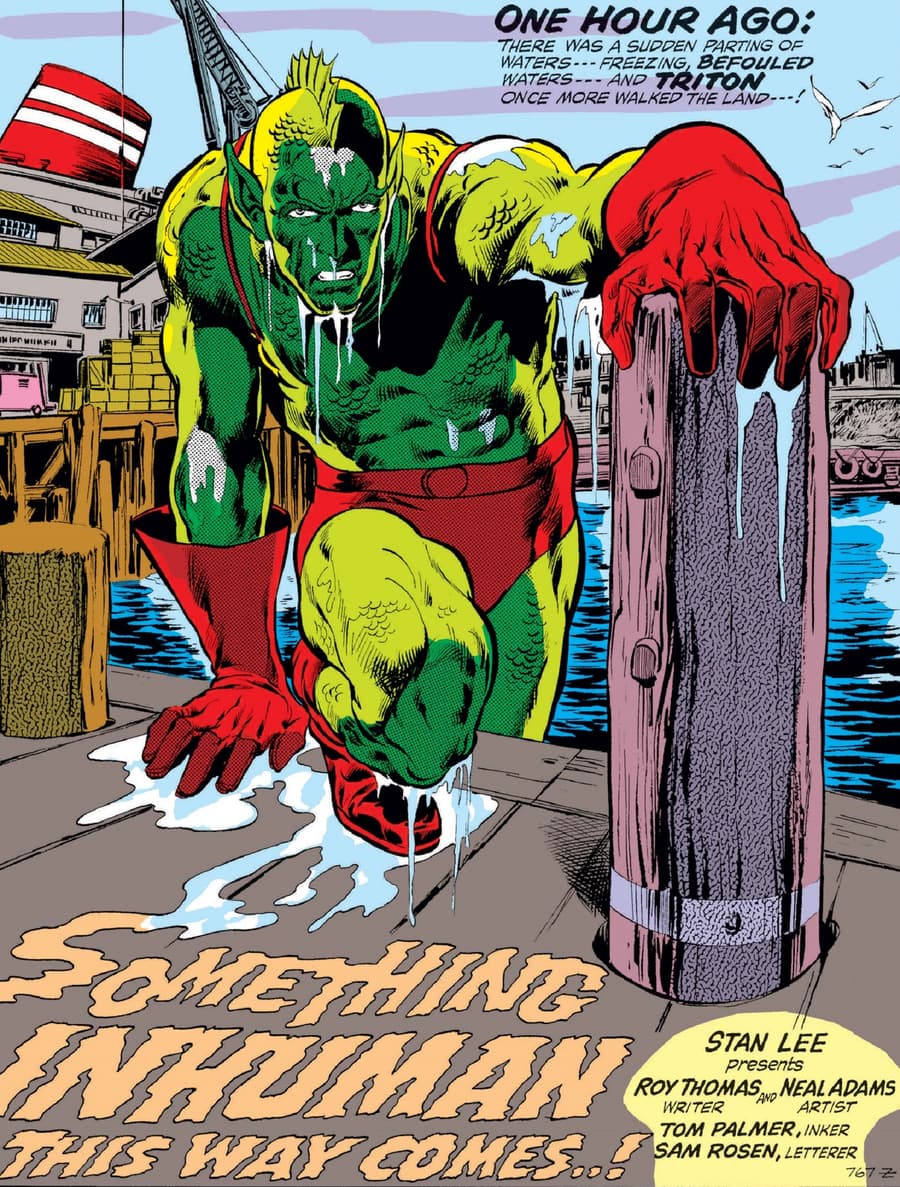 Adams opened AVENGERS #95 with this stunning splash of the Inhumans' Triton emerging from the sea. Once again, it's a visual knockout that demands the attention of the viewer even if you know nothing about who or what Triton is. The desperation on his face and in his body language tell a story of their own. The subsequent page, in which Triton has several close encounters with human bigotry and hatred have their own kind of power. But between the two, this is the one most fans remember.
BACK IN THE NEGATIVE ZONE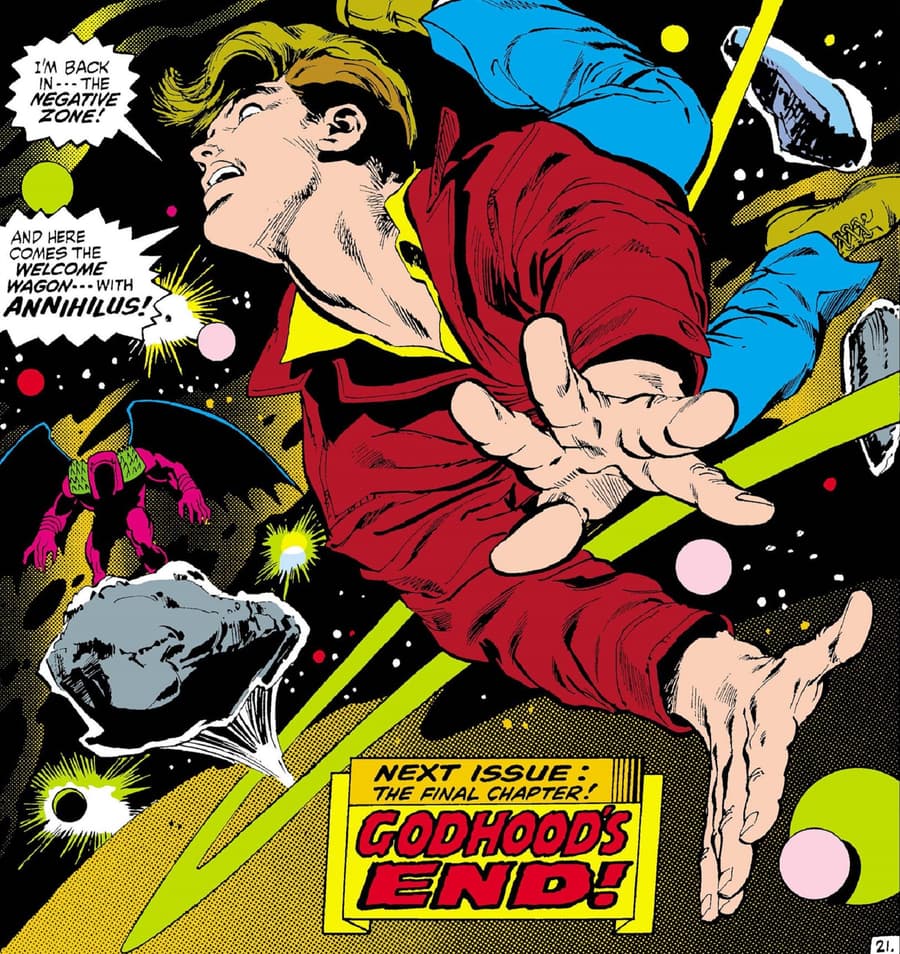 The final page of AVENGERS #96 was also Adams' last page on the title. But what a way to go out! In these images, Rick Jones is thrust into the Negative Zone against his will, where he quickly encounters one of its deadliest inhabitants: Annihilus. The poses chosen by Adams successfully convince the viewer that Rick is in the void of space without gravity or hope. It's also one of the very best pages from Adams' run on the book.
THE SOUL OF THOR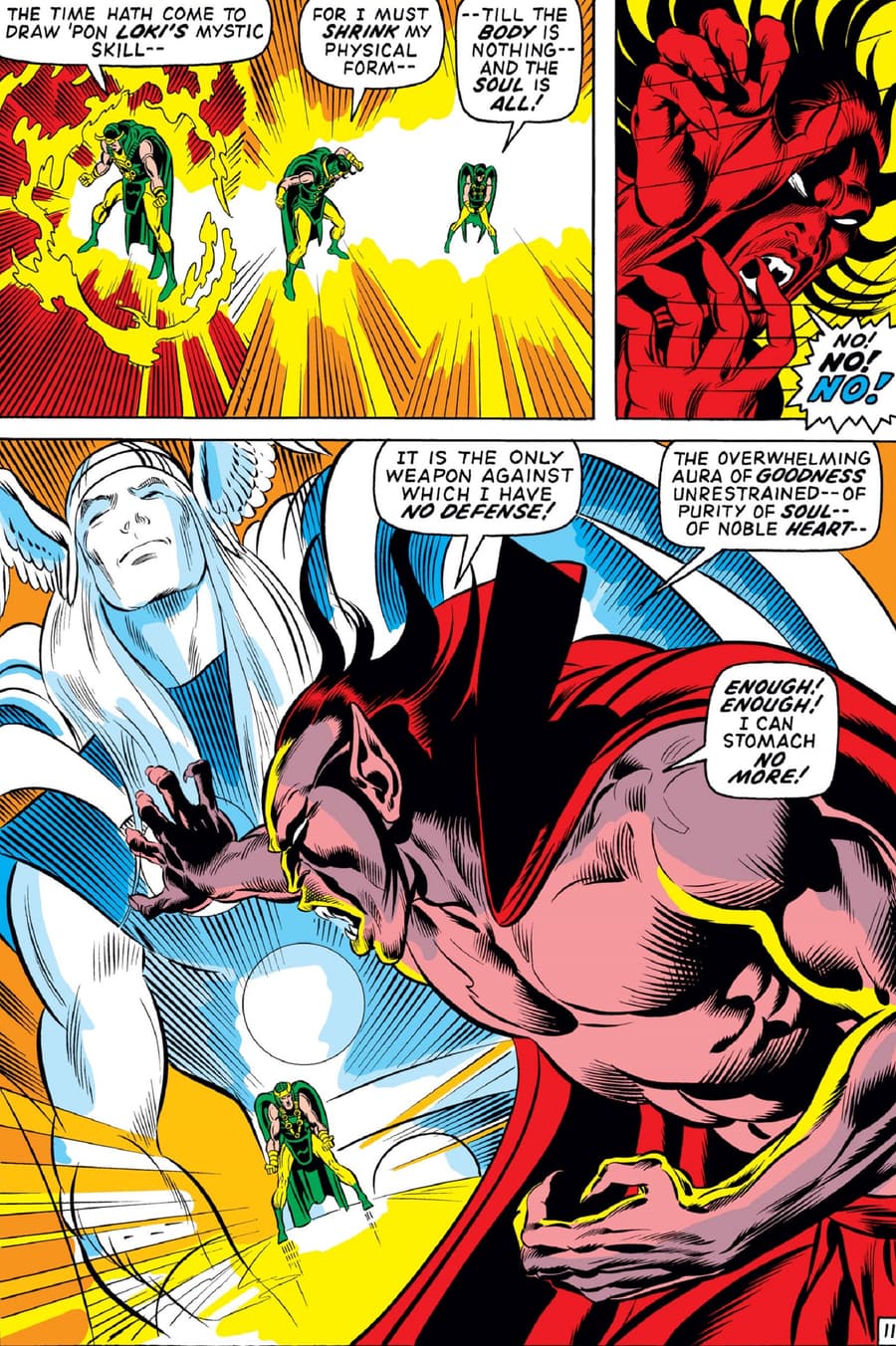 Adams had an all-too brief run with Marvel's God of Thunder in the memorable two-part adventure from THOR (1966) #180-181. Alongside Marvel legend Stan Lee, Adams told the story of Loki's near triumph over Thor by switching bodies with his adoptive brother. To add further insult to injury, Odin cast Thor down to Mephisto's realm under the belief that it was Loki who was banished. Sif and the Warriors Three attempted to rescue their friend, but their physical might meant little in the demon's home territory.
In this page from issue #181, Thor's solution to the Mephisto problem is to allow his soul to go beyond the limitations of his flesh. In the face of such overwhelming nobility and goodness, this devil had no defense and Mephisto was forced to let Thor and his friends leave.
Marvel Comics reflects upon the life and career of legendary cartoonist and comic book artist Neal Adams, known for his photorealistic art and contributions to Marvel comics and the comics community at large. During his career at Marvel, he contributed to several ongoing titles, such as UNCANNY X-MEN, THE AVENGERS, THOR, and AMAZING ADVENTURES. 
In addition to his comics work, which inspired generations of creators, Adams was well-known for his work advocating for creators' rights and forming the Comics Creators Guild. While creators and fans alike will miss Adams greatly, his work and his positive impact will live on in the hearts and minds of the many lives he touched.
[RELATED: Remembering Neal Adams, 1941-2022]
The Hype Box
Can't-miss news and updates from across the Marvel Universe!