Comics
Published October 16, 2017
Guardians of the Galaxy: Rolling Stones
Gerry Duggan previews the Guardians' Infinity quest!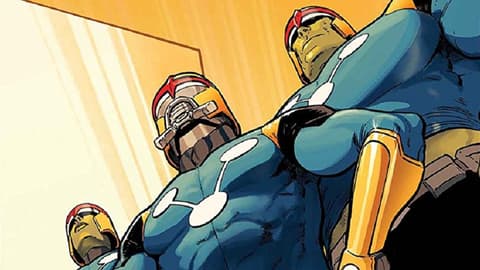 The Guardians' hunt for the Infinity Stones begins.
But first, they have to join up with the Nova Corps! On November 1, "The Infinity Quest," kicks off as writer Gerry Duggan and artist Marcus To see the team suit up with the Gold Domes. Everything, however, might not be as it seems within the Nova ranks…and Peter, Gamora, Drax, Rocket, and Groot will have to figure out why in GUARDIANS OF THE GALAXY #146!
We caught up with Gerry to hear more about the start of a new journey for the team.
Marvel.com: How do the Guardians qualify for joining the Nova Corps?
Gerry Duggan: Right now the bar sits pretty low—do you have a head to put a helmet on? If so, welcome aboard! But if the galaxy has a chance at survival, they'll need to recapture their former glory.
Marvel.com: Do the Guardians embrace the new Corps? How will they fit into their new roles?
Gerry Duggan: Quite simply: if the new Corps fails, the Guardians have even more work to do. So this ends up being a preventative defense for them. They're still misfits, but they're helping root out some real problems.
Marvel.com: The Guardians have butted heads with Nova Corps before…what's the dynamic feel like now?
Gerry Duggan: Rocket, for example, has an interesting time. You'd think he would despise it….but you'll see why he's enjoying himself.
Marvel.com: How has the team evolved since Rich Rider last appeared on the team?
Gerry Duggan: Groot looks pretty small now, Drax hasn't been himself, and Gamora seems a little soulless… Everyone feels like a mess.
Marvel.com: Rich and Gamora have such a complicated history—how do they feel about this new team-up?
Gerry Duggan: Rich and Gamora's reunion will have to wait…she never told Quill that he returned. Issue #147 will be a very fun reunion—and also contains a discovery of huge proportions.
Marvel.com: Gerry, personally speaking, would you choose to join the Nova Corps or the Guardians? Why?
Gerry Duggan: I'd die really quickly either way, so I'd join the Guardians. It would be more fun.
Gerry Duggan and artist Marcus To's GUARDIANS OF THE GALAXY #146 kicks off on November 1!
The Hype Box
Can't-miss news and updates from across the Marvel Universe!