Comics
Published October 17, 2017
Guardians of the Galaxy: War and Warlock
Gerry Duggan drops hints on the team's future—and Adam's return!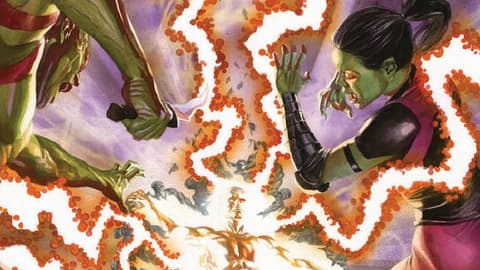 This January, GUARDIANS OF THE GALAXY reaches its landmark issue #150!
Just in time too, as the Guardians will have to contend with a big player reentering the scene: Adam Warlock.
Writer Gerry Duggan joins artist Marcus To as Gamora, Drax, Star-Lord, Rocket, and Groot quest for the Soul Stone, try to contain Adam, and battle the Raptors in this epic sesquicentennial event.
We asked Gerry for some insight on what to expect from The Return of Adam Warlock, Part 1.
Marvel.com: What can you tease about Adam's return?
Gerry Duggan: Well, he returns more than once…kind of. Pretty mysterious!
Marvel.com: Will they run into any other classic characters who've made recent comebacks? Maybe…Wolverine?
Gerry Duggan: The Guardians will meet Logan! Just not right now.
Marvel.com: You've mentioned before that Gamora will take a very personal journey with the Soul Stone. How might that come about? Will she enter the Soul World?
Gerry Duggan: Well, technically she's been encountering it in visions in our run. Because her eyes have opened to what the Soul Stone really is. The world within presents itself as a Utopia, but is anything but. The Soul Stone hungers…
Marvel.com: You've teased that this arc takes the Guardians to some amazing locations. What can we expect to see? How has Marcus To been in realizing these sights?
Gerry Duggan: Marcus has been so wonderful. We're going to see the Nova's new HQ, visit space ravaged by Ultrons, visit a new location with a big secret…lots of fun inbound!
Marvel.com: Will war still be on the table for Gamora and the Guardians as we approach #150?
Gerry Duggan: By issue #147, you'll visit the location of a very important flashpoint in the coming war. Every issue, the drums of war get louder…
GUARDIANS OF THE GALAXY #150, by Gerry Duggan and artist Marcus To, arrives in January!
The Hype Box
Can't-miss news and updates from across the Marvel Universe!