Comics
Published May 5, 2017
Guarding the Galaxy: Grounded
The Guardians deal with being stuck on a backwater planet like Earth!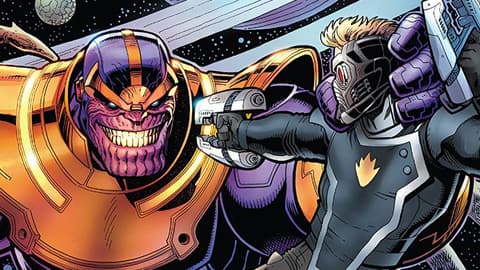 Celebrate this incarnation of the Guardians of the Galaxy's tenth anniversary while also prepping for the May 5 release of the new film with these gems from Marvel Unlimited!
After coming all the way across the cosmos to help former member Captain Marvel in her fight against another fellow former pal, Iron Man, the Guardians of the Galaxy found themselves torn apart thanks to one piece of information: Thanos was imprisoned on Earth and neither Marvel nor Star-Lord told anyone. Feeling betrayed, Gamora left first, followed by the others. It didn't help, of course, that their ship had been destroyed in the events of Civil War II, so the remaining issues of the series—GUARDIANS OF THE GALAXY #15–19—featured solo stories from Brian Michael Bendis, Valerio Schiti, and a group of guest artists.
The first story focused on Ben Grimm, the ever-loving blue-eyed Thing. After he enjoyed the perks of being one of the most beloved heroes on the planet, Maria Hill approached him about leading a task force looking into Doctor Doom's recent turn into a hero. This tale carried directly into another Bendis book, INFAMOUS IRON MAN.
The next issue found Bendis channeling his inner Dr. Seuss as he told a rhyming tale about Groot fighting Armadillo in New York City, even though it raised the ire of some passersby. Thanks to a little boy, though, the Flora Colossus had friends to back him up.
Up next, Gamora ran into a task force consisting of Sasquatch, Aurora, Ms. America, and Spectrum while scoping out Thanos' prison. After seemingly making short work of the Earthlings, the most dangerous woman in the galaxy found herself punched-out and, soon, talking to Captain Marvel while fully bound. Carol told her old teammate that Thanos had escaped and that she'd arranged for a Shi'Ar ship to take Gamora anywhere she wanted. Assuming she had been lied to again, the emerald assassin escaped and made her way to the Mad Titan's cell only to discover that he no longer filled it and that she would be its new occupant.
We then flashed back to immediately after the Guardians' first battle during Civil War II to see Angela fly off in an effort to take care of some unfinished business. After failing to find Sera, she fought Maxilin the Accuser who had a few run-ins with Gamora previously. Following his defeat, the Accuser told Angela that others were coming for them all.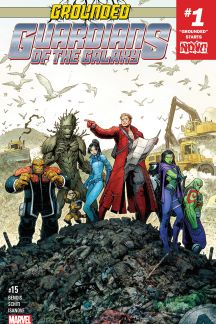 This brought us to the final issue of GUARDIANS OF THE GALAXY from Bendis, Schiti, and guests like Phil Noto, Ed McGuinness, Kevin Maguire, Sara Pichelli, Andrea Sorrentino, Arthur Adams, Mark Bagley, and Filipe Andrade. After escaping Earth, Thanos met with Annihilus, the Brood Queen, and others to ally themselves against the third planet from the sun. Upon arriving, the Mad Titan told the world that he intended to help Earth become part of the cosmic collective, but only after giving up the Guardians. While Carol took Rocket to a spaceship graveyard, Drax and Star-Lord faced Thanos first, soon enough joined by Groot, Venom, Kitty Pryde, and The Thing.
Meanwhile, Thanos' alliance intended to betray him and just destroy Earth anyway, but Angela made short work of the Brood and threatened to do the same to the rest of them. As you might expect, they left with haste. By then, Rocket had rigged up a spaceship and arrived in time to join his fellow Guardians as Gamora made her way to the battlefield…and let her friends beat her enemy for her. In the end, the Nova Corps came to pick Thanos up and then Star-Lord, Rocket, Groot, Gamora, and Drax left for all new adventures in the stars!
Transmissions from Knowhere
Though the team found themselves split up on Earth, they continued to thrill readers in a variety of solo series. GAMORA looked at the heroine's early days thanks to Nicole Perlman and Marco Checchetto. Matthew Rosenberg and Jorge Coelho chronicled Rocket's further adventures while Chip Zdarsky and Kris Anka did the same with Peter Quill in STAR-LORD.
That's all for Guarding the Galaxy. Go see "Marvel's Guardians of the Galaxy Vol. 2" in theaters today and look for ALL-NEW GUARDIANS OF THE GALAXY #1 by Gerry Duggan and Aaron Kuder, which launched this week!
The Hype Box
Can't-miss news and updates from across the Marvel Universe!