Comics
Published January 11, 2017
Guarding the Galaxy: Legacy
Embark on the first official mission of Star-Lord's new team!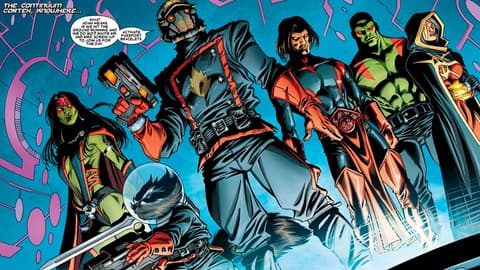 Celebrate this incarnation of the Guardians of the Galaxy's tenth anniversary while also prepping for the May 5 release of their new film with these gems from Marvel Unlimited!
In the pages of both ANNIHILATION: CONQUEST – STAR-LORD and ANNIHILATION: CONQUEST, Peter Quill lead a rag tag group of Kree-held prisoners in an effort to put an end to the Phalanx invasion. Given their success, Quill decided to put a new group together including Rocket Raccoon, a plant-sized Groot, Drax, Mantis, Gamora, Adam Warlock, and Phyla Vell, otherwise known as Quasar. In the first six issues of GUARDIANS OF THE GALAXY—which launched in 2008 written by Dan Abnett and Andy Lanning with art by Paul Pelletier—the team dedicated itself to fixing tears in space that threatened all of existence across the cosmos!
Headquartered in a place called Knowhere—a severed Celestial head-turned-cosmic waypost—the Guardians quickly found themselves running into trouble with the Universal Church of Truth. But before that could immediately develop, they headed to a mysterious chunk of floating ice near a tear that held none other than Vance Astrovik, otherwise known as the alternate reality hero Major Victory!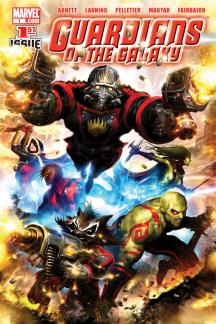 Rarely given time to recoup between missions, the Guardians leapt back into the field where they came into direct conflict with Cardinals of the Universal Church of Truth whose very belief powered them. Unfortunately for the team, the zealots had been sent after them by their Matriarch. Left to die, Quasar threw up a force shield while Gamora braved intense radiation to get them back to Knowhere.
Instead of a welcome party, though, the Guardians found themselves faced with yet another problem: dead Skrulls on Knowhere! As part of the Secret Invasion event, they tried to see who else might be of the green-skin and ridged-chin variety. As mistrust spread throughout the entire station, Drax took it upon himself to kill everyone aboard Knowhere for a brief time to see if any other Skrulls remained hidden. Crazy as it may have seemed, the tactic actually worked, though other conflicts still arose from the situation.
Just as the group notched a few victories on its collective belt and even started trusting one another, they fell apart after learning some very disheartening news: Quill had Mantis mess with their heads to move the whole team-building thing along. He argued that the universe needed protecting as soon as possible. "How else was I supposed to make such a mismatched team profile work?" he asked.
And just like that, almost before it had a chance to truly get started, the Guardians of the Galaxy fell apart. Come back for the next installment to see what brought them back together!
Transmissions from Knowhere
Even though Rocket Raccoon suggested a variety of team names ranging from Ass-Kickers of the Fantastic and Rocket Raccoon and his Human Hangers-On to the Annihilators and the Quantum Band, the team eventually decided on Guardians of the Galaxy. The name originally belonged to a group from an alternate future in which the Badoon invaded and dominated Earth. Each member represented a different kind of hybrid created to live and work on the different planets in the solar system. They joined forces to defeat the Badoon and free humanity in both their self-titled series and appearances in other books including DEFENDERS. Vance Astro and Starhawk—who both appear and cause more than their fair share of waves in this opening arc—come from that alternate future which will continue crossing over with the present.
GUARDIANS OF THE GALAXY #7-12 splits action between Star-Lord's less-than-productive reunion with Ronan, a new team taking on the Badoon, and the search for Moondragon!
The Hype Box
Can't-miss news and updates from across the Marvel Universe!