Comics
Published October 26, 2017
Halloween Spooklight 2017, Day 17: The Short Halloween
Seth Meyers, Bill Hader, and Kevin Maguire present a Spider-Man Halloween!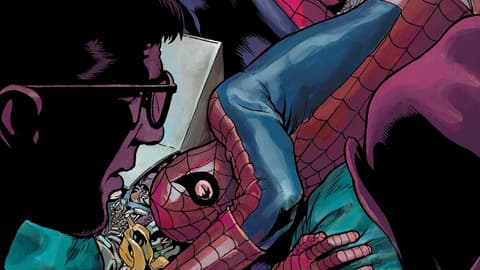 Every day this month, a new supernatural character or story from the Marvel Universe gets a spooky spotlight leading up to Halloween!
Opinions vary about Halloween. Some people love dressing up in an unusual costume. For someone like Spider-Man, however, wearing uncomfortable attire feels like a way of life, not holiday fun.
In 2009, comedians Seth Meyers and Bill Hader joined artist Kevin Maguire to tackle the costume concept in a special one-shot titled SPIDER-MAN: THE SHORT HALLOWEEN!
Set on Halloween night, the issue introduced the Web-Head tracking a villain called Fumes through the costume-filled streets of New York City and a pair of friends trying to get their partying buddy Ronnie back home. The two stories would eventually converge, though, because Ronnie dressed up as Spidey for Halloween!
As Ronnie's pals let him take some time to himself in an empty alleyway, Spider-Man and Fumes battled on a nearby rooftop. Thrown off-balance during the brawl, the hero fell off the building—and on top of Ronnie! With both costumed men now unconscious, confusion ensued as Ronnie's friends took the real Spider-Man with them and Fumes took Ronnie captive.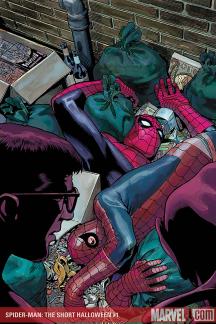 Thinking he'd achieved the impossible, Fumes gathered his villainous friends, the other members of the Furious Five (his cohorts Gossip Girl, Haymaker, Badger Teeth, and Mr. Think) to figure out how to capitalize on such an unexpected victory.
Meanwhile, the actual Wallcrawler sat senseless on a couch as Ronnie's girlfriend Cheryl "broke up" with him. Then, two guys— dressed as Green Goblin and Doctor Octopus—that Ronnie earlier upset showed up to get even. Just as the beat down seemed ready to begin, Spidey woke up and jumped into action.
At the same time, the Furious Five started fighting among themselves when they disagreed over whether or not to kill their captive "Spider-Man." As Badger Teeth began attacking the others, Fumes came to the realization that he didn't belong with these villains and untied their captive.
After easily taking care of the faux Green Goblin and Doctor Octopus, Spider-Man swung over to the Furious Five's compound in an effort to put a stop to the brawl. Ronnie, suddenly awake, somehow fumbled into dealing the decisive blow to his captor, walking away unscathed.
Fright Fact
While Fumes and his Furious Five colleagues proved more comical than scary, Spider-Man has faced quite a few deadly foes in the past—including Demogoblin! Debuting in PETER PARKER, THE SPECTACULAR SPIDER-MAN #147, a demon possessed The Hobgoblin, Jason Macendale. With their evil combined, they hassled Spidey, Moon Knight, and even Ghost Rider before Macendale ditched his hellish partner in WEB OF SPIDER-MAN #86-#87, leaving the beast to become The Demogoblin on his own.
Tomorrow, we close out another week of chilling stories with THE MONSTER OF FRANKENSTEIN, by Gary Friedrich and Mike Ploog!
The Hype Box
Can't-miss news and updates from across the Marvel Universe!