Comics
Published October 25, 2018
Halloween Spooklight: Man-Thing
Steve Gerber and John Buscema present a familiar yet unique story in "Of Monsters and Men."
Throughout October, a new supernatural character or story from the Marvel Universe gets a spooky spotlight leading up to Halloween!
Steve Gerber may not have created the swamp creature known as Man-Thing who burns the fearful with his touch, but he certainly put his stamp on the character between his runs on ADVENTURES INTO FEAR, MAN-THING, and the GIANT-SIZE MAN-THING specials.
With all of those issues, it may seem like a tough character to get into, so here's a good jumping-on point: GIANT-SIZE MAN-THING #2 written by Gerber with art by two other legends John Buscema and Klaus Janson.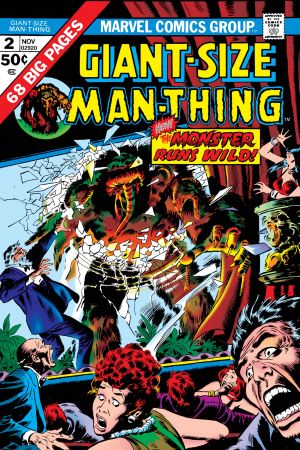 Called "Of Monsters and Men," the 1974 tale puts the creature at center stage in his usual battles with denaturing corporations. With the usual motif of "whatever knows fear burns at the Man-Thing's touch," he sets himself up as a captivating character. 
After recapping Man-Thing's recent troubles with the industrialist Franklin Armstrong Schist – who tried to kill the creature for defending his swamp home from Schist's construction crews – Vivian Schist and her daughter Carolyn look in the same swamps for the presumed-dead patriarch of their family.
Seeing the women looking for the man he killed, Man-Thing senses Carolyn's complicated feelings for the father she never really knew and skulks out into the open where the accompanying police officer quickly opens fire on the shambling thing.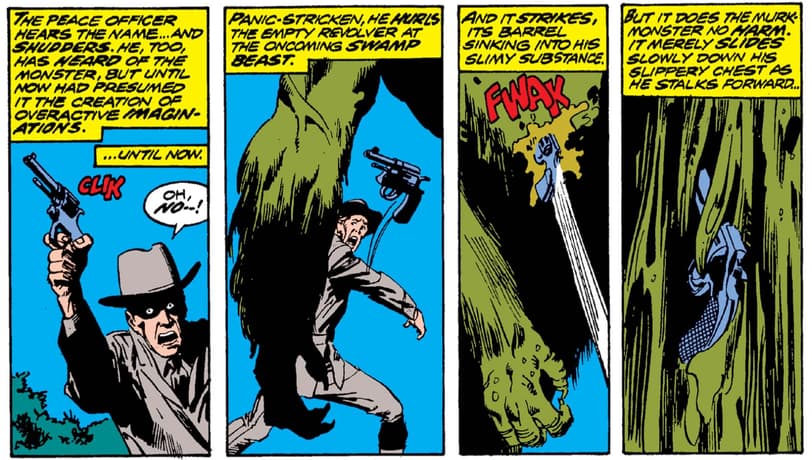 After making their escape, Vivian becomes convinced that the police know that Man-Thing ended her husband's life and vows to have her revenge on the moss man.
While Carolyn felt that the creature wouldn't have come after her had she not been afraid, Vivian spent the next week bringing a gaggle of scientific geniuses together at her estate outside of Miami to figure out a way to rid the world of Man-Thing. She then made her play by offering a million-dollar reward plus expenses to whoever came up with a plan.
The only one to even entertain the idea, Dr. Dane Gavin, says he will only tackle the problem if he can keep the creature alive for further study. Over the next few weeks, he builds his trap, thanks in part to techs from Stark Industries. Said containment unit will theoretically trap Man-Thing in a sphere and then drain his moisture away, leaving him inert.
After seeing the workers set up the equipment, Carolyn sticks around that night with Dr. Gavin and a skeleton crew. That evening the snare works and Man-Thing finds itself near death, waking up in what seems a swamp, but turns out to be an artificial environment at the Ecological History Museum, also provided by Stark Industries.
At this point, Dr. Gavin wonders if he's done the right thing in capturing this force of nature. He expresses those concerns after the Museum's board agreed to put the Man-Thing on display, specifically to members Reed Richards and Tony Stark who agree to oversee the proceedings themselves.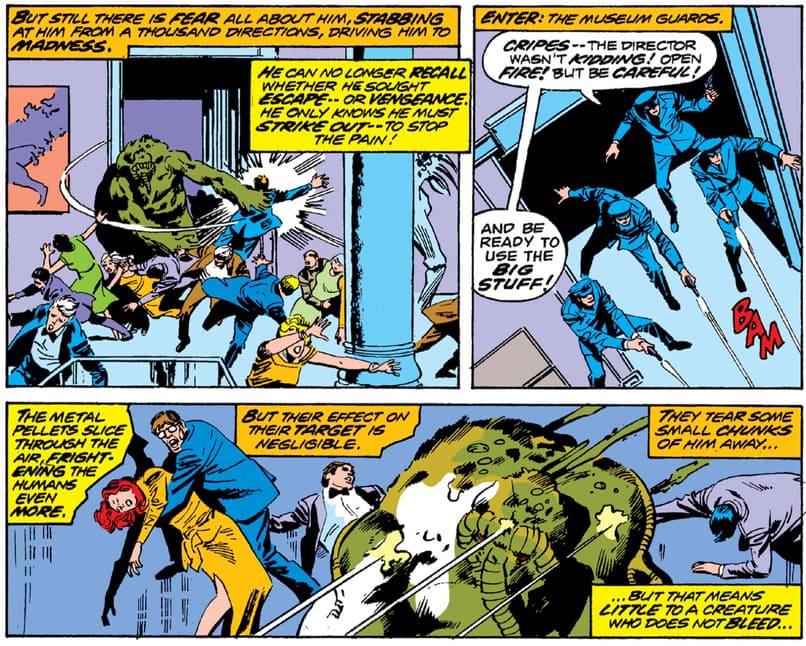 Mr. Fantastic even tries to intercede when Man-Thing breaks loose at the fancy-schmancy gathering for the rich to show the creature off, which goes awry almost immediately. Breaking free, Man-Thing makes his way through New York City before collapsing.
However, unlike a famous giant ape who made a similar journey, Man-Thing wakes up in the swamp once again, this time the real one as Dr. Gavin and Carolyn look on.
This issue not only gives readers a nice feeling of the themes and ideas Gerber explored throughout his run with this character, but also offers plenty of glimpses at Man-Thing's previous adventures. If you like this issue, jump on in to the others!
Fright Fact
During this issue we see Ben Grimm think back to his first encounter with Man-Thing which takes place in MARVEL TWO-IN-ONE #1, also from 1974. In that issue, written by Gerber and drawn by Gil Kane, the ever-lovin' blue-eyed champion of Yancy Street gets sore about the creature's name including his own preferred crime-fightin' moniker. Eventually the two Things met in their human forms thanks to the machinations of the new Molecule Man. While not the scariest tale around, it does feature a nice number of mucky throw-downs and an introduction of Man-Thing to the wider Marvel Universe.
The Hype Box
Can't-miss news and updates from across the Marvel Universe!