Comics
Published October 29, 2018
Halloween Spooklight: Vampire Tales #7
Fang fiends take center stage in this black-and-white anthology from the talented Doug Moench, Paul Gulacy, and Howard Chaykin.
Throughout October, a new supernatural character or story from the Marvel Universe gets a spooky spotlight leading up to Halloween!
For a few years in the '70s, Marvel not only exploded with full-color scare characters, but also expanded the operation to publish black-and-white magazines that could go down even darker alleyways thanks to their existence outside of the Comics Code Authority purview.
One of the best of the bunch came in the form of VAMPIRE TALES, which lasted 11 issues between 1973 and 1975. Today we're spotlighting the seventh installment from '74 which came jam-packed with stories by Don McGregor and Doug Moench and art by Howard Chaykin, Paul Gulacy, Billy Graham, Tom Sutton, and Duffy Vohland.
McGregor and Sutton kick the issue off with "Where Is Gallows Bend and What the Hell Am I Doing There?", the penultimate part of a Morbius tale that ran through #2-#5, #7-#8. He of the high collar and his companion Amanda Saint awake in a Wild West ghost town complete with open, waiting noose. Worse yet, a group with ties to the Demon-Fire Cult attack. This one definitely works better in the context of the larger story, but features some striking visual and poetic narration as Morbius fights a ghoul on horseback!
"Sip The Sweet Poison" comes next thanks to Moench and Graham. In it Horace Grimstone lives like a vampire, sleeping during the day, working at night and even drinking blood he steals while working in a hospital blood bank! However, he soon finds himself on the menu when a real vampire crashes through his office window and feasts on the fresh stuff instead of the bottled.
After a report on the horror news of the day by Carla Joseph, Moench and Gulacy present "Bats," a dialog-free story about a vampire who feasts on a woman and then reverts to his flying rodent form only to get captured by the woman's boyfriend, a bat researcher. It gets even twisty-turnier from there before hitting upon a nice surprise ending.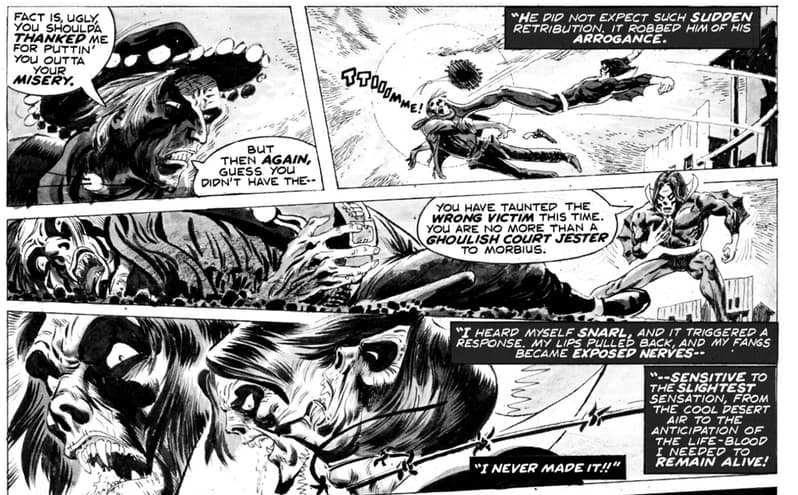 Finally, the mag ends with "Agents of the Night Road," a tale of Highwaymen by Moench and Chaykin. After fighting off another thief and claiming the stagecoach target for himself and his partner, the star of the piece gets information about a woman and her wooden chest from the driver before killing him. However, upon making their way to the ship, the criminals soon come to realize the box is less a chest and more a coffin! Needless to say, they also don't find your standard woman possessing it, but instead one with fangs.
Fright Fact
In addition to Morbius' recurring features in the magazine, VAMPIRE TALES also featured a number of other familiar faces. Many of the vamps who show up in the one-offs bear more than a passing resemblance to Dracula, but he and his actual Daughter, Lilith, appear in #6. That marks her third appearance in comics after GIANT-SIZE CHILLERS FEATURING CURSE OF DRACULA #1 and TOMB OF DRACULA #23. Satana debuts in a short preview story in the second issue and Blade even appears in #8 and #9 and was scheduled to do so again in #12, but VAMPIRE TALES got canceled. However, the Blade story advertised at the end of the last issue – "The Night Josie Harper Died" – wound up in MARVEL PREVIEW #3.  
The Hype Box
Can't-miss news and updates from across the Marvel Universe!