Comics
Published October 24, 2017
Hawkeye: Clone Zone
Kelly Thompson spills secrets on a team-up for the ages!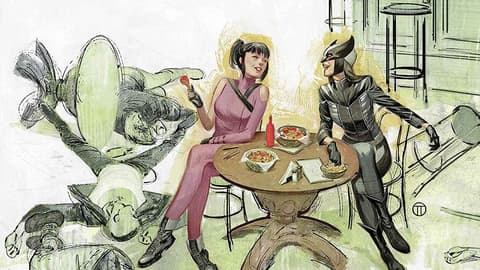 Hawkeye knows how to deal with clones.
Madame Masque learned that lesson recently, but not all clones can be treated the same—and Kate even knows one she likes: Laura Kinney! And on November 15, writer Kelly Thompson and artist Michael Walsh unite Kate and Laura in HAWKEYE #12!
When a mad scientist fixated on creating a clone army shows up in Los Angeles, Hawkeye Investigations—featuring the All-New Wolverine—jumps on the case.
We spoke with Thompson to learn more about the team-up.
Marvel.com: What's been going on with Kate Bishop and Hawkeye Investigations lately?
Kelly Thompson: I think Kate's made a pretty awesome life for herself in L.A.—a thriving (sorta) career, a handful of good friends/wannabe sidekicks, an LAPD detective that's begrudgingly on her side, and even a love interest (or two).
Still, she's had nothing but bad news when it comes to discoveries of her personal life—with her father turning out to be a full-on super villain, mysteries around her mother's death multiplying, and Madame Masque renewing her interest in Kate with extreme vigor. So it feels very hit-and-miss overall—much like all our lives.
Marvel.com: Hawkeye has had her fair share of clone trouble lately. Tell us about her latest run-in—this time with a mad scientist looking to make a clone army.
Kelly Thompson: There will always be mad scientists and clones. No way to escape it! If Kate wants to keep all her appendages, she should probably keep quiet about her clone problems while Laura and her sister Gabby are in town!
Marvel.com: How would you describe the dynamic between Kate and Laura?
Kelly Thompson: They're so fun together, in an almost a begrudging way. Kate can be a lot for someone like Laura, who's more matter-of-fact and laconic, but that gives them a wonderful sort of "odd couple" vibe that has been really fun to play with.
Marvel.com: We know that Clint Barton returns in issue #13, kicking off this book's Marvel Legacy run…so how does the concept of legacy inform Kate's story?
Kelly Thompson: Clint actually shows up in this issue as well, so people who might be anxious to see him appear can get at least a tiny taste! Our Legacy arc finds Clint and Kate both in need of assistance and reaching out to one another almost at the same time. From there it will be a classic Kate and Clint team up—which means action, jokes, good times, bad times, and things going horribly, horribly wrong. Having been through the emotional wringer—Kate from the stuff she's discovered about her family and Clint recovering from the events of Secret Empire and losing Natasha—neither of them feel at the top of their game. But that never stops a Hawkeye!
Marvel.com: What does the legacy of Marvel mean to you personally, as a writer and as a fan?
Kelly Thompson: You know, Marvel Comics were the first monthly comics I ever read, and discovering them forever changed the track of my life, so it feels impossible to overstate how important they have been to me. I fell in love with the medium reading Marvel Comics. And more than that, they were fundamental to my development as a person and a writer.
HAWKEYE #12, by Kelly Thompson and artist Michael Walsh, takes aim on November 15!
The Hype Box
Can't-miss news and updates from across the Marvel Universe!