Comics
Published September 29, 2017
Hawkeye: Looking Sharp
Legacy dawns as Kate and Clint take Los Angeles with Kelly Thompson!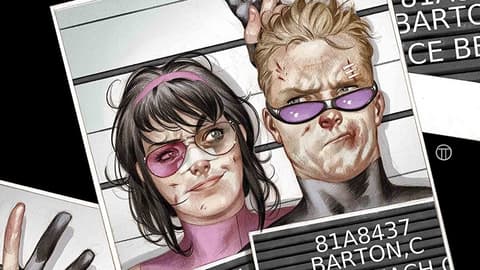 Some friends get together and pose for selfies. Kate Bishop and Clint Barton get together and pose for mugshots.
Or, at least, so it seems in writer Kelly Thompson and artist Leonardo Romero's HAWKEYE #13! Clint makes his way to the West Coast to drop in on his protégé and friend…though he might be bringing quite an agenda along with him. Luckily, Kate wants something from her mentor as well.
We grabbed a green juice, got our tan on, and asked writer Thompson a few questions ahead of the Marvel Legacy title.
Marvel.com: The cover for issue #13 reveals that the Hawkeyes ride together again—what can you tell us about their reunion?
Kelly Thompson: Clint will actually show up at the tail end of HAWKEYE #12 in November and when we see him there, they both reach out to one another for the same reason—because they need help and trust the other, above all, to be there for them. It's a great little moment that shows their bond. It then immediately devolves into comedy and bickering of course—but for a whole minute it's beautiful!
Marvel.com: Having recently handled Clint and Kate's team-up in GENERATIONS, how does their relationship in this comic differ to that? How does it remain the same?
Kelly Thompson: I definitely had to put some thought into GENERATIONS initially—into finding a voice for Clint that felt accurate to who he would be as a younger character but still felt true to the Clint we know today. That became somewhat tricky.
I think finding the voice for Clint today might be a little easier as it's been really well-defined by some excellent writers in the last few years—most notably Matt Fraction. So you just try to learn from what others have done and carve your own path a bit; make it your own. I think I found a really happy medium with Clint that feels true to who he is and what he's currently going through. It continues that magical chemistry that he and Kate have together and that the fans love so much.
Marvel.com: In terms of tone, how does the book feel? And how does Leonardo Romero help you bring that to life?
Kelly Thompson: Leo and [colorist] Jordie [Bellaire] remain my rock…or, rocks. They have been simply the best art team a writer could hope for. They bring such energy and innovation to everything they do, and I think we have a lot of fun with Clint's inclusion in the book. Adding new elements—especially a character as charismatic as Clint—can be dangerous in shifting the tone or upsetting an existing balance, but with the team we have in place, I have no worries. They have so much talent that every challenge you throw at them just makes their work shine all the brighter. And even though Clint will be a large element to add, he fits rather seamlessly into a Hawkeye world, obviously, and the ways in which he doesn't fit into Kate's new life turn into things we have a lot of fun with.
Marvel.com: Individually speaking, where do we find the two Hawkeyes' states of mind as they enter the story? How do they feel about one another right now?
Kelly Thompson: They're both actually in very emotional places and not really at the top of their game. Kate has been of course going through the wringer with her father turning out to be an even worse guy than she suspected, Madame Masque taking over her life, plus the revelation that her mother may have been killed by her father—or may still be alive…she's turmoil central.
But Clint finds himself having an awful time too, after the events of Secret Empire and the tragedy of losing one of the touchstones of his life—Black Widow. I think that might be one of the reasons they seek each other out now, because they'll find comfort, normalcy, and a whole lot of trust in one another. They're family.
Marvel.com: Can we expect Kate to encounter any other familiar faces as she enters Legacy?
Kelly Thompson: This arc finds Kate trying to get to the bottom of what really happened with her mother while still trying to deal with Madame Masque, who has been upping her revenge game of late. There will also be a villain "new" to Kate and Clint on the scene, but it will be someone readers have seen before if they've been reading my work.
Marvel.com: For readers who haven't picked up the book yet, why does this arc present a great opportunity to hop aboard?
Kelly Thompson: I think the answer would be the same for both potential new readers and old readers alike—Clint and Kate are simply magic together. They have a fantastic chemistry and things will never get boring when they team up.
Kelly Thompson and artist Leonardo Romero's HAWKEYE #13 hits the target on October 4!
The Hype Box
Can't-miss news and updates from across the Marvel Universe!