Comics
Published October 18, 2017
History of Kirby: 1977
The King gives Black Panther a new series, introduces Machine Man, and more.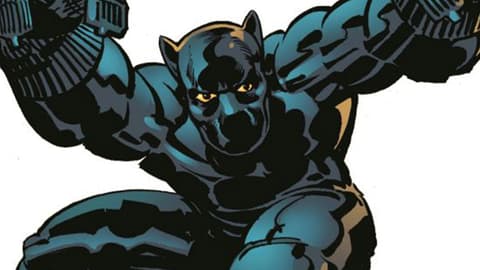 In celebration of Jack "King" Kirby's 100th birthday, we're reviewing the man's legendary creations with a year-by-year examination of his unparalleled career at Marvel Comics. Read on and witness the work that made him comic book royalty.
As the world grooved to the space opera glories of a little film called "Star Wars" in 1977, on the comics scene Marvel reminded readers that one of the original creators of "cosmic" worked under their roof. In the Second Marvel Age of Kirby, Jack added another title to his repertoire, bringing the count up to four ongoing books that year.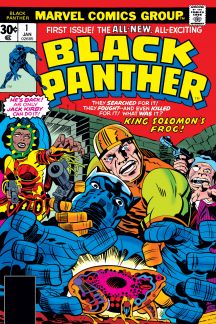 Returning to one of his most important co-creations, Jack launched BLACK PANTHER to spotlight the amazing character of the same name he introduced with writer Stan Lee back in the halcyon days of FANTASTIC FOUR. Wasting no time, Jack tossed fans down the rabbit hole for a wild ride alongside T'Challa with the mystery of the Brass Frogs beginning in BLACK PANTHER #1 and a subsequent visit to King Solomon's tomb in BLACK PANTHER #2, a fight with a yeti in BLACK PANTHER #5, and a the revelation of the first Panther and the origin of Wakanda's vibranium in BLACK PANTHER #7.
Jack flew his patriotic hero down to a small South American nation in CAPTAIN AMERICA #206 and a battle with its dictator the Swine. One of the craziest Kirby designs ever reared its strange head in CAPTAIN AMERICA #208 with the debut of the evil Arnim Zola, and Jack came full circle with the return of the Red Skull in CAPTAIN AMERICA #210. Alas, despite these successes, he wrapped up his third tenure with Steve Rogers in CAPTAIN AMERICA #214.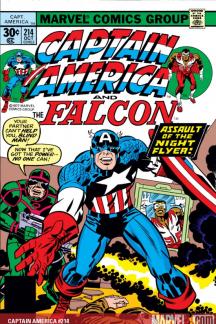 Captain America (1968) #214
Published: October 10, 1977
Added to Marvel Unlimited: September 17, 2008
What is Marvel Unlimited?
Over in Jack's ode to "ancient astronauts, ETERNALS, he continued to roll out some of his most incredible, mind-blowing concepts, such as the space-spanning Celestials, the devious Deviants, the thought-provoking Uni-Mind, and even a combat-ready Hulk robot in ETERNALS #14.
Though 2001: A SPACE ODYSSEY closed its pages for good with issue #10, Jack still managed to introduce a character in the series that transcended his first story and went on to become a star, Machine Man.
The Hype Box
Can't-miss news and updates from across the Marvel Universe!