Comics
Published November 10, 2020
How 'Avengers' #38 Unveils the Scope of Mephisto's Plans
The devil will get his due in the latest issue of 'Avengers'!
Warning! This article contains spoilers for AVENGERS #38, so read on at your own risk, Marvelites!
Did you breathe a sigh of relief when Moon Knight killed Mephisto in AVENGERS #34? After all, it's hard to take over the world and claim everyone's souls when you're already dead. But don't get too comfortable. "The Age of Khonshu" is over, but Mephisto isn't done by a longshot – and the return of the Phoenix Force isn't going to make things any easier.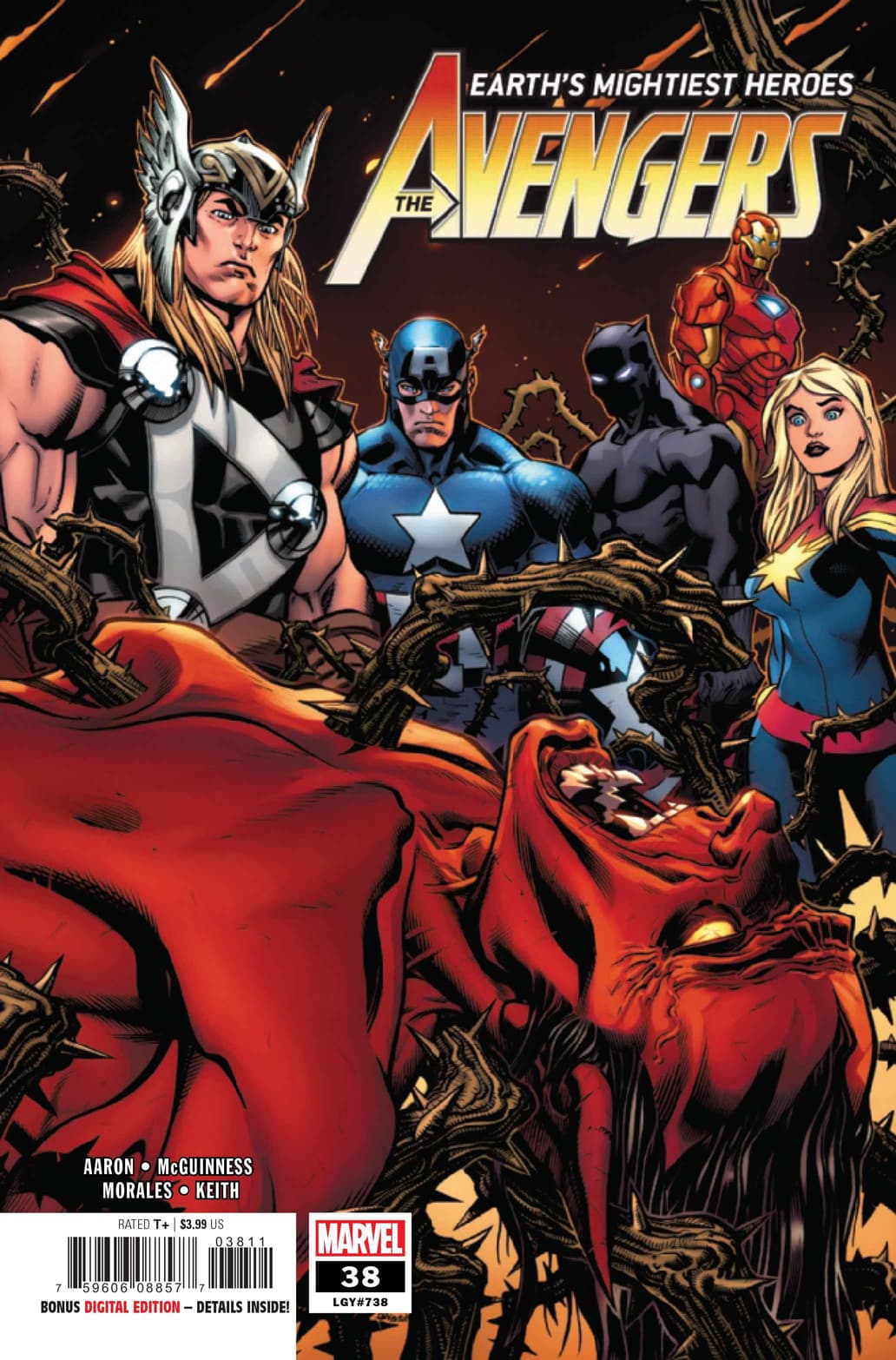 In AVENGERS #38, on sale now, writer Jason Aaron and artist Ed McGuinness set the stage for ENTER THE PHOENIX. Unfortunately for Earth's Mightiest Heroes, the cards are already stacked against them.
T'Challa AKA Black Panther realized the truth, and he made a decision to prepare for the inevitable conflict. T'Challa invited Marc Spector AKA Moon Knight to join the Avengers and fight Mephisto side-by-side when he inevitably strikes back. Black Panther said that he was also impressed by the way that Moon Knight used the Phoenix Force against Khonshu and single-handedly beat almost all of the Avengers.
In years past, Moon Knight was a member of both the West Coast Avengers and the Secret Avengers. But this time, Spector isn't willing to follow the example of Blade and Ghost Rider and become a team player. The narration suggests that Moon Knight might reconsider with time, yet time is the one thing that the heroes don't have.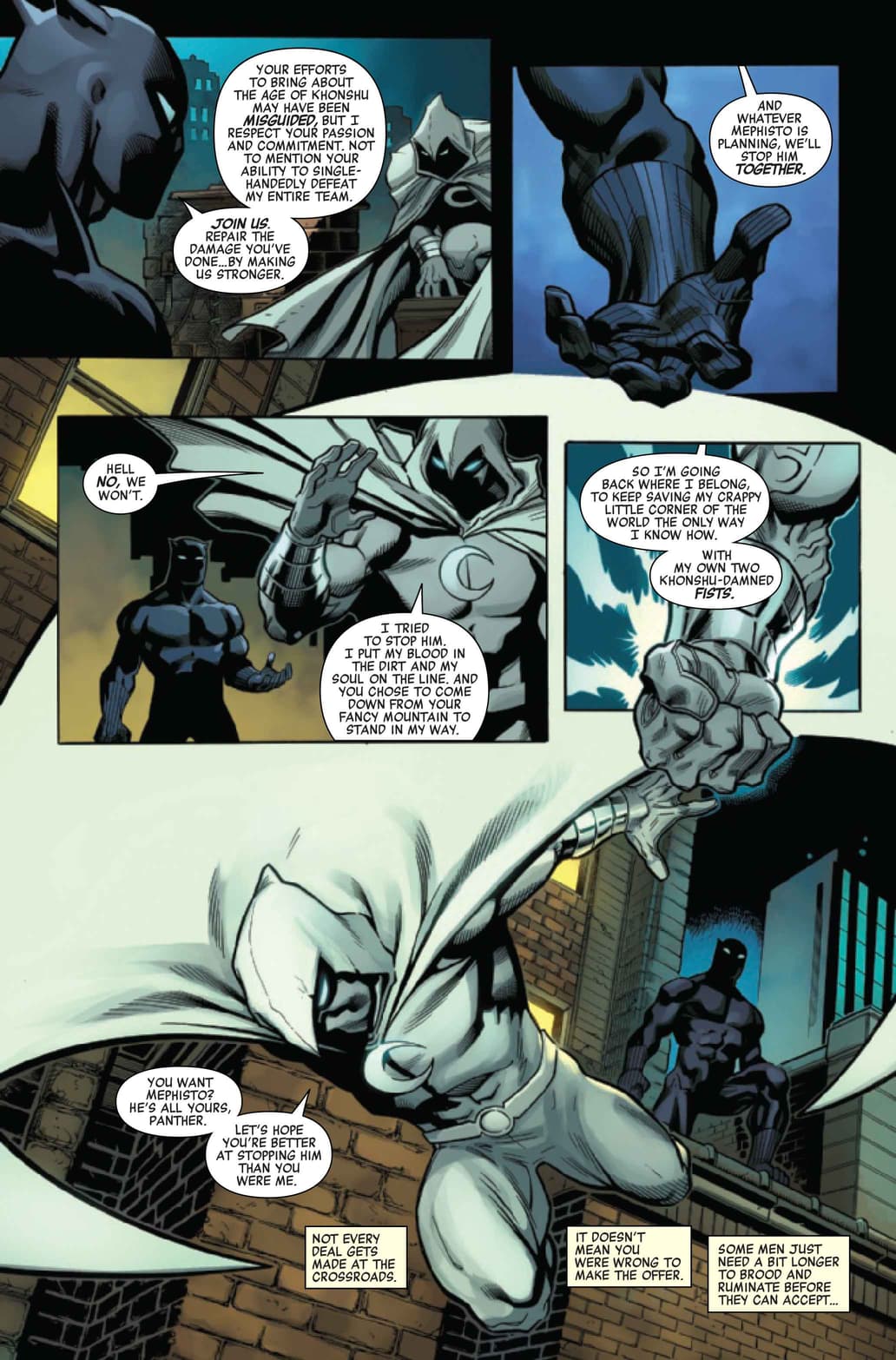 According to Tony Stark AKA Iron Man, Mephisto's death in this reality didn't do anything to impede the onslaught of Mephistos from alternate worlds and timelines. Stark tells his fellow Avengers that this is a war that dates back to the Stone Age or longer, and Mephisto (or the Mephistos) are already winning.
Stark may not realize just how dire the situation really is. In a flashback to the origins of the Earth, four billion years ago, Mephisto was there as "the fly that laid a billion maggots." Mephisto hasn't been waiting to strike, he's been here all along. Whispering in the ears of Thanos, Apocalypse, and even the Hulk. Perhaps the biggest surprise is that Kid Thanos attacked the Stone Age Avengers one million years ago. A centuries-old conflict between Thor and Apocalypse is also glimpsed, while Mephisto takes the blame for inflaming the Hulk's tension with the original Avengers.
The point of all of this is that Mephisto is, and always has been, the Avengers' greatest enemy. Even in the far future, as a Phoenix-empowered Wolverine and Thor's daughters face Doom, the Living Planet, Mephisto is still pulling the strings. Always waiting, always watching.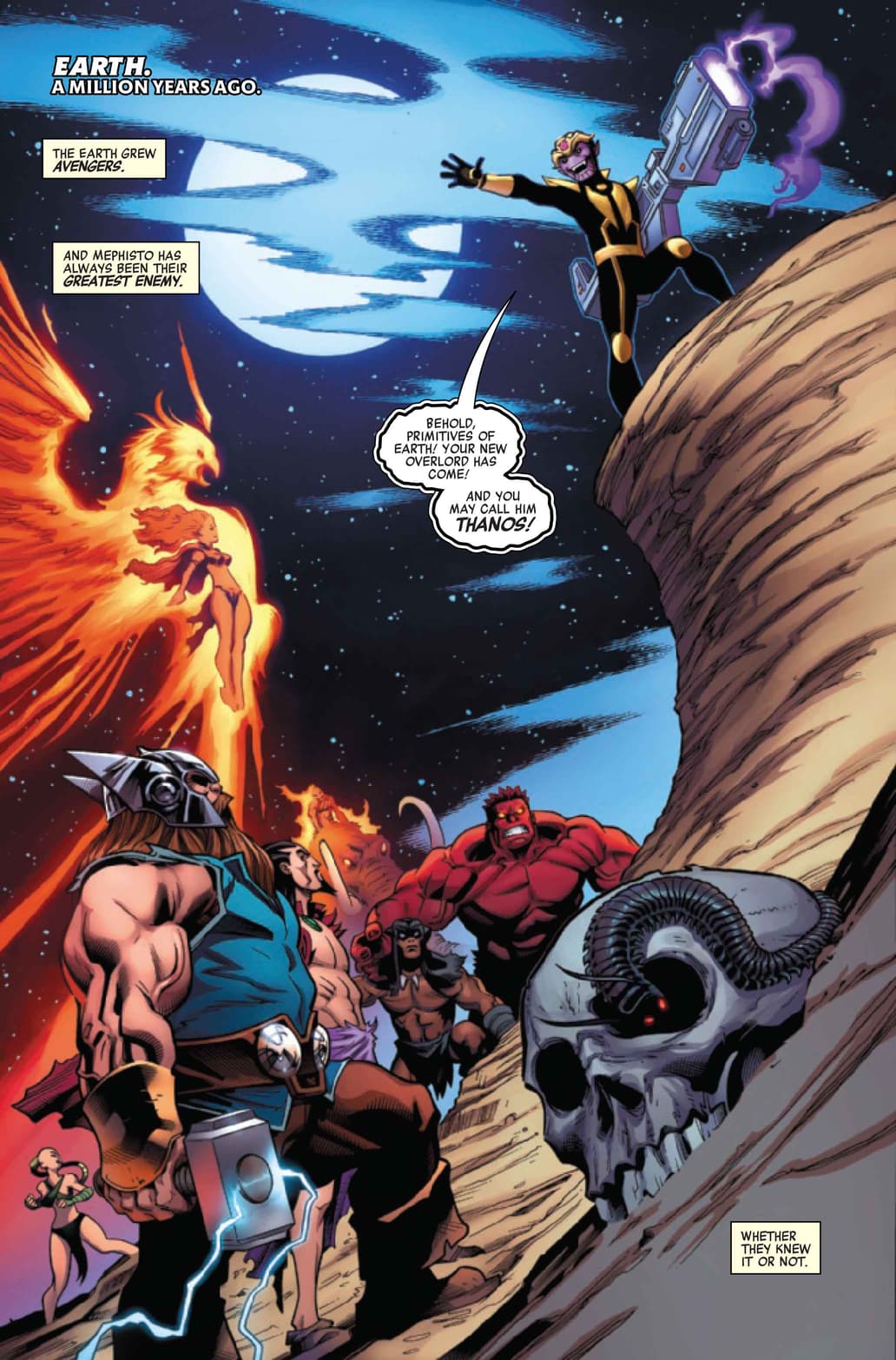 A common denominator between many of those time periods is the Phoenix itself. The Phoenix and its host have always stood against Mephisto. Regardless, the Phoenix is a destructive force unto itself, as seen in AVENGERS VS. X-MEN. After PHOENIX RESURRECTION: THE RETURN OF JEAN GREY, the Phoenix was rejected by its favorite host. And if Jean Grey won't submit to its power again, the Phoenix will simply find someone else. Very soon.
As a framing sequence throughout this issue, we see Mephisto tempt a settler named Ambrose Randolph. In exchange for his survival, Ambrose sacrificed and ate his family. And Mephisto continued to collect on that debt from the Randolph family for several generations. In the present, the debt has finally been paid by the murders of the final living descendants of Ambrose. Mephisto's servant, Howard Stark, has everything he needs to perform a resurrection. But is that resurrection meant for Mephisto? Or someone else entirely?
We'll learn more when ENTER THE PHOENIX begins in AVENGERS #39, available for pre-order now! You can get your first look inside that issue, written by Jason Aaron with art by Dale Keown and Jason Keith (colors), today before it goes on sale Wednesday, December 9.
You can grab these comics and more digitally or at your favorite local comic book shop. Be sure to ask your local shop about their current business policies to observe social distancing or other services they may offer, including holding or creating pull lists, curbside pick-ups, special deliveries, and other options to accommodate. Find and support your local comic book shop at ComicShopLocator.com or by visiting Marvel.com/LoveComicShops.
For digital comics, all purchases in the Marvel Comics app can be read on iPhone®, iPad® and select Android™ devices! Our smart-paneling feature provides an intuitive reader experience, ideal for all types of mobile device and tablet users! Download the app on iOS and Android now!
The Hype Box
Can't-miss news and updates from across the Marvel Universe!