Comics
Published September 3, 2020
How 'Black Widow' #1 Gives Natasha Romanoff a Whole New Life
There's a new chapter in the book of Black Widow… has she finally found peace?
Warning! This article contains spoilers for BLACK WIDOW #1, so read on at your own risk, True Believers!
This week, Natasha Romanoff AKA Black Widow is once again the star of her own ongoing series, courtesy of writer Kelly Thompson and artist Elena Casagrande. BLACK WIDOW #1 is out now, and it marks a turning point for Natasha – assuming she can remember her real name!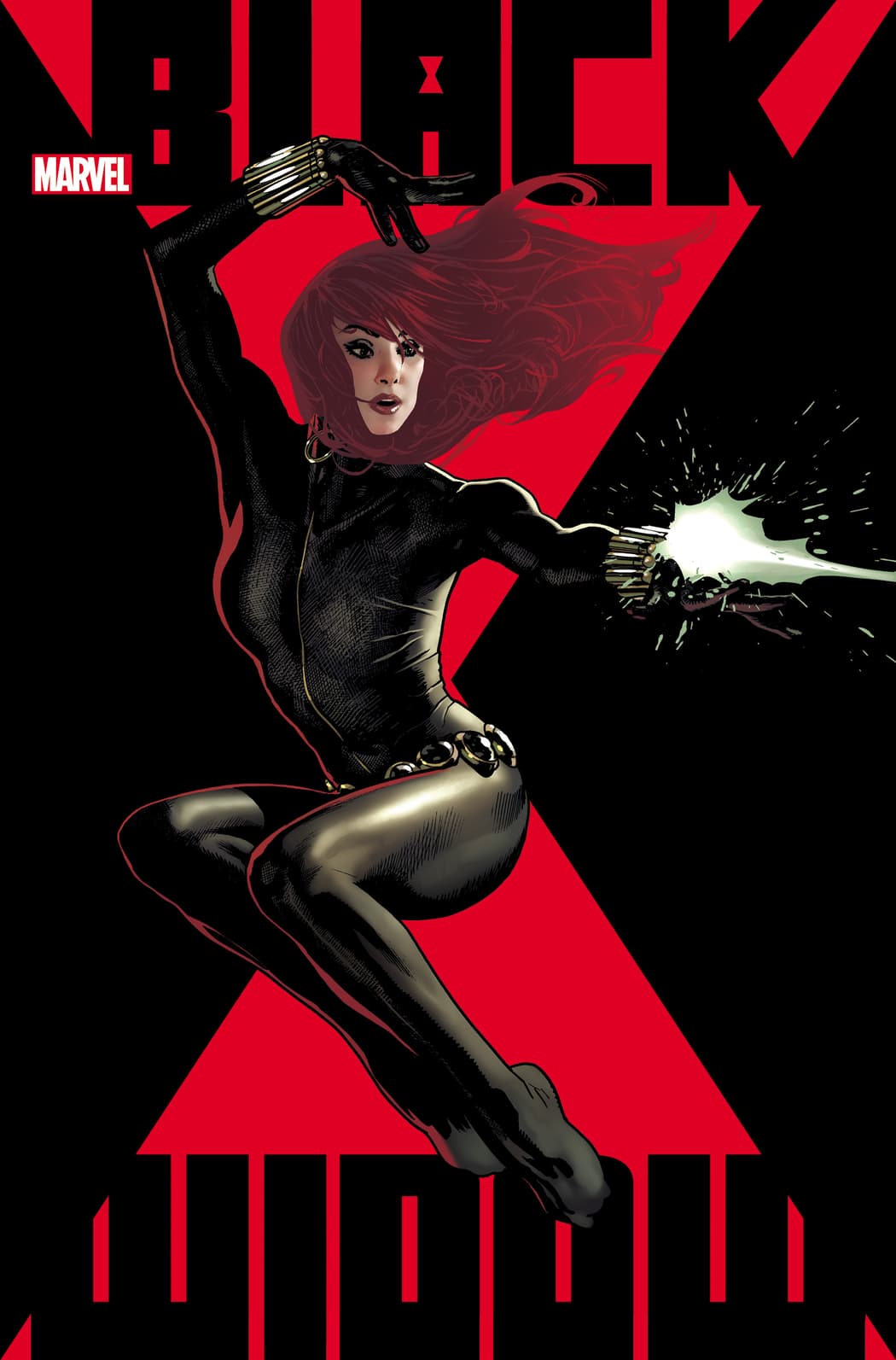 First a little bit of background is order. Black Widow was killed by Hydra Cap in the pages of SECRET EMPIRE (2017) #7. Technically, she remains dead. The Natasha (or Natalia, if you prefer) running around the Marvel Universe is a clone of Black Widow who has all of her memories. TALES OF SUSPENSE (2018) #101-104 dealt with Natasha's return at the hands of the Red Room. She may not be the original model, but all of her friends have accepted her as the true Natasha.
However, Clint Barton AKA Hawkeye is clearly holding a bit of a grudge towards Natasha after the events of TALES OF SUSPENSE (2018) #104. Natasha even admits in this issue that she ditched Clint and invited Bucky Barnes AKA the Winter Soldier on dangerous missions to take down the Red Room. Hawkeye is still upset about it, and he communicates that to Black Widow by aiming her getaway arrow line very close to her face – and by leaving before she could arrive and speak to him.
The opening pages of the issue send Black Widow on an unofficial mission for the Avengers, hence the presence of both Hawkeye and (the real) Captain America. Clearly, Black Widow hasn't lost a step, and she easily defeats the guards between her and the intel that the Avengers needed.
Regardless, Natasha is caught off guard when she returns to her apartment. She realizes that it's an ambush, but Natasha is still sent plummeting to her doom. Presumably, Natasha's assailant saves her life, because suddenly, the story cuts to three months later in San Francisco, where Natasha is now Nat, an architect who has no memory of her time as Black Widow.
This not the first time that Natasha's mind has retreated behind a false identity. In the classic MARVEL TEAM-UP (1972) #82-85, Spider-Man was very smitten with a school teacher named Nancy Rushman until she remembered that she was really the Black Widow. But this time, "Nat" doesn't seem haunted by her past as a secret agent or an Avenger. She does demonstrate a reckless streak at a construction site by risking death to prevent a coffee cup holder from blowing away. Similarly, Nat seems taken by a motorcycle, and she discovers that she can ride it with skill despite the absence of her memories.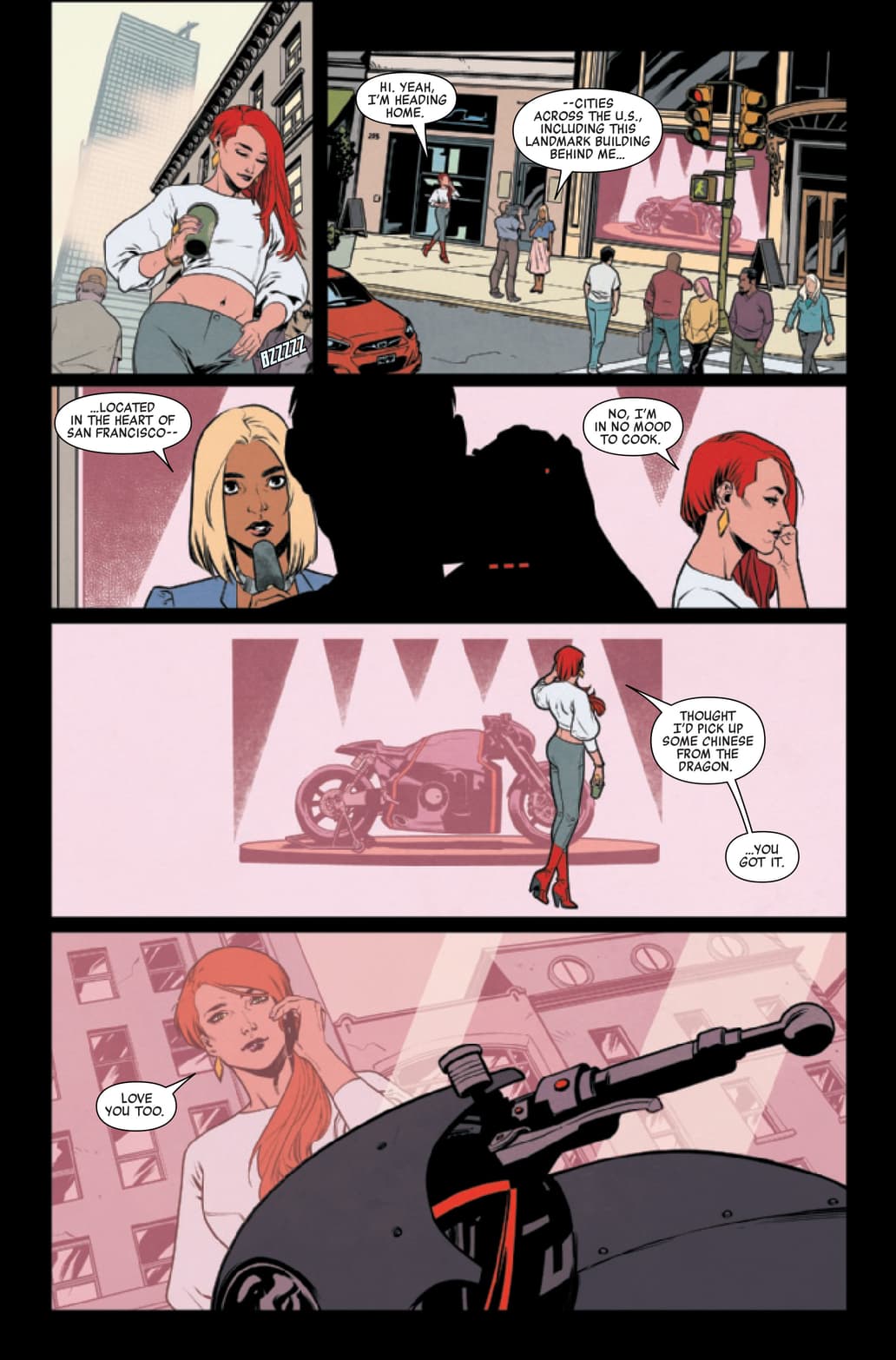 Meanwhile, both Clint and Bucky spot Natasha on TV during a live newscast. She's pulled disappearing acts on them before, but if Natasha was in her right mind, she would have never exposed her location so easily. Remember, very few men know Natasha like they do. At different points in their lives, both Clint and Bucky were very much in love with her. Even when they are at odds with her, those feelings don't entirely go away. That's why they're reuniting after their brief partnership in TALES OF SUSPENSE. Their goal is once again to find Natasha, but this time, they know where to start looking.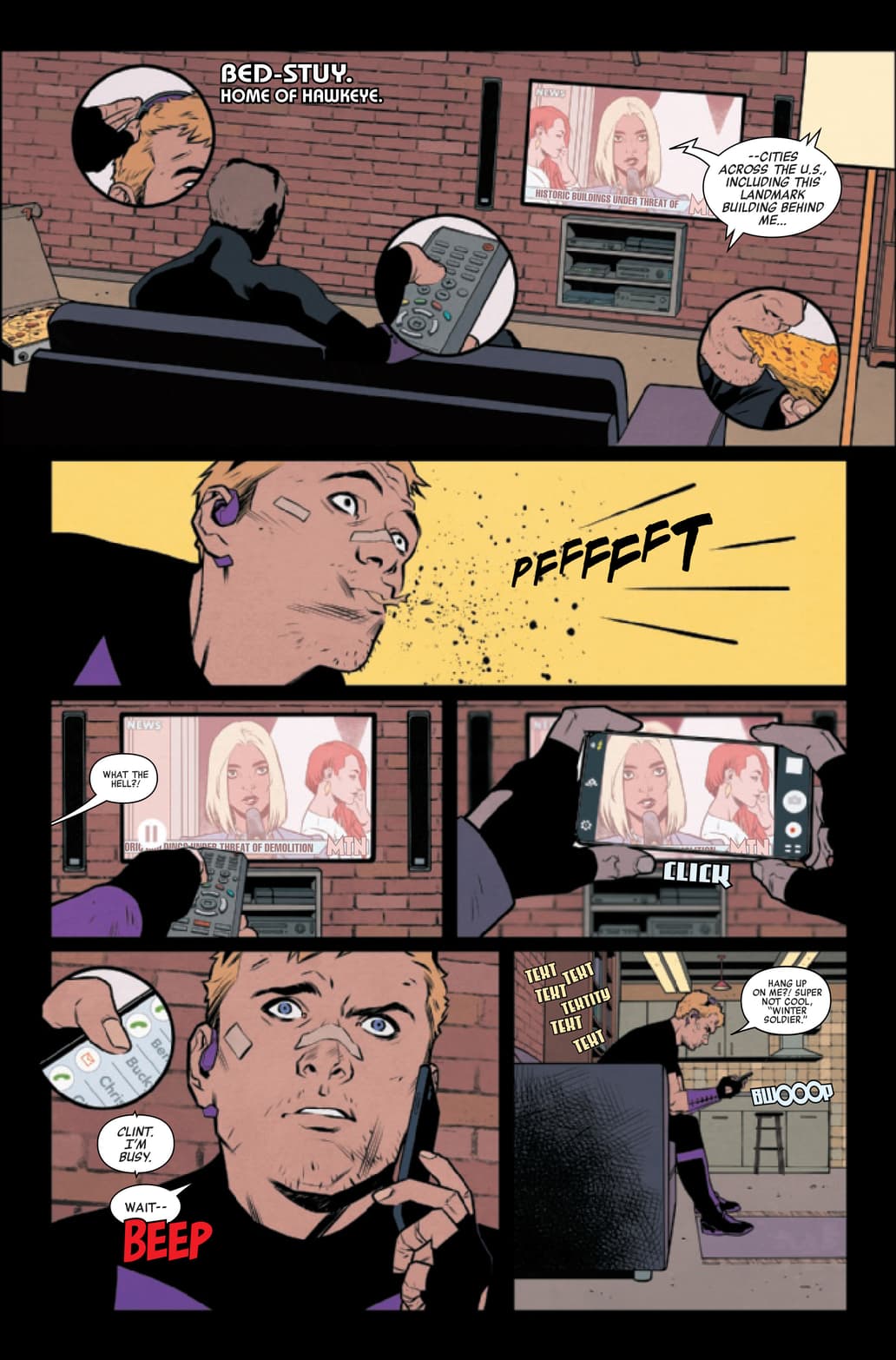 As for Nat herself, she is in a committed relationship with a very wealthy man. He'd have to be rich to have a house like that in San Francisco! We don't learn the name of her beau just yet, but we know that Nat is happy. Unfortunately, this happiness is a lie. In a final-page reveal, readers discovered that Nat's new life was orchestrated by Arcade and a shadowy cabal whose identities remain hidden.
Nat's been enjoying her new life for at least a month and a half, and Arcade is itching for a chance to try to kill her. Someone went through a lot of trouble to place Black Widow in this elaborate death trap – and we can't wait to find who is behind the conspiracy and how they pulled it off!
You can pick up BLACK WIDOW #1, written by Kelly Thompson with art by Elena Casagrande, at your favorite local comic book shop or digitally today! Be sure to ask your local comic book shop about their current business policies to observe social distancing or other services they may offer, including holding or creating pull lists, curbside pick-ups, special deliveries and other options to accommodate. Find and support your local comic book shop at http://comicshoplocator.com or by visiting http://marvel.com/lovecomicshops.
For digital comics, all purchases in the Marvel Comics app can be read on iPhone®, iPad® and select Android™ devices! Our smart-paneling feature provides an intuitive reader experience, ideal for all types of mobile device and tablet users!
The Hype Box
Can't-miss news and updates from across the Marvel Universe!