Comics
Published August 12, 2020
How 'Empyre' #5 Sets Up Two Cliffhangers in Its Penultimate Issue
The endgame is coming for the Avengers and the Fantastic Four!
Warning! This article contains spoilers for EMPYRE #5, so read on at your own risk, True Believers!
Although the Earth and the entire Marvel Universe are at the risk to falling under the control of the Cotati, last week's EMPYRE #4 gave fans some long-awaited good news – Young Avengers co-founders Wiccan and Hulkling are officially married! In this week's EMPYRE #5, Al Ewing, Dan Slott, and artist Valerio Schiti gave readers a glimpse at how this impromptu ceremony came about before Hulkling had to leave Earth to lead the alliance of the Kree and Skrulls. It's an oasis of happiness that proves that the Marvel Universe is about more than just end-of-the-world crises and unrelenting angst. But fans had better strap in, because the Avengers and the Fantastic Four are going to have to solve two extinction-level events before the good times return.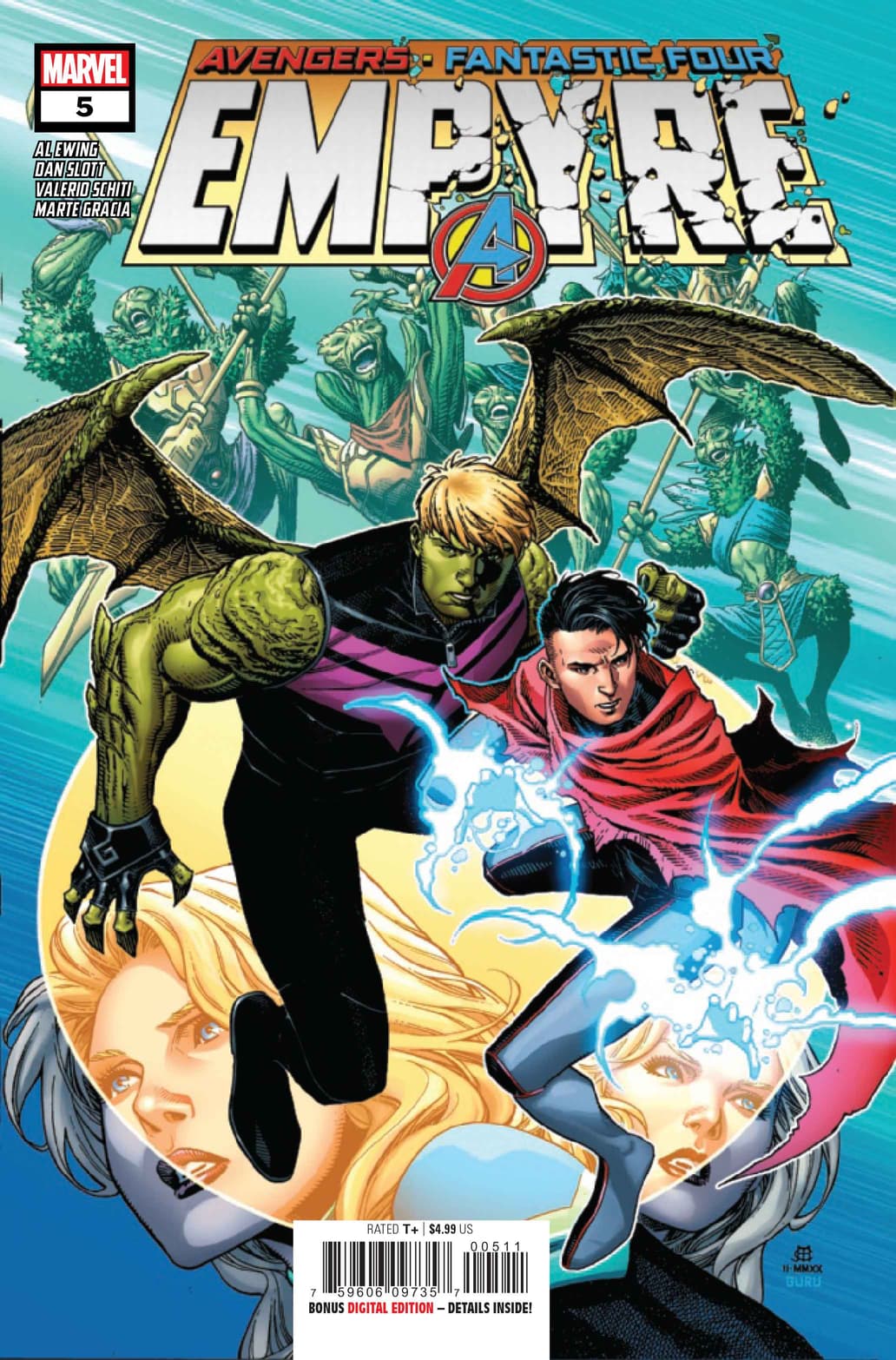 The big takeaway from the flashback is that Hulkling and Wiccan are now irrevocably linked, even when separated by the vastness of space. Wiccan displayed more control of his magical powers than ever, perhaps driven in part by his conviction that the real Hulkling was still alive. That faith was justified when Captain Marvel and Human Torch accompanied Wiccan on the trip back to the heart of the Alliance before they faced off with the fake Emperor Hulkling. They also retrieved the real Hulkling from the alliance's hidden dungeon.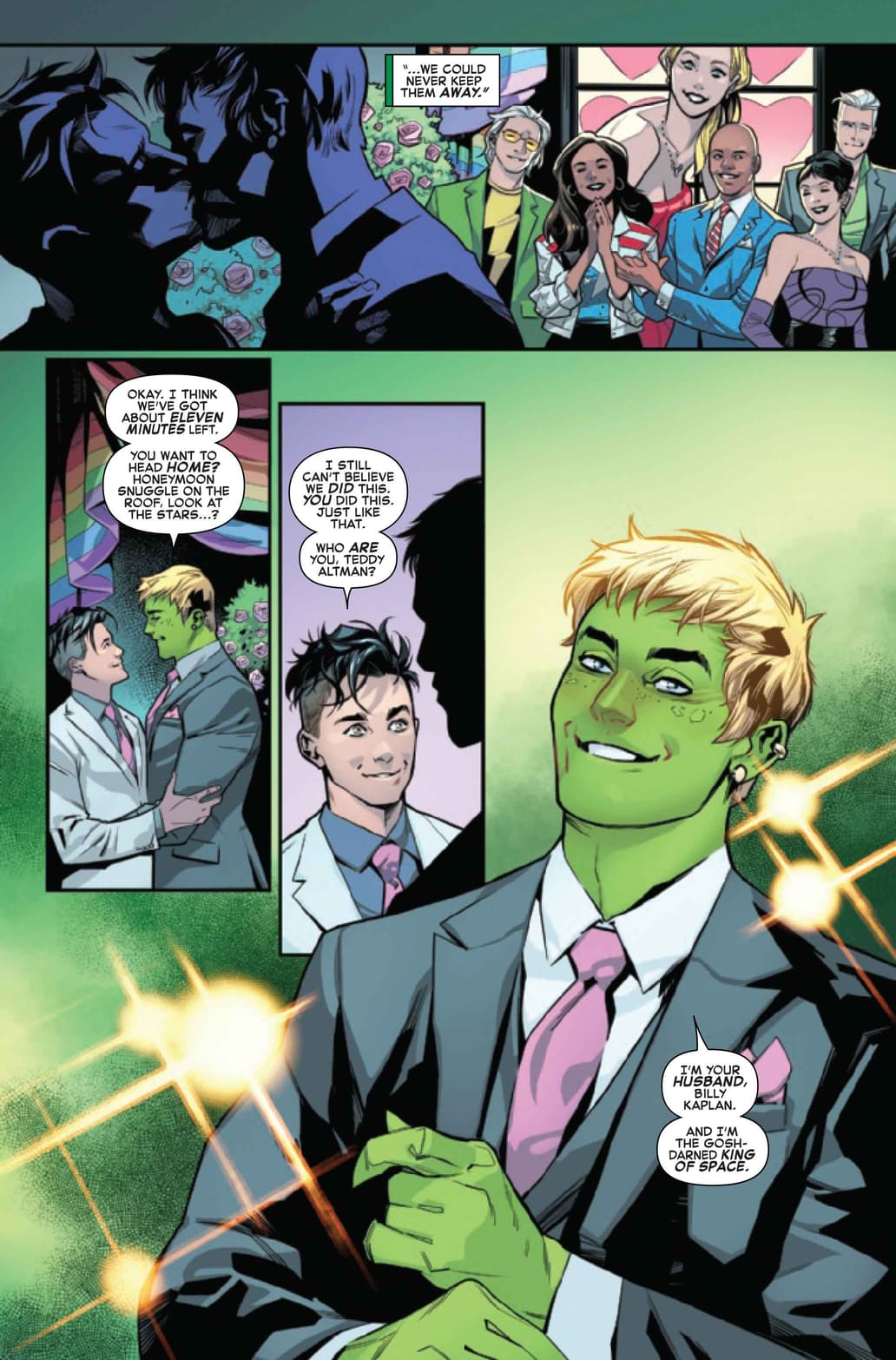 Former Skrull Empress R'Klll is using her grandson's form to control the alliance, but so far, only Captain Glory is in on the deception. Hulkling's court mystic Mur-G'nn and Super-Skrull aren't sure what to believe. But it's telling that Super-Skrull despaired at the idea that he failed Hulkling again. His affection for the true emperor is not a ruse, but it may take some convincing to get him to see the light.
Unfortunately, there's going to be quite a lightshow out in space, as the faux Emperor Hulking has activated the Pyre. That leaves the assembled heroes of Earth roughly nine minutes to save the Sun from being destroyed. No pressure! Especially because that's only one of the emergencies at hand.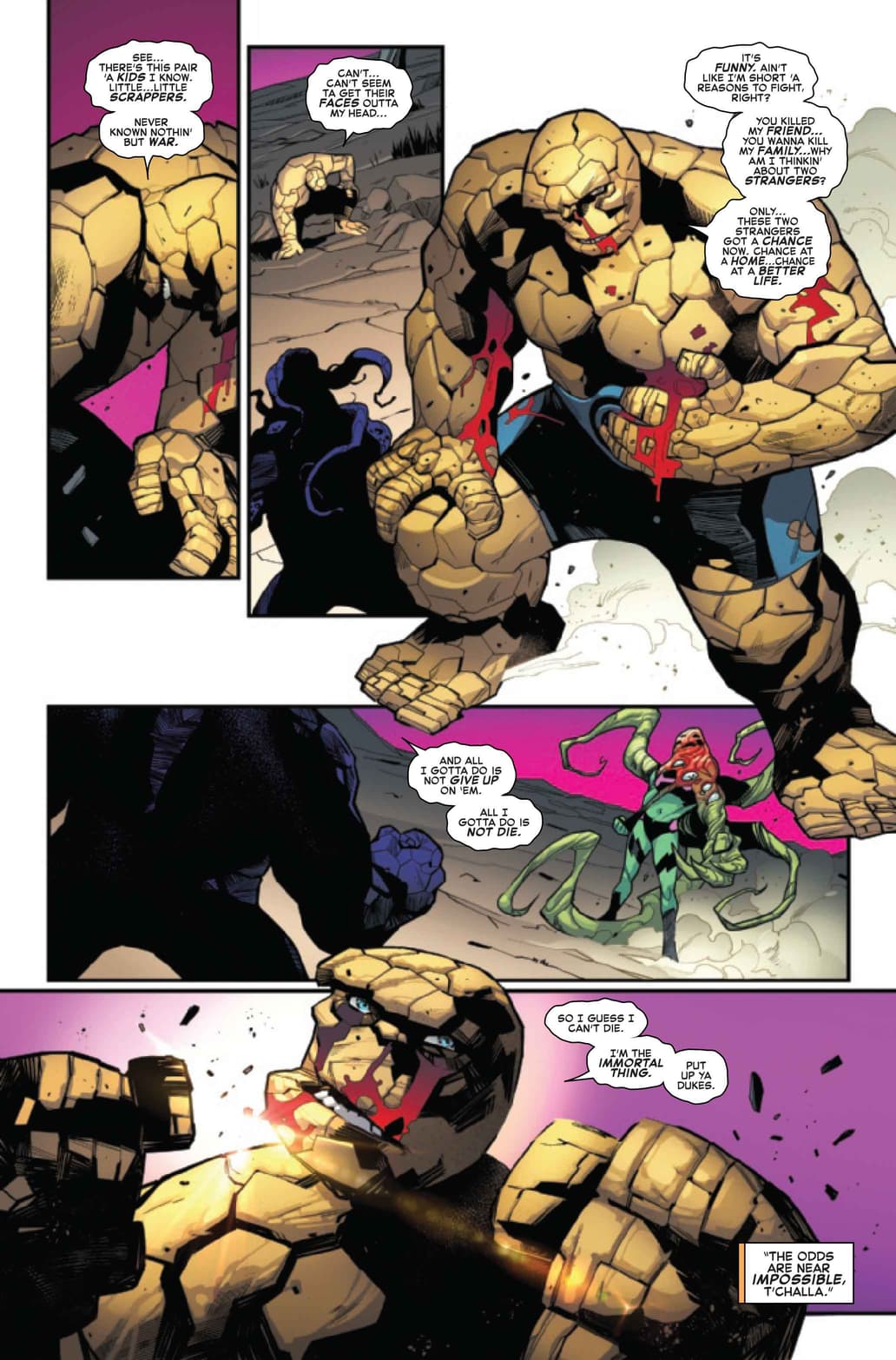 Back on Earth, the Cotati-possessed She-Hulk is on the verge of murdering the Thing. Even the Invisible Woman's unusually aggressive attempts to fight She-Hulk have failed because Jennifer Walters is already dead. She-Hulk boasts that Thing has never faced a Hulk so focused on his destruction, which is true. But he's also never faced a Hulk that he loved before, and Jennifer is, or was, a part of his extended family. All the way back in SECRET WARS (1984) #12, Thing asked She-Hulk to take his place in the FF while he remained on Battleworld. She repaid his trust and became a vital part of the team in his absence.
To the Thing's surprise, he drew inspiration to keep fighting from the Kree child Jo-Venn and his Skrull counterpart N'Kalla. In EMPYRE: FANTASTIC FOUR #0, the FF saved Jo-Venn and N'Kalla from their lives of forced combat against each other. Now, Thing's feelings for the children seem almost paternal as he strives to survive just to give them a chance at a new, peaceful life. Thing may be quite upset once he hears that Jo-Venn was captured and N'Kalla was seriously injured by Wolverine in FANTASTIC FOUR (2018) #21-22. But first, he has to survive this battle.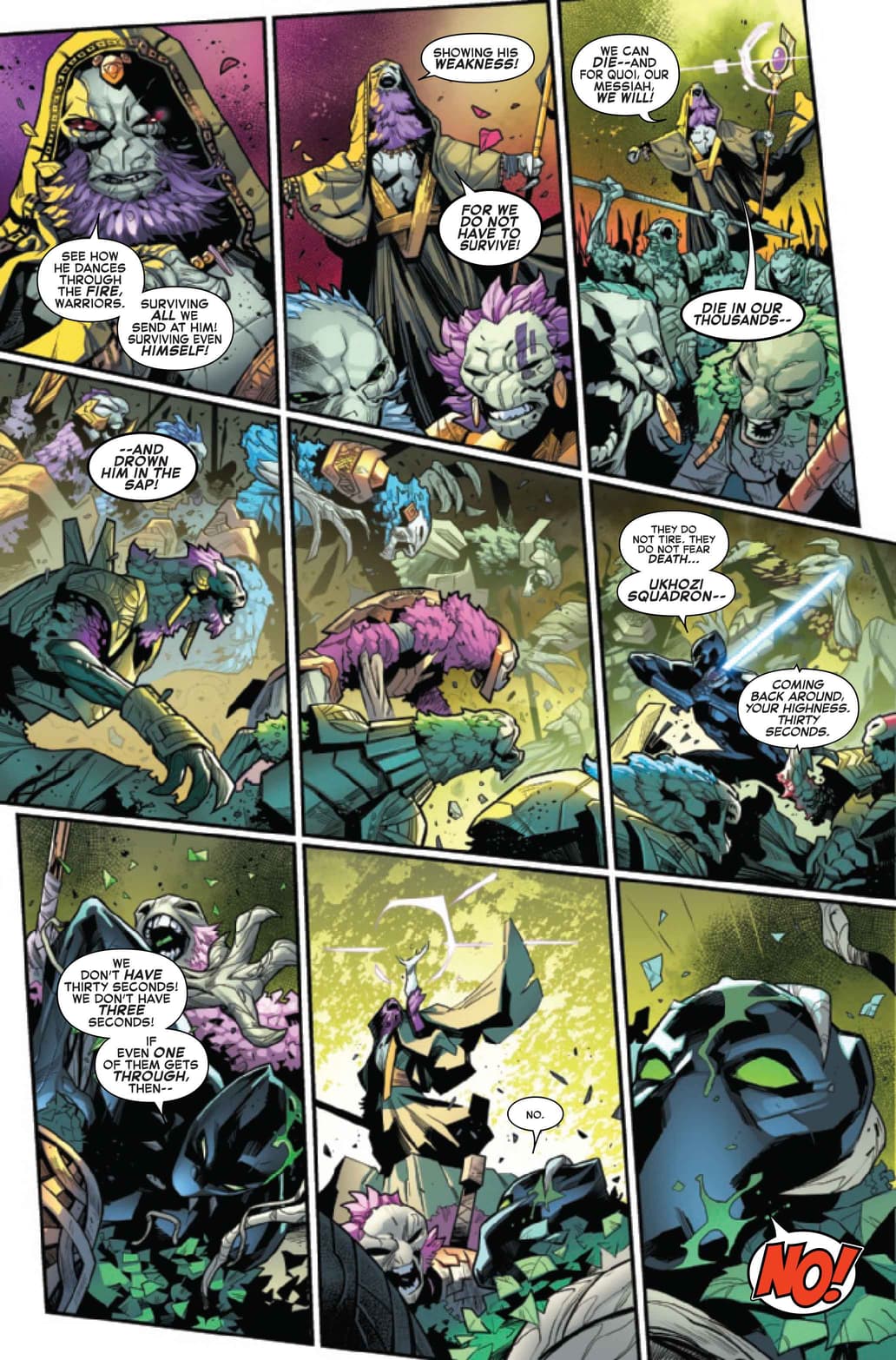 Meanwhile, the Black Panther's endgame arrived on Earth when he was finally overrun by the Cotati army. Swordsman appeared to fatally wound Black Panther, before Quoi planted the Death Blossom, which will let him control all plant life in the universe in roughly ten minutes. So if the Pyre can be stopped, Earth's heroes will have approximately an extra minute to defeat Quoi.
In the closing page, Mr. Fantastic is wearing Tony Stark's new Iron Man armor, which must have been Tony's plan all along. It may take a unique blending of their respective skills to save the world this time. But as Tony succinctly said, "Let's get it done!"
It will all come to a conclusion in next week's EMPYRE #6!
You can pick up EMPYRE #5, written by Al Ewing and Dan Slott with art by Valerio Schiti, at your favorite local comic book shop or digitally today! Be sure to ask your local comic book shop about their current business policies to observe social distancing or other services they may offer, including holding or creating pull lists, curbside pick-ups, special deliveries and other options to accommodate. Find and support your local comic book shop at http://comicshoplocator.com or by visiting http://marvel.com/lovecomicshops.
For digital comics, all purchases in the Marvel Comics app can be read on iPhone®, iPad® and select Android™ devices! Our smart-paneling feature provides an intuitive reader experience, ideal for all types of mobile device and tablet users!
The Hype Box
Can't-miss news and updates from across the Marvel Universe!