Comics
Published January 1, 2020
How 'Hawkeye: Freefall' #1 Shakes Up Clint Barton's World
Spoiler alert! Get an inside look at today's new mag!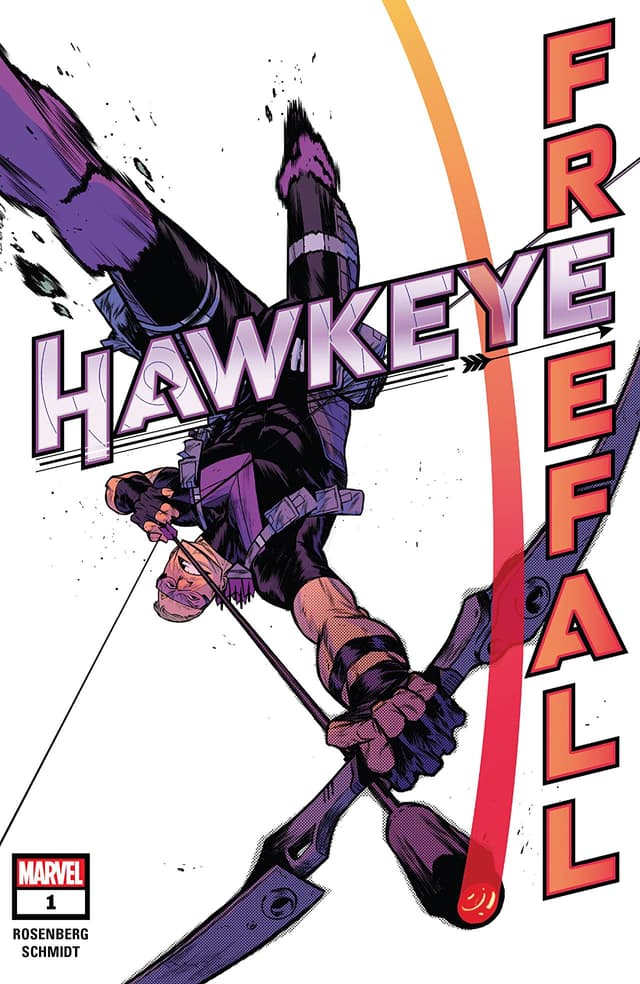 Clint has never been lacking in confidence, but he's chosen a new big bad that may be well above his weight class: Parker Robbins, AKA the Hood. Parker was last seen in INVINCIBLE IRON MAN (2016) #600, when his literal inner demon scarred Doctor Doom's face. That demon briefly resurfaces in this issue, which may make the Hood more of a Doctor Strange problem than a Hawkeye problem. Regardless, they have a history together...
During Hawkeye's time as Ronin in NEW AVENGERS (2004), Parker was setting himself up as the new Kingpin of crime. But in HAWKEYE: FREEFALL #1, Parker's apparent ties to Kingpin-turned-Mayor, Wilson Fisk, means he gets to go free while everyone else captured by Hawkeye will rot in prison. It's less than ideal, and it's forcing Clint to question whether there's any justice if the Hood can't be held accountable for his crimes.
The Hood isn't the only thing from Clint's New Avengers stint that came back to haunt him here. There's a new Ronin in town, and his skills are similar enough to Clint's that he was immediately under suspicion. Maya Lopez, AKA Echo, established the role of Ronin in NEW AVENGERS (2004) #11, and Clint took over that identity in NEW AVENGERS (2004) #27. The "Widowmaker" storyline revealed that Black Widow's ex-husband, Alexi Shostakov, was the third Ronin. The vampire hunter known as Blade then became the fourth Ronin in MIGHTY AVENGERS (2013) #4. Clint quickly ruled out his predecessor and both of his successors. But it does beg the question: who is the new Ronin? And why did they choose that identity?
It's not all bad news for Hawkeye. Clint's new girlfriend should be very familiar to longtime Marvel readers—she's Linda Carter, AKA the Night Nurse! As a Marvel heroine, Linda actually predates Clint; she made her first appearance all the way back in LINDA CARTER, STUDENT Nurse (1961) #1, before taking on the Night Nurse moniker in NIGHT NURSE (1972) #1. DOCTOR STRANGE: THE OATH #1 established Linda as the go-to general practitioner for heroes in need of medical aid. Linda also had a brief romance with Stephen Strange, which doesn't come up here, but suffice to say, Linda's not intimidated by Clint's profession. But she's clearly annoyed when he brings his shoptalk home with him.
As if getting outmaneuvered by the Hood and outclassed by the new Ronin wasn't enough, Clint also had to deflect the blame for Ronin's activities. Falcon and the Winter Soldier actually felt the need to check in with Clint to make sure he wasn't going rogue. Unfortunately for all three heroes, the new Ronin may be more than any of them can handle. Ronin easily left the trio lying in his wake, but he did make a point by not seriously injuring them in the process...
Getting knocked down has never stopped Clint before. But if Hawkeye doesn't solve the mystery of Ronin's identity, then this may be only the beginning of his freefall.
Read HAWKEYE: FREEFALL #1 at your local comic shop now!
The Hype Box
Can't-miss news and updates from across the Marvel Universe!