Comics
Published February 19, 2020
How 'Marauders' Deals with a Death in the Family
Spoiler alert! Read through a full breakdown of today's new X-ish right here!
Warning! This article contains spoilers for today's MARAUDERS #8, so read on at your own risk, oh frantic ones!
Kate Pryde is dead. (We warned you about spoilers, right?) The Hellfire Trading Company's new Red Queen was murdered by Sebastian Shaw in MARAUDERS #6. In this week's MARAUDERS #8, writer Gerry Duggan and artist Stefano Caselli finally allow Kate's friends and extended family to discover her fate. Emotionally devastated doesn't quite cover it, and even Emma Frost was moved to tears. Kate was the heart of the X-Men, and now that heart has been ripped out.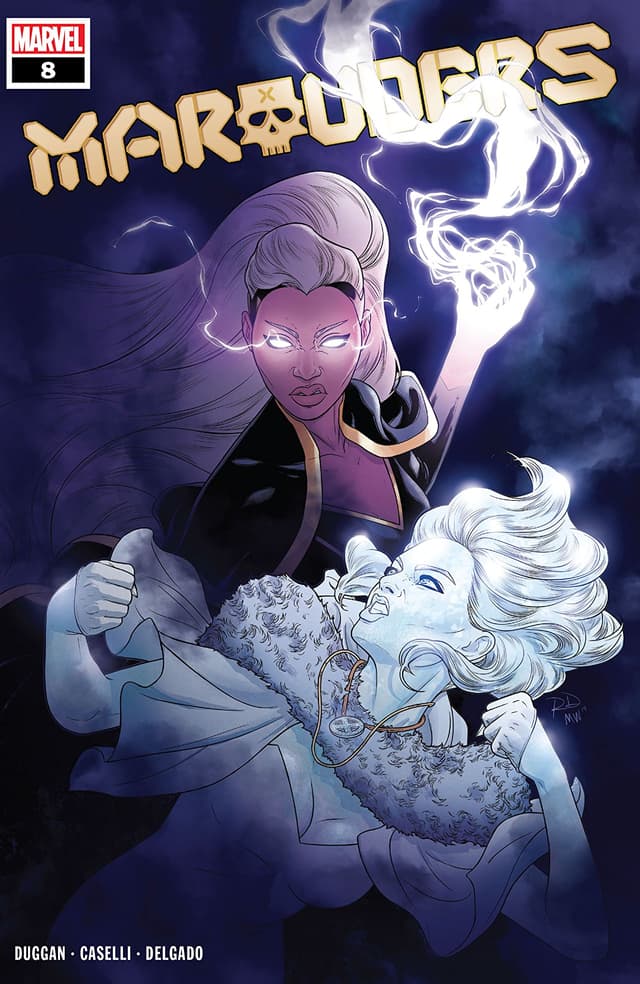 The issue started innocently enough, with Emma and her brother, Christan Frost, taking a group of mutant children on a walking tour of the solar system. Thanks to Krakoa, that's entirely possible. This was also a rare opportunity to see the Krakoan outpost on Mars, where most of the Krakoan wonder drugs are created. Readers were also given a glimpse at Krakoan automatons created by Forge using the natural materials of Krakoa itself. Presumably that means they won't be a part of the A.I. uprising currently unfolding in IRON MAN 2020.
Meanwhile, Bishop was undercover on an enemy ship when he confirmed the news of Kate's death and allowed Emma to witness the grim discovery through his eyes. The ship and its men were loyal to Homines Verendi, the group led by former Hellfire Club king, Kade Kilgore. However, Kate's death was the one crime that Verendi didn't commit. Ever the investigator, Bishop noticed the Krakoan vines that ensnared Kate and saved the evidence. This was reminiscent of the time in NEW X-MEN (2001) #140-141 when Bishop and Sage investigated the apparent murder of Emma Frost.
Iceman took Kate's death so hard that he nearly slaughtered Verendi's men. Iceman has never been this vicious before, as he allowed the extreme temperatures to snap off fingers and he even severed a man's arm after it was frozen solid. But keep in mind, Kate was more than just a friend to Bobby Drake. During WOLVERINE AND THE X-MEN (2011), Kate and Bobby briefly pursued a romantic relationship. And regardless of the changes in their lives, Kate was still important to him.
Kate was no less important to Storm, who lashed out at Emma once she learned about Kate's fate. There's never been any love lost between Storm and Emma, which is why their embrace in this issue was so affecting. In their own way, Emma and Storm both loved Kate. Emma even shared a rare gift with Storm when she recalled the resurrection of Cyclops, Jean, Logan, and the rest of the strike team in HOUSE OF X #5. Emma said that moment gave her hope, and Storm was humbled by the gesture. It's a far cry from the time that Emma stole Storm's body in UNCANNY X-MEN (1963) #152. But that's water under the bridge at this point. The two women shared a desperate belief that Kate can be returned to them through the Resurrection Protocols. But that's far from a sure thing, given Krakoa's odd rejection of Kate. That is a mystery which has yet to fully unfold.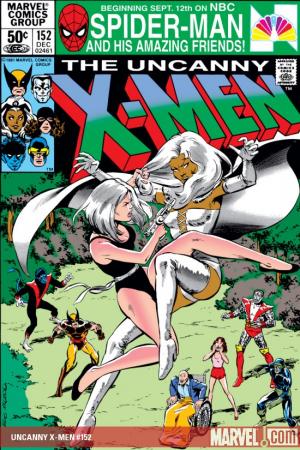 This issue also brought back Mister Sinister's gossip column, in which he slams Kate for missing a Quiet Council meeting while sharing his belief that it was ultimately a power play. He also states that Stinger (Wendy Sherman) is the first mutant woman on Krakoa to get pregnant since the nation was founded. It should be noted that Stinger's appearances have been limited since she debuted in X-FACTOR (1986) #5-6 as part of the Alliance of Evil. Sinister wouldn't have mentioned Stinger or her child unless they were potentially useful for his long-term plans.
Meanwhile, Sebastian Shaw enjoyed watching Emma's agony from afar. However, it's unclear if his son, Shinobi Shaw, was in on the plan to murder Kate. Shinobi also introduced his latest Hellfire Trading Company recruits: Andrea von Strucker and Andreas von Strucker, AKA Fenris. Andrea was killed years ago in CITIZEN V AND THE V-BATTALION (2001) #3 by Baron Zemo in order to protect the secret of his resurrection in Citizen V's body. Andreas briefly had a semi-heroic turn in NEW THUNDERBOLTS (2004) as the new Swordsman. However, Andreas was later murdered by Norman Osborn in DARK REIGN #1. But this is one resurrection we can't blame on bad choices from the Quiet Council. The Fenris twins showed up alive in ILLUMINATI (2015) #2, courtesy of their father, Baron Wolfgang von Strucker.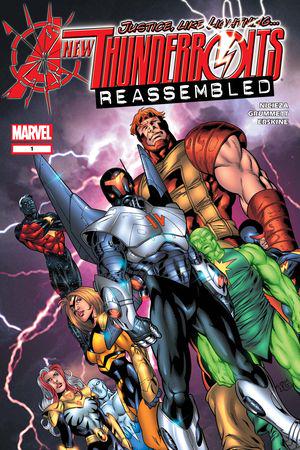 New Thunderbolts (2004) #1
published

added to marvel unlimited

letterer

penciller

penciller (cover)

colorist

inker

writer
What is Marvel Unlimited?
Regardless of his current triumph, Shaw's victory may be short-lived. The final page reveals that Lockheed survived his watery ordeal. The young woman who found Lockheed is adamant about keeping alive and healthy. But Lockheed is also the only living witness of Shaw's crime against Kate. If Lockheed can communicate the truth to the Marauders, then Shaw's house of cards will collapse in the Dawn of X.
Read MARAUDERS #8 for yourself at your local comic shop now!
The Hype Box
Can't-miss news and updates from across the Marvel Universe!