Comics
Published May 20, 2019
How This 'X-Men' Issue Changed Marvel Forever
Get ready for 'House of X' and 'Powers of X' with this short documentary about 'Giant-Size X-Men' #1!

With only two months until highly-anticipated series HOUSE OF X and POWERS OF X herald a new era for the X-Men, fans can now learn more about the seminal moments that shaped X-Men history with a brand-new documentary short series, X-Men: The Seminal Moments!
Today, the first episode looks back at 1975's GIANT-SIZE X-MEN #1! 
An issue that signaled a new beginning for so much of what Marvelites know and love about the X-Men today, GIANT-SIZE X-MEN #1 revived the mutants for a new era and imbued them with a fresh, different spirit. After the early success of UNCANNY X-MEN had started to fade in the early '70s, creators Len Wein, Dave Cockrum, and Glynis Oliver united to craft a story tailored for a changing audience and world. In short, this introductory issue established new status quos, debuted new characters, and set the Children of the Atom on the road to immortality.
Read the issue right here!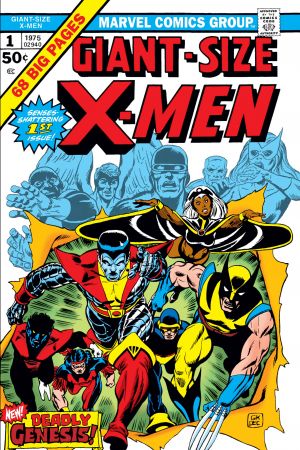 HOUSE OF X and POWERS OF X—written by Jonathan Hickman with art by Marvel's Young Gun Pepe Larraz, R.B. Silva, and colorist Marte Gracia—will build from every major X-Men milestone since 1963 up through the current X-Men series and storylines fans know and love, including some of Marvel's most iconic characters from over the decades.
The next seminal moment in the history of the X-Men begins at your local comic shop this July!
The Hype Box
Can't-miss news and updates from across the Marvel Universe!