Comics
Published October 26, 2020
How 'Werewolf by Night' #1 Introduces a New Hero to the Marvel Universe
Meet the new Werewolf by Night, Jake Gomez!
WARNING! THIS ARTICLE CONTAINS SPOILERS FOR WEREWOLF BY NIGHT #1, SO READ ON AT YOUR OWN RISK, TRUE BELIEVERS!
For nearly five decades, Jack Russell has been Marvel's Werewolf by Night. But now, a new hero has emerged with a similar dilemma. Taboo from the Black Eyed Peas has teamed up with co-writer Benjamin Jackendoff and artist Scot Eaton for WEREWOLF BY NIGHT #1, a new four-issue miniseries that introduces Jake Gomez.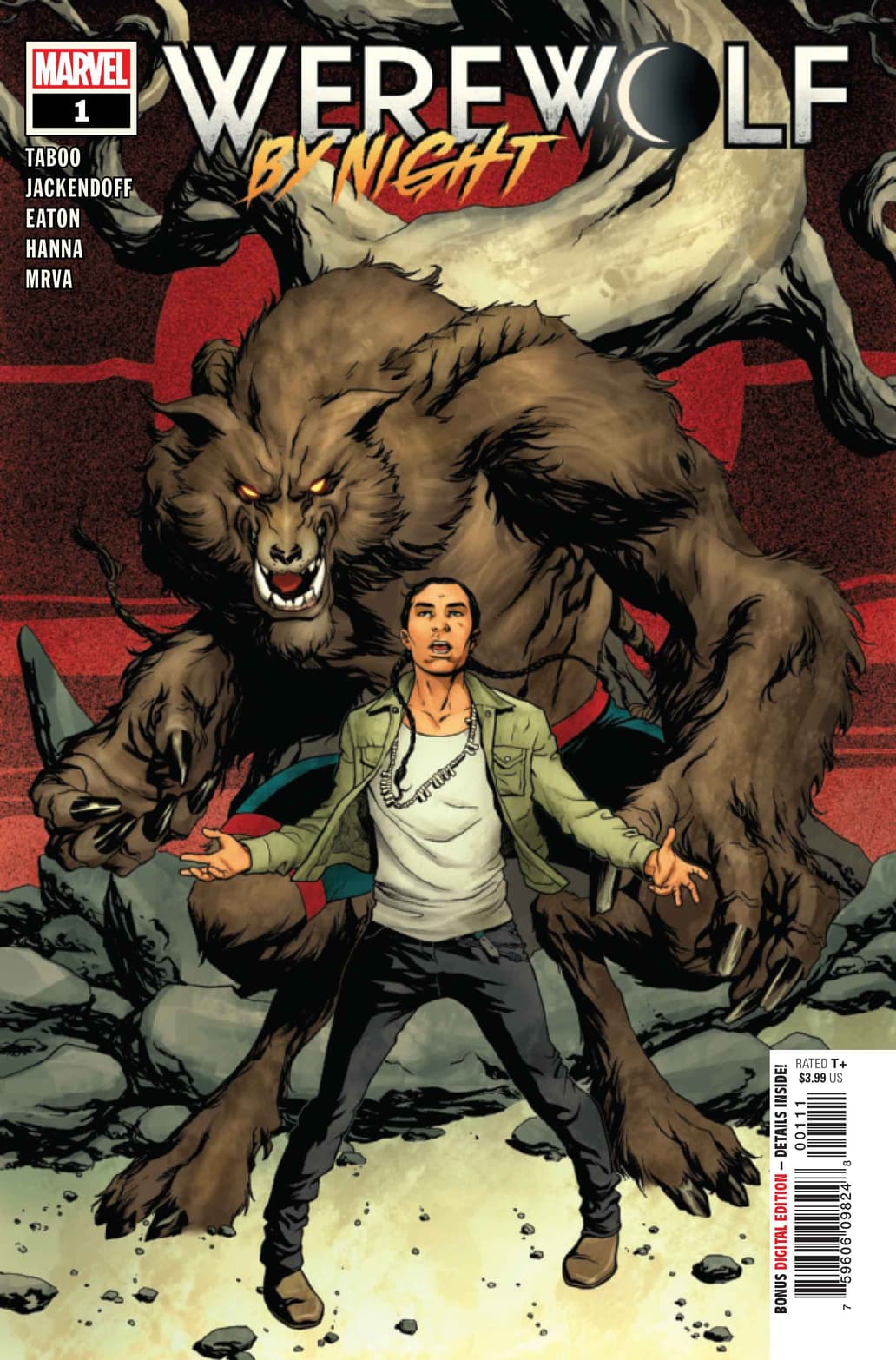 The first time we meet Jake, he's already in full wolf form. As Jake explains in the opening narration, he felt his transformations begin four years ago when he was only 13 years old. And while Jake can retain some of his intellect in his wolf form, his control is not absolute. It takes his girlfriend Molly and some specially selected music to reach the man within the beast.
According to Jake, this is a family curse that was passed down to him by his father. Jake doesn't need a full moon to change, just the night. And that change comes with a range of difficult emotions. Luckily for Jake, he already has a support system in place with Molly. She's utterly unafraid of him, even when he's a werewolf. This suggests that she's been aware of his secret for some time now.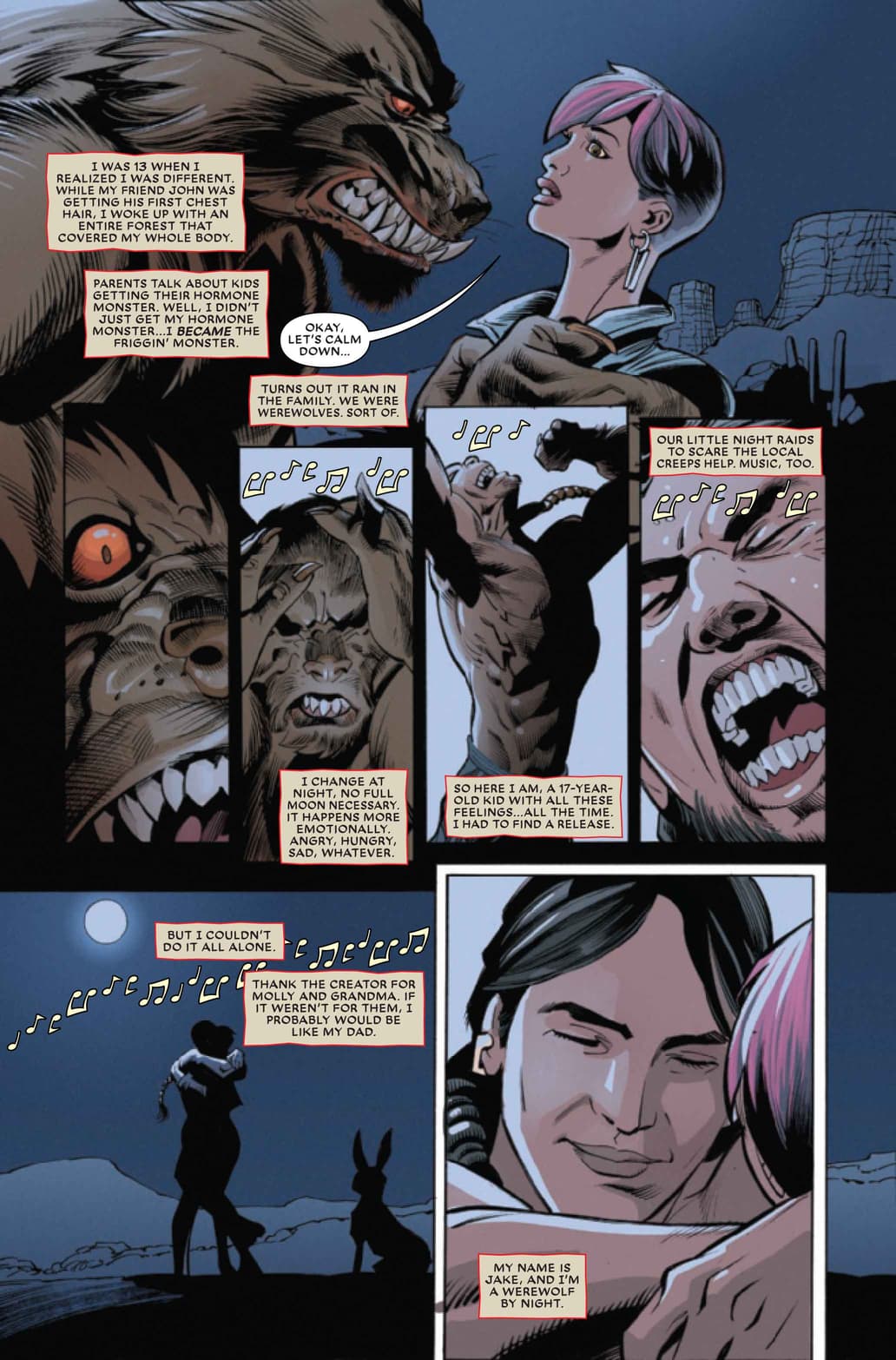 Both Jake and Molly live on a Hopi reservation in Arizona. Jake also shares a home with his grandmother, Rora. Granny Rora is in on the family secret with them, while Jake's father is apparently in jail. Jake seems openly resentful about his dad, even though both are afflicted by the same curse.
By day, Jake and his friend Frank work for Life Pharmaceuticals, a fairly shady company. Their boss, Mr. Wagner, recruits them to clean a lab that looks like the site of a violent escape. The key takeaway here is that Jake can still access his wolf senses even when in human form. He can tell that someone died in the lab, and there's a substance on the floor that even Jake can't identify as blood or something else entirely. More tellingly, Jake can hear the upper management plotting something new with their upcoming shipment. That's enough to convince Jake that Molly was right about using his powers to fight this corruption from within the company and as a werewolf.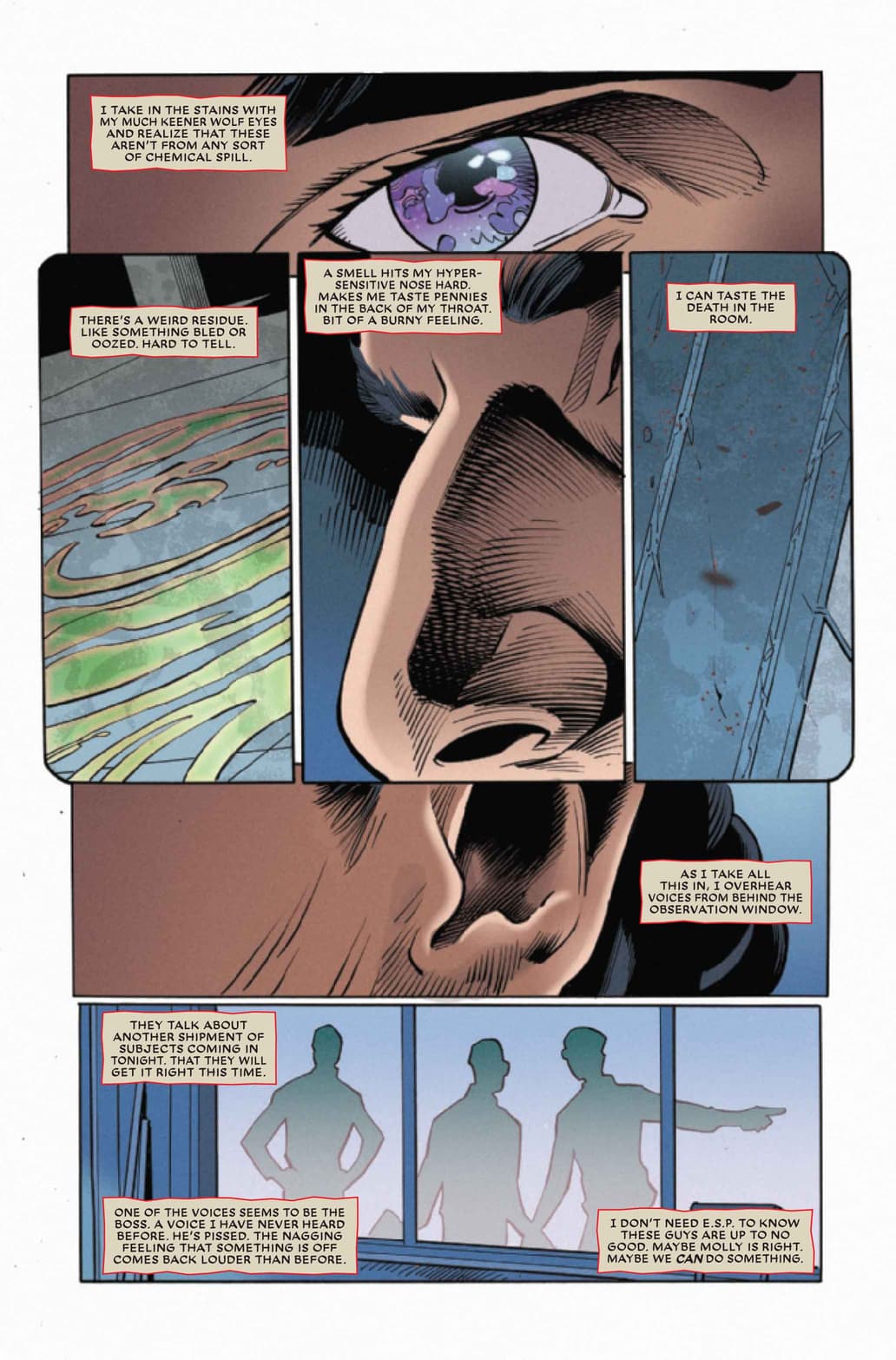 Jack Russell may not be in this series, but there is a familiar Marvel hero sharing the spotlight. Red Wolf has reappeared for the first time since AVENGERS: NO SURRENDER. He and Clint Barton AKA Hawkeye formed their own informal team in OCCUPY AVENGERS. But now, Red Wolf is on a different path. He's signed up with the U.S. Marshals, and he has a new partner named JJ. Together, they take down a young villain, the Pathmind, before they get a new lead about missing tribe members at the Hopi reservation.
Molly briefly spots Red Wolf and JJ before she directs Jake to intercept the shipment he heard about earlier. Within the truck, Jake finds the missing tribe members being held as prisoners. He also finds their captors: a cyborg werewolf who can wield a gun and speak, as well as two other augmented mutations. For the first time, Jake is in over his head. Fortunately, some back up may be around the corner.
WEREWOLF BY NIGHT #1, written by Taboo and Benjamin Jackendoff with art by Scot Eaton, is on sale now, online and at your local comic shop!
Be sure to ask your local comic book shop about their current business policies to observe social distancing or other services they may offer, including holding or creating pull lists, curbside pick-ups, special deliveries and other options to accommodate. Find and support your local comic book shop at http://comicshoplocator.com or by visiting http://marvel.com/lovecomicshops.
For digital comics, all purchases in the Marvel Comics app can be read on iPhone®, iPad® and select Android™ devices! Our smart-paneling feature provides an intuitive reader experience, ideal for all types of mobile device and tablet users!
For Marvel's most up-to-date release schedule for your favorite comics, visit http://marvel.com/newcomics.
The Hype Box
Can't-miss news and updates from across the Marvel Universe!