Comics
Published April 28, 2017
Infamous Iron Man: Meet Your Maker
Follow the path that led the Ultimate Reed Richards to evil!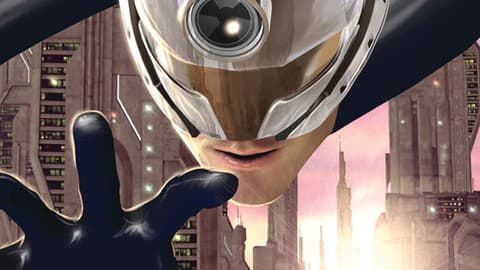 In the upcoming INFAMOUS IRON MAN #8 by Brian Michael Bendis and Alex Maleev—available May 24—we'll see The Maker unleashing his master plan, and facing off against Doom. But how exactly did "Ultimate" Reed Richards go so bad? What led him to follow a course so different from the Mister Fantastic of the Marvel Universe?
Let's look at some of the critical turning points in the Maker's history.
With Reed in the Ultimate Universe, we saw a younger version of the brilliant scientist. A child prodigy, Richards always had a challenging relationship with his father, who never really understood him. Reed's father wanted him to become the popular jock type, and didn't acknowledge that his son could find another path to success. This early blow to his self-esteem sets Reed on a different path from his Marvel Universe counterpart from the outset.
Reed's downfall really starts with Ultimatum, where Magneto shifted the Earth's magnetic poles, creating a tidal wave in New York City that killed many of the Ultimate characters close to Richards, including Franklin Storm, whom he worked for—and who appreciated Reed's genius in a way his father never did.
We find out that Doctor Doom had actually orchestrated Magneto's plan, so Reed feels consumed with guilt, blaming himself for what happened and feeling like he created Doom; this messes with his metal state.
Shortly thereafter, events unfold that cause the Fantastic Four to disband. Sue rejects Reed's marriage proposal and the two of them break up. The end of his relationship and the blow to his most important friendships leaves Richards feeling alone.
After the breakup of the FF, Reed moved back in with his parents. His dad gets up to his old patterns. Soon though, his parents both die in an explosion, and we later find out that Reed himself had orchestrated the murder of his family, as well as other attacks, spiraling downward even more, growing darker and darker as a character.
As The Maker, Reed leads the Children of Tomorrow, who have the impossible and destructive goal of trying to perfect the world. Richards, we learn, had been trapped in the Negative Zone—where time moves differently—for around a millennium, and this had understandably warped his psyche to what we see today.
The Maker confronts Doctor Doom in INFAMOUS IRON MAN #8, coming May 24 from Brian Michael Bendis and Alex Maleev!
The Hype Box
Can't-miss news and updates from across the Marvel Universe!