Comics
Published April 18, 2018
Infinity Countdown Ignites the Infinity Wars
Gerry Duggan previews the third act of his cosmic odyssey!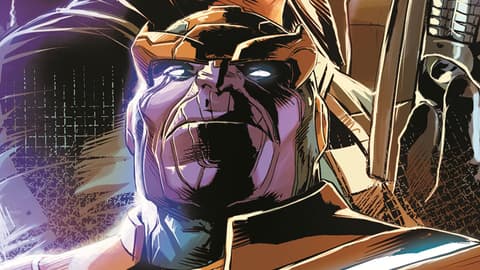 Written by Jess Harrold
The Infinity Stones have returned to the Marvel Universe, and the race is already on to find them. But when INFINITY COUNTDOWN ends, INFINITY WARS begins! Here, writer Gerry Duggan and editor Jordan D. White discuss the cosmic event to end all cosmic events!
Marvel: Gerry, you followed up ALL-NEW GUARDIANS OF THE GALAXY with INFINITY COUNTDOWN, and now it's time to ask you the big question: what are you counting down to?
Gerry Duggan: Guardians was the first act—and as big as Countdown is, it was the second act. INFINITY WARS contains the last act of my cosmic story.
Marvel: What can you tell us about the state of Marvel's cosmos when Countdown ends?
Jordan D. White: Well, I don't want to spoil the ending of Countdown, but suffice it to say possession of a couple of the Infinity Stones has yet to be completely settled until Countdown comes to a close. When it does, the stage will be set at last for the requiem of the Infinity Stones to begin, driving us toward Infinity's end! We are going to learn a lot about the Infinity Stones, how they work and why. And we're going to see some…interesting combinations of characters, let's say. Ones no one is expecting, that is for sure.
Marvel: Can we expect to see the Guardians of the Galaxy front and center?
Gerry Duggan: Yes and no. They'll play a part, but the Stones are scattered and in a lot of different hands. Some of those hands are very happy to be holding the one rock they have. Others will want to assemble the entire set. Yes, it will be a big story, but it's also going to be a lot of fun. The first act of INFINITY WARS is like "The Warriors"—if each gang had a magic rock. Most of the Marvel "families" will be represented in one way or another. This story began in space, continues on Earth…and ends up somewhere new.
Marvel: Anything Infinity-related tends to involve a certain Mad Titan, who is making major waves in other media this year. What is Thanos up to during your story?
Gerry Duggan: He's one of my favorite parts of this tale. I think his appearance in the PRIME issue will set a new tone for him and drive home that this is, in fact, a very different Thanos story, with some unexpected dividends in the back end.
Marvel: Obviously, "Infinity" is a word with quite some pedigree in the Marvel Universe. Were you a fan of Jim Starlin's original INFINITY GAUNTLET/WAR/CRUSADE trilogy—and indeed Starlin's cosmic storytelling in general?
Gerry Duggan: I love Starlin's work. His collaborations were always so big and bold. That said, this is a different story. I don't want to be anyone's cover band. I know readers love Jim's work as much as I do. I'm borrowing the toys to tell a different tale.
Marvel: Gerry certainly has taken Marvel's cosmos in a very different direction—and one unique to him. Since he's describing this book as his "final act," it seems like a good opportunity to ask you, Jordan, what have you enjoyed about his stewardship of the Guardians of the Galaxy and the rest of the Marvel cosmos?
Jordan D. White: Working with Gerry is terrific—he and I share so much when it comes to sensibilities. We both come at even the most dramatic story from the structure of comedy, in an odd way. Which is not to say the story is a gag—far from it. The "punchline" in Gerry's cosmic tales is more punch than line, and it's going to knock people off their feet.
Marvel: Speaking of knocking folks off their feet, you have an art team capable of doing just that on INFINITY WARS, right?
Gerry Duggan: It will be worth it for Mike Deodato Jr. and Frank Martin's work alone. They are so great. This is the best work I've seen from them, and best of all we've been at this long enough that they will be providing art for the entire run. I went to New York for a one-day meeting about this story at the end of last year, and we had a blast cooking up some of our biggest ideas. I'm really happy with what we're going to get away with.
Marvel: So if your story was this year's big movie, what would the trailer guy say about it?
Gerry Duggan: Not a damn thing. I'd kill him first.
The battle begins with INFINITY WARS: PRIME #1, on sale July 25!
The Hype Box
Can't-miss news and updates from across the Marvel Universe!