Comics
Published November 7, 2017
Inhumans: Once and Future Kings – Return to Attilan
Christopher Priest preps the Royals for the fight of their lives!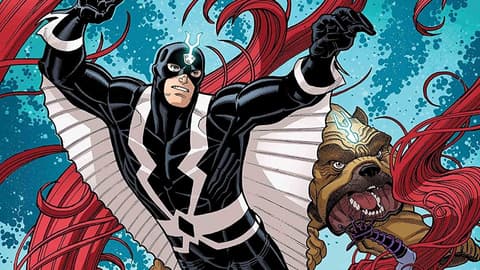 The time has come for the teenage royals to return home to Attilan.
In an attempt to clear their names of treason and retake their rightful places as Inhuman leaders, the team has made some unlikely alliances and built up their forces to prepare for a battle with the King himself!
On December 6, writer Christopher Priest and artist Phil Noto conclude INHUMANS: ONCE AND FUTURE KINGS with the climactic issue #5!
We caught up with Priest to get some hints about this electrifying finale!
Marvel.com: Can you give a brief summary of the series ahead of the last issue?
Christopher Priest: This will be part five of five parts, so a lot has gone on. I recommend everyone pick up the entire series (obviously) and enjoy the ride! Long story short: due to a series of misunderstandings, the teenage royals Black Bolt, Maximus the Not-So-Mad, and Medusa become convinced the Inhumans King (who now goes by the name Unspoken) wants to kill them.
Led by a mysterious new character, an enlightened Alpha Primitive who calls himself "Elisha," the teenhumans flee the ancient city of Attilan and take refuge in New York City where they come under the tutelage of Benjamin Wittman, the brilliant inventor who later becomes known as the malevolent Wizard. At the start of this, our finale, the royals—now reunited with their cousins Triton and Karnak—have come to question much of the information they've been given, and have determined to return to Attilan and engage the King…who has the power to destroy them all.
Marvel.com: How have the team dynamics shifted over the course of the story?
Christopher Priest: Well, they're not much of a team, actually. They're family, to be sure, but they are kids; teenagers on a first big adventure away from home, guided by grown-ups with questionable motives.
All of this leads, of course, toward Black Bolt's inevitable ascension to the throne—but is that the path the young monarch-in-waiting really wants to take? There's an interesting dynamic between the impulsive and self-absorbed Maximus, who craves the throne, and Black Bolt, who's had major responsibility thrust upon him since birth.
Marvel.com: How do each of the Royals feel about the prospect of returning to Attilan?
Christopher Priest: Well, they have conflicting emotions about returning home, considering no one knows for certain whether they will be welcomed home as family or fired upon as traitors and enemies. Stay tuned!
Marvel.com: Tell us a little more about Elisha.
Christopher Priest: Elisha the Alpha Primitive could be described as your typical liberal post-grad student—the kind that waits on line in the rain for the newest iPhone. He is mostly a product of his experience—the oppression suffered by the Alpha Primitives, a servant caste of the Inhumans. An Inhuman taught Elisha to read and got imprisoned for it. Now enlightened, and with postgrad degrees from M.I.T., Elisha remains a second or even third-class citizen due to his genetic disposition—which casts a pall upon the more "enlightened" Inhuman society.
His character theme is, therefore, about discrimination—especially among liberal free thinkers such as the Inhumans.
Marvel.com: How does Black Bolt differ at this stage of his life from the present day?
Christopher Priest: This Black Bolt has only been out of his isolation chamber for a few months, if that long. He is, literally, the boy in the plastic bubble who is only within these pages learning how to relate to and socialize with others. Thus, Black Bolt feels very sensitive to the plight of the Alpha Primitives and, in fact, challenges the King on that subject in our first issue. He tends to break a lot of social rules because he doesn't really know about them.
Marvel.com: What proved to be the most challenging part of writing this series?
Christopher Priest: Reimagining characters I've grown up reading and finding something new to say about them. We all know these characters, but these are new voices and very different themes.
Marvel.com: Who became your favorite character to write?
Christopher Priest: Crystal, whom I just went my own way with and gave her a fairly precocious voice. She, above all of the Inhumans, has had a historically generic voice. But my editor, Will Moss, has allowed me to bend convention a little and give her an irascible personality…we presume she'll grow out of it.
Christopher Priest and artist Phil Noto's INHUMANS: ONCE AND FUTURE KINGS #5 concludes the story on December 6!
The Hype Box
Can't-miss news and updates from across the Marvel Universe!