Comics
Published March 1, 2017
Inhumans: Prime Cut
Artist Ryan Sook spills on the trial of Maximus, the new Marvel Boy, and more!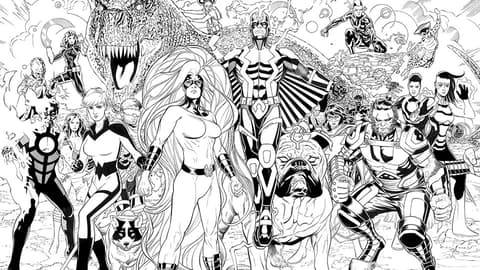 In the wake of Inhumans Vs. X-Men, the former group will find itself split between those that remain on Earth and others that head to the stars. To get the idea as to where books like ROYALS, SECRET WARRIORS and BLACK BOLT will venture, it's best to check out Al Ewing and Ryan Sook's upcoming INHUMANS PRIME #1, due out March 29!
In addition to setting the stage for those titles, the issue will also put Maximus on trial and introduce readers to the new Marvel Boy. To get the lowdown on all things INHUMANS PRIME, we turn to Sook who also shared some of his great art from the issue!
Marvel.com: This issue partially revolves around Maximus' trial. He's always been a mixed bag for the Inhumans. Would you say he's crossed a line like never before?
Ryan Sook: I feel like Maximus has definitely crossed a line that there's no coming back from after this. The consequences for the rest of the Inhumans though are maybe even more surprising than Maximus' actions. Game changer.
Marvel.com: What can you say about the new Marvel Boy and his new design?
Ryan Sook: I can only say that Marvel Boy comes across as a really cool character whose potential for the future of the Inhumans, only hinted at in this issue, sets him up to be a really important and cool character in the Marvel Universe going forward. In part because his new design by Jonboy Meyers is so awesome!
Marvel.com: Speaking of designs, did you get to rework any of the other looks as the Inhumans split up between Earth and the stars?
Ryan Sook: I didn't rework any of the designs. Thankfully! I just got to draw Jonboy's awesome redesigns for the most part, which, as with Marvel Boy, are awesome line-wide. I just took the opportunity to play up all the awesome elements of those new designs and some of the classic designs in my style which was a pleasure all around.
Marvel.com: Visually speaking, would you say there's a stylistic difference between the books that will lead out of PRIME?
Ryan Sook: I hesitate to speak on the varying styles of one book to another. I'll only say that from what I've seen, Marvel has expanded the Inhumans line—[SECRET WARRIORS], ROYALS, and BLACK BOLT—in a way that allows some radically different artistic styles to come across each of the different titles. Which makes them as cool and fun to look at as any of the X or Avengers titles and I think it's high time the Inhumans got that kind of treatment.
Marvel.com: How was it working with Al on this issue?
Ryan Sook: I was unaware of Al's previous work before now. After working on this script, I don't intend to be unaware of anything he's working on anymore. He's crafted a huge and intriguing launch to PRIME that lays groundwork for some great punches down the line. It's full of snappy dialog and action all over the place and that makes as fun a comic to draw as to read! Enjoyed the process immensely.
INHUMANS PRIME by Al Ewing and Ryan Sook sets the stage for a new era on March 29!
The Hype Box
Can't-miss news and updates from across the Marvel Universe!