Comics
Published January 12, 2017
Inhumans Vs. Monsters
Black Bolt, Medusa, and company face off against ferocious foes!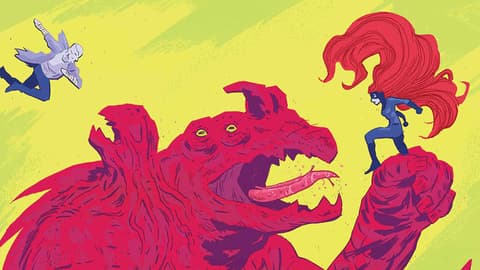 Though some might call the Inhumans themselves "monsters," the Terrigen Mist-mutated race stand as no slouches in the creature-fighting department. In case you've overlooked some of their past clashes with monsters, we've cherry-picked just a few instances for you right here.
FANTASTIC FOUR ANNUAL #5
The Inhumans joined forces with the Fantastic Four and Black Panther to invade the mysterious Psycho-Man's underground laboratory, and ran headlong into one of the most gruesome, frightening beasts ever. Initially, the creature seemed to grow stronger with each blow rained upon it by the heroes, but in the end it proved to be an incredible fear-inducing illusion of Psycho-Man's own creation.
FANTASTIC FOUR #83
Held captive by his warped brother Maximus, Black Bolt broke himself and his fellow Inhumans out of a clever holding cell only to fall into the hands of a horde of Alpha Primitive. The subhuman drones attacked en masse, but the Inhumans drove them back and in doing so broke Maximus' evil hold on them.
INFINITY #2
When Thanos ordered his emissaries to Earth to search for his lost son, the monstrous Corvius Glave landed in the Inhumans city of Attilan to demand tribute for his cosmic master. Medusa, queen of the Inhumans, defiantly refused Glave, so Thanos' twisted servant illustrated his sincerity to evil by having his guards slice their own throats.
UNCANNY INHUMANS #1
The time-traveling despot known as Kang threw his might against the Inhumans in classic monster style: with prehistoric dinosaurs. Need we say more?
The Hype Box
Can't-miss news and updates from across the Marvel Universe!