Comics
Published May 24, 2023
Who Is Jake Oh?
Get to know this Agent of S.H.I.E.L.D. with his comics origin!
Have you tried Marvel Unlimited yet? It's your all-access pass to over 30,000 Marvel comics at your fingertips. Sign up today and get one year for just $5 a month!
Jake Oh is the most decorated S.H.I.E.L.D. agent on the Eastern Seaboard. A special field operative, he has worked alongside the likes of War Machine, Black Panther, the X-Men, and more. Jake is intelligent and always helps to get things done for the greater good. But he also knows that a little excitement is always good for morale. Here are some of the S.H.I.E.L.D. agent's more exciting adventures, and, for readers new to his character, a key bit of history.
VERSUS THE PHOENIX FORCE
In series X-MEN: PHOENIX - WARSONG (2006), Jake Oh is working at a facility called "The World," a research division of the malevolent Weapon Plus Program. While he initially was excited by the prospect of working with super-soldiers, he found himself quite bored without actual combat. Just as he is requesting a transfer, the telepathic hive mind known as the Stepford Cuckoos show up inhabited by none other than the Phoenix Force. Jake soon redacts his transfer request as he finds himself caught up in a battle between Phoenix, the X-Men, and Dr. Sublime's Weapon Plus Program. Capitalizing on Cuckoo sister Celeste's crush on him, Jake helps the X-Men subdue her (and the Phoenix shard inhabiting her). With so many parties involved, the battle waged onward, but Jake stuck to the side of good despite his initial attempt to arrest the Cuckoos.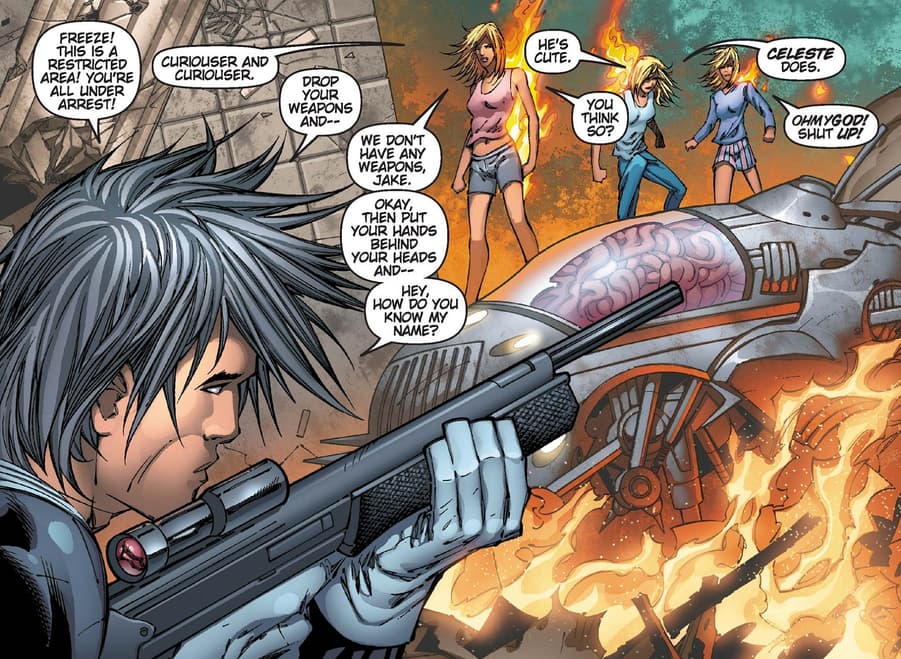 WAR MACHINE TEAM-UP
In WAR MACHINE (2008) #2, Jake Oh has temporarily left S.H.I.E.L.D. and is contracted by Eaglestar International. While serving as a First Lieutenant for the anti-terrorist organization, he crosses paths with James Rhodes as they are both attempting to rescue Dr. Glenda Sandoval. Jake then joins Team War Machine as a medic in the battle against the Ultimo virus. This tech had been turned into a contagion by Eaglestar International unbeknownst to many in the corporation. With his combat and medic training, Jake plays a critical role in subduing the infected, stabilizing the injured, and clearing civilians for Rhodes to disable Ultimo. For their work, Norman Osborn offers everyone on the team something they want. For Jake, it's a 1976 Bicentennial Edition Captain America action figure because "Cap is awesome." However, the team does not accept Norman's buyout, opting instead to ensure that all Ultimo tech is destroyed. Then they set out to find Eaglestar's supplier back in the United States.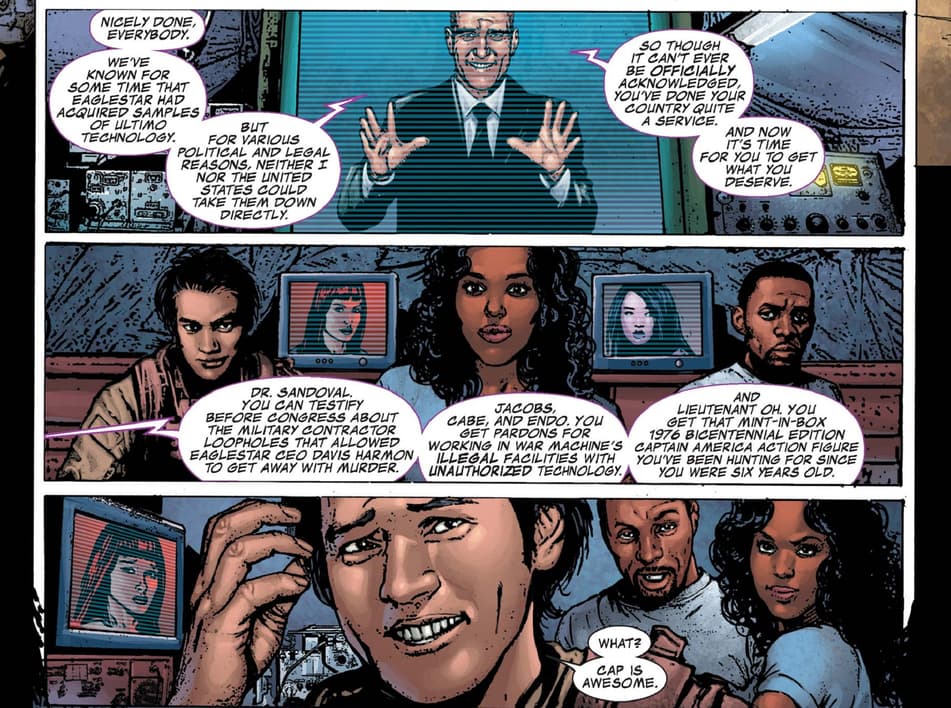 JAKE OH: WAR MACHINE
The second half of this run sees Jake taking on a War Machine suit of his very own! This started out with him impersonating War Machine so Rhodes could escape to seek out the military base that contained Ultimo tech. However, Oh soon gets his own green suit and a solid place on Team War Machine, helping to expose the world's (and Norman Osborn's) injustices. Despite the seriousness of the job, Jake keeps a good head on him, never failing to add a little humor to help boost morale. In his initial excitement to wear the suit, he even attempted to find his own Super Hero name! In the following issue, he shows his continued commitment to his values. Deployed to separate facilities, Team War Machine is destroying all the pieces of Ultimo. However, Jake, takes his time to identify the specific piece at his selected facility that needs to be destroyed, citing Wall-E and The Iron Giant as reasons why he wouldn't willy-nilly destroy everything. His endearing good-naturedness made him an asset under the dire circumstances that Team War Machine faced.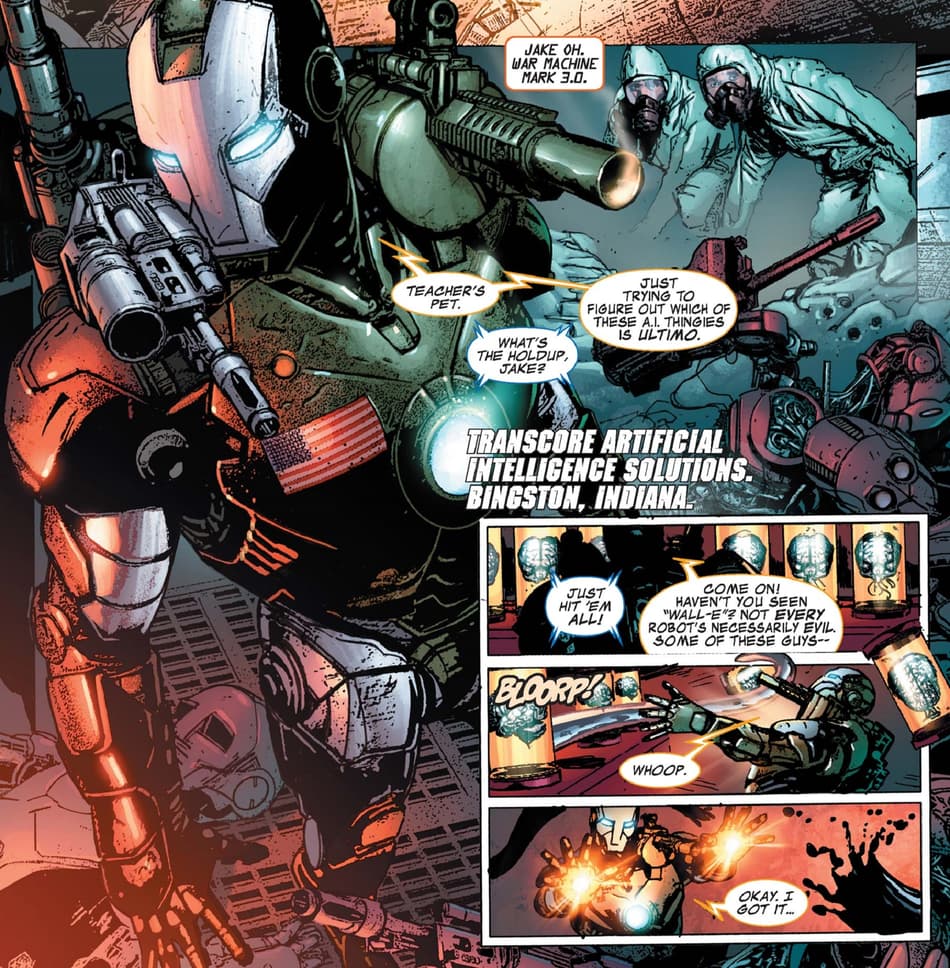 "BIG APPLE SHOWDOWN"
In THE TOTALLY AWESOME HULK (2015), Jake is back with S.H.I.E.L.D.! This time, he is a liaison working alongside Captain Marvel and Black Panther. Together, they are monitoring Amadeus Cho who has taken over the mantle of the Hulk. With his medical background, Jake becomes a valuable resource in monitoring Cho's gamma and stress levels regularly. Given Carol Danvers and T'Challa's history with War Machine, T'Challa questions Jake's motives for working with them both. Jake proves himself to be a worthy S.H.I.E.L.D. member and ally in this case, stating "I joined S.H.I.E.L.D. because I believe there are some problems in the world you can't solve without force. And the Hulk may be one of those problems. But I also believe force should be the last resort. If at all possible, I don't want to see Amadeus Cho end up like James Rhodes." Even in the face of Wakanda's King, Jake stands his ground in believing that he has something worth contributing and earns T'Challa's respect.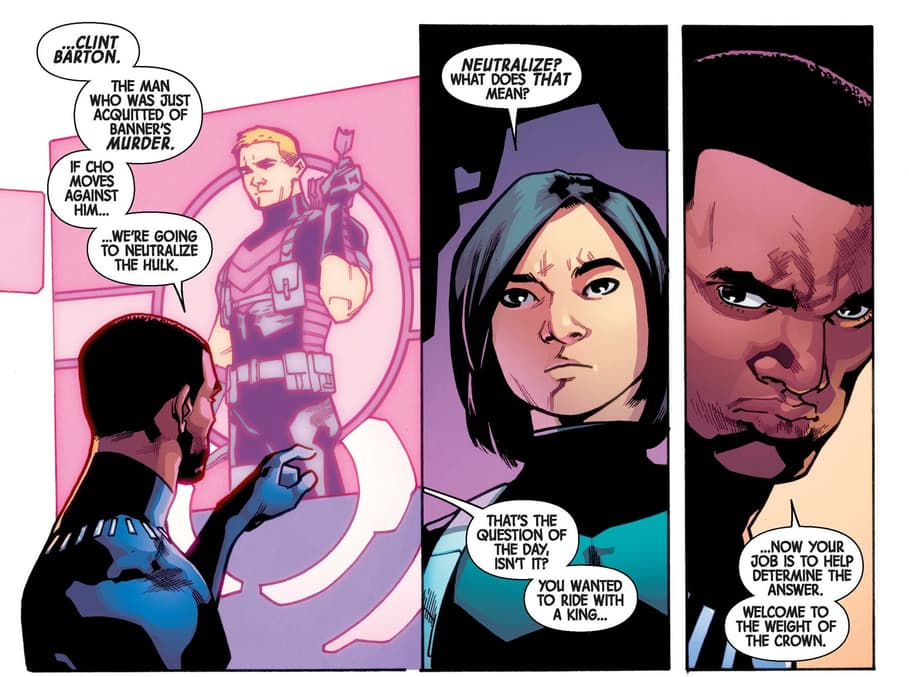 After Amadeus comes to terms with being the new Hulk and shows that he has his transformation under control, Jake continues to act as a liaison. He helps bring Cho into a team of Asian heroes including Ms. Marvel, Silk, Shang-Chi, and Jimmy Woo in THE TOTALLY AWESOME HULK (2015) #15.
This team becomes the epicenter of the "Big Apple Showdown" story arc, but not before a night out of team bonding with dinner and karaoke! On their way home, the group encounters the Imperial Guard of Seknarf Seven and finds themselves (and a chunk of Manhattan) transported into space. Dubbing themselves the Protectors, they get to work finding a way back home, ensuring the well-being of everyone transported, and fighting back against the Seknarf Seven in issue #16.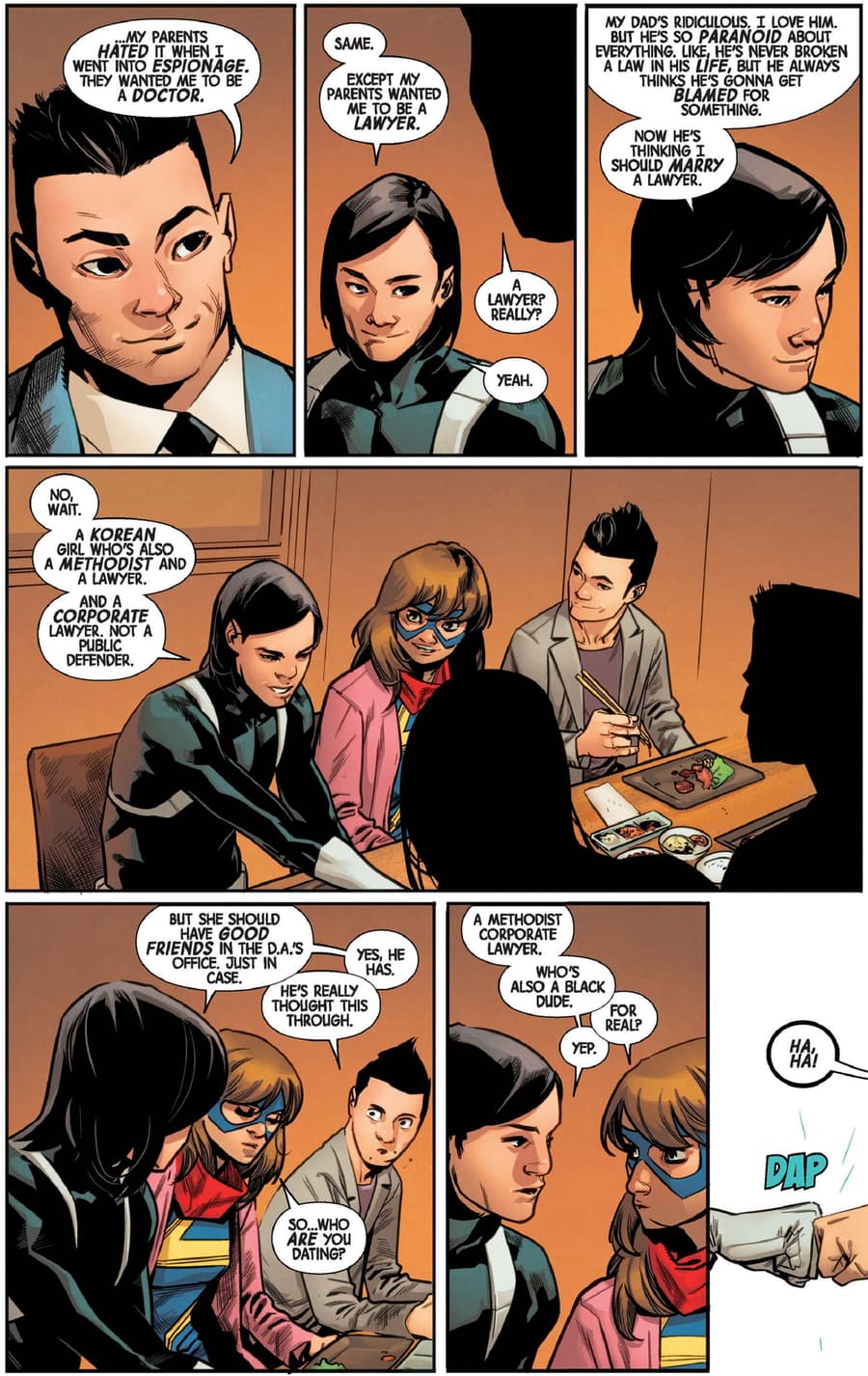 Although Jake Oh's career in Marvel Comics history has been brief so far, he's proven himself to be a worthy and impactful S.H.I.E.L.D. agent with a bright future ahead. Working with heroes to create a better world has been his calling and he has boldly heeded it. You can catch more of Jake Oh in CHAMPIONS (2020) on Marvel Unlimited!
All comics mentioned are available to read on digital comics super-service Marvel Unlimited! Download the app for iOS or Android devices now for instant access to 30,000+ comics starring favorite Marvel characters. 
The Hype Box
Can't-miss news and updates from across the Marvel Universe!