Comics
Published January 8, 2021
Jane Foster Takes a Hero to the Other Side in 'Return of the Valkyries' #1
What awaits after death for the Last of the Valkyries?
WARNING! THIS ARTICLE CONTAINS SPOILERS FOR RETURN OF THE VALKYRIES #1, SO READ ON AT YOUR OWN RISK, TRUE BELIEVERS!
During the momentous events of WAR OF THE REALMS, Brunnhilde, Marvel's first Valkyrie, was killed by Malekith the Accursed alongside all of her sister Valkyries. In turn, the former Mighty Thor, Dr. Jane Foster, took on a new role as the Last Valkyrie. Jane not only had to defend the ten realms, she also had to ferry souls to the next world. It would be a daunting task for anyone, especially someone like Jane who has already come close to death's embrace.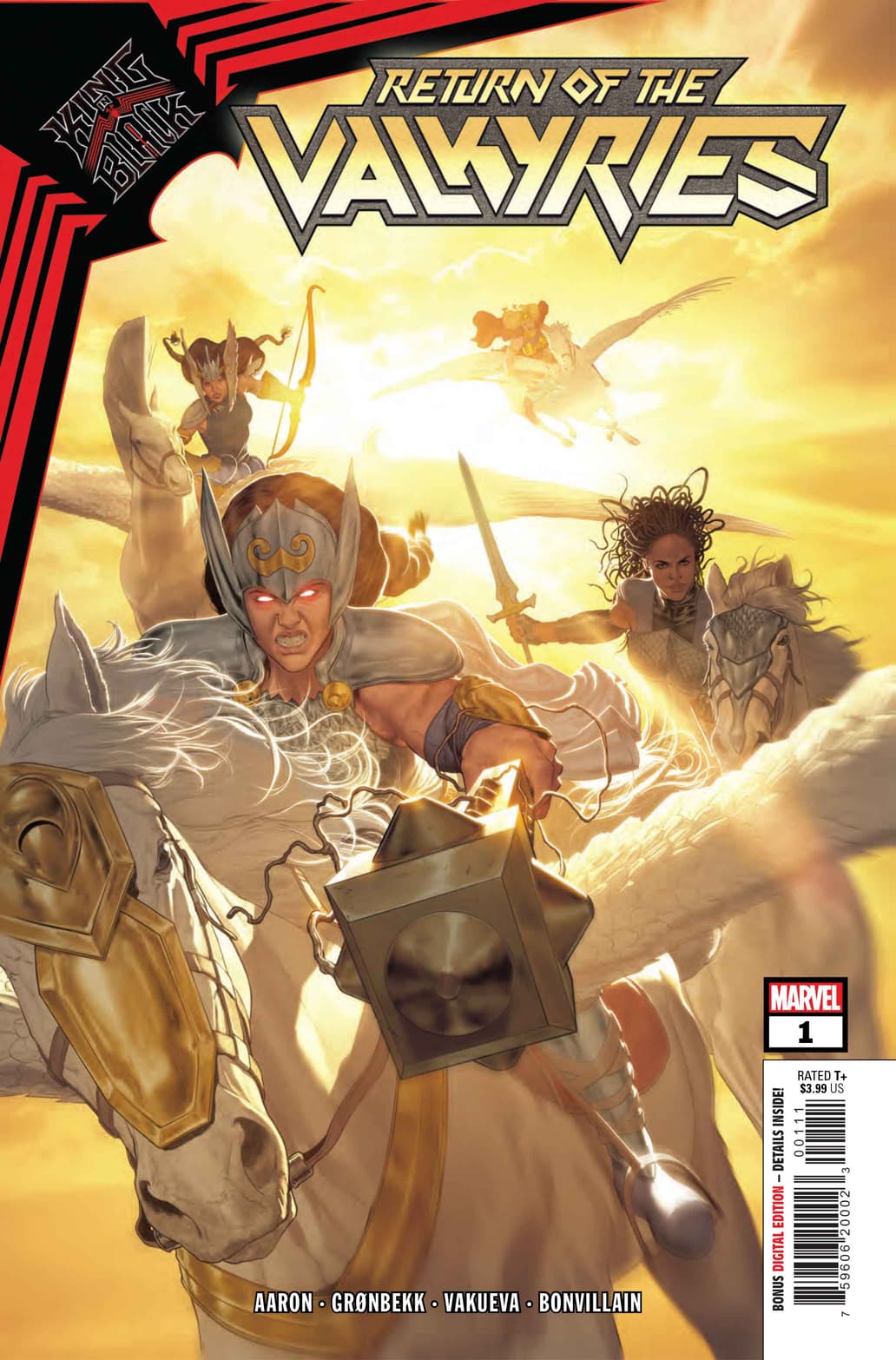 In the face of Knull's unrelenting evil, the Valkyries are needed once more. This week, co-writers Jason Aaron and Torunn Gronbekk teamed up with artist Nina Vakueva for KING IN BLACK: RETURN OF THE VALKYRIES #1, which picks up shortly after KING IN BLACK #1 as Jane comforts the recently deceased Sentry. The god of symbiotes has already overwhelmed most of Earth's heroes. One of the most powerful heroes, Sentry, was torn in half and slain by Knull himself.
Jane takes a kind approach with Sentry's soul as he shares a moment from his life as Robert Reynolds. At the moment of his death, Sentry recalled a poor joke he made that managed to elicit laughter from his late wife, Lindy. He also lamented that his death ultimately meant nothing, since Knull's rampage remains unchecked on Earth.
It should be noted that Sentry died in the same way that he once murdered Ares during SIEGE. While under Norman Osborn's influence, Sentry also destroyed Asgard and murdered one of Loki's incarnations. Somehow, Sentry has still been admitted into Valhalla, which might make the eternal feast a little awkward if he runs into anyone that he killed.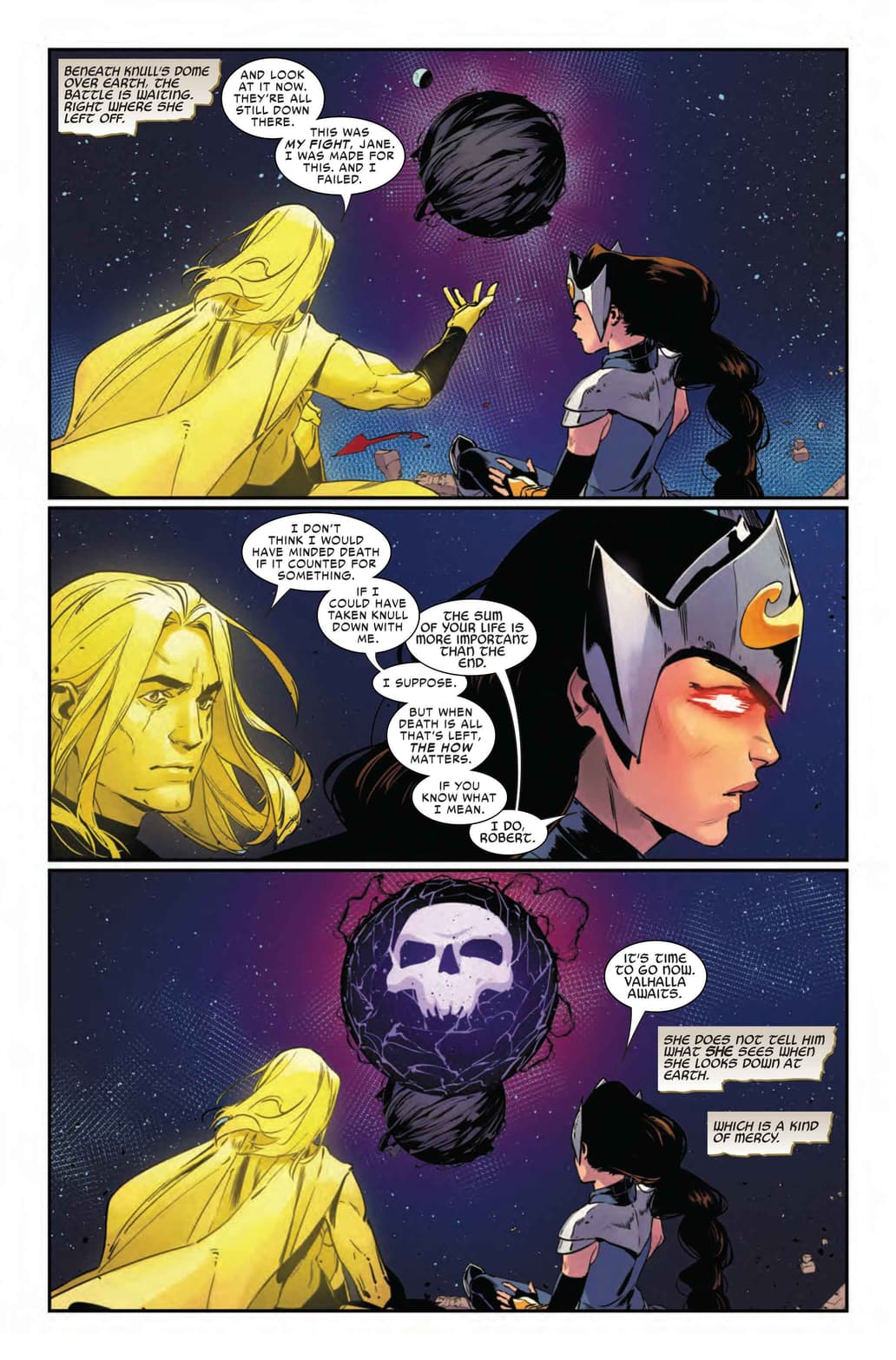 Regardless, Jane doesn't chide Sentry for any of his past crimes. She also neglects to tell him that her Valkyrie powers see nothing but death looming over the Earth. Jane allows Sentry to ride her winged horse, the aptly named Mr. Horse, as they travel through consciousness itself to reach the afterlife. Along the way, they encounter the corpse of a Celestial, presumably another one of Knull's victims. Somehow, the Celestial's body has corrupted the souls of other dead people, and now they want to claim Sentry's soul as well. And not even Sentry's power can prevent them from taking him.
Somewhere else, a lone Valkyrie drinks her sorrows away in a world that may or may not be real. This Valkyrie is special, because she was one of the original nine Valkyries who served Bor, Odin's father. Yet she chooses not to share her true name and calls herself "No One." In another time and place, this Valkyrie loved Alta, a fellow member of the Valkyries. She recalls her lover's first kiss as they bonded, as well Alita's death alongside their sister Valkyries.
Jane's omni-weapon breaks the cycle of Valkyrie's despair, and reaches through her personal Hell. The two Valkyries united against the lost souls, but not in time to save Sentry. Jane doesn't realize who "No One" really is. But with the last and the first Valkyries fighting together, their sisterhood of eternal warriors may yet live again.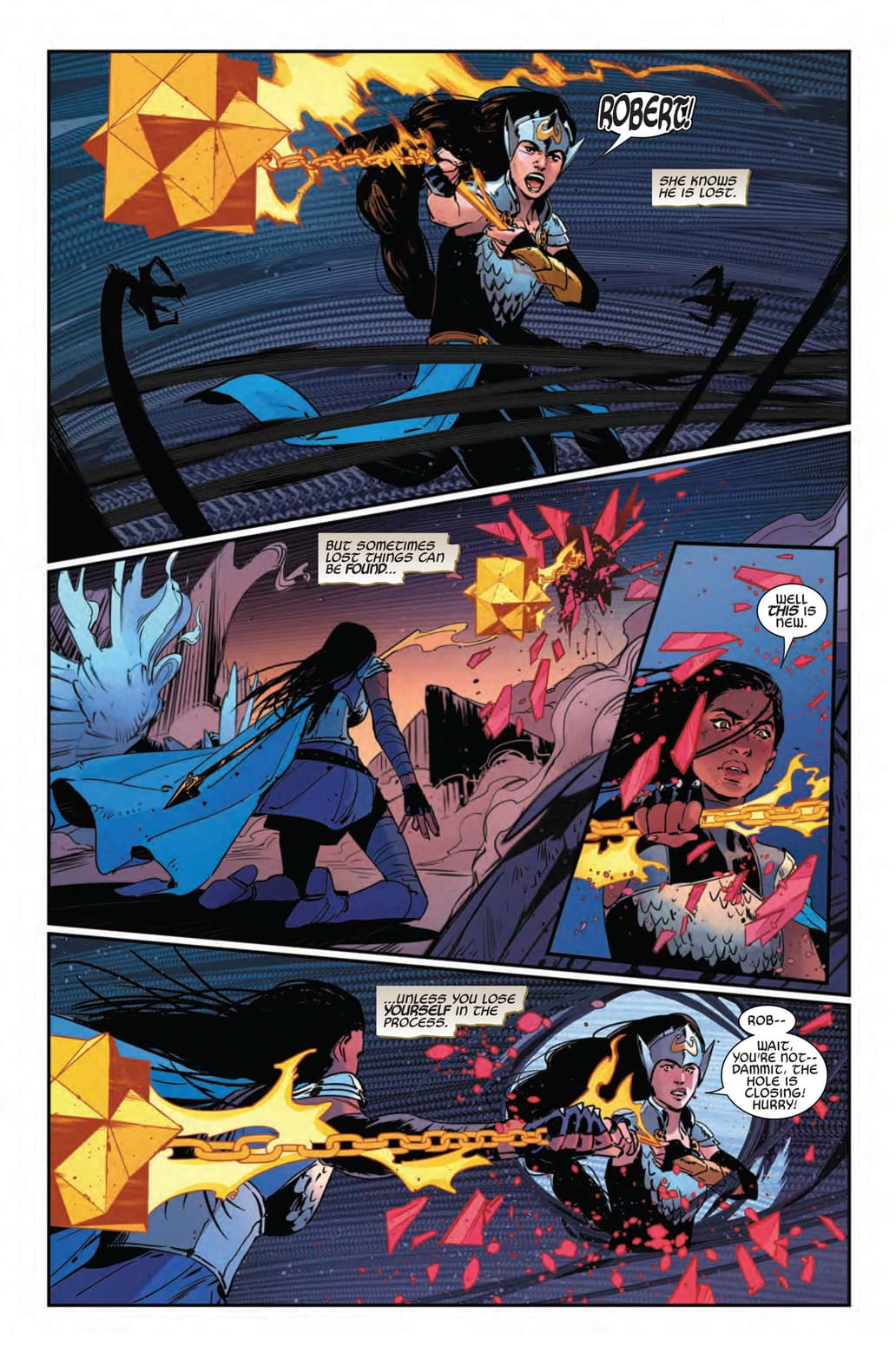 Will the rest of the Valkyries ride again? Find out in KING IN BLACK: RETURN OF THE VALKYRIES #2 on Wednesday, February 3.
KING IN BLACK: RETURN OF THE VALKYRIES #1, written by Jason Aaron and Torunn Gronbekk with art by Nina Vakueva, is on sale now online and at your local comic shop!
Be sure to ask your local comic book shop about their current business policies to observe social distancing or other services they may offer, including holding or creating pull lists, curbside pick-ups, special deliveries and other options to accommodate. Find and support your local comic book shop at http://comicshoplocator.com or by visiting http://marvel.com/lovecomicshops.
For digital comics, all purchases in the Marvel Comics app can be read on iPhone®, iPad® and select Android™ devices! Our smart-paneling feature provides an intuitive reader experience, ideal for all types of mobile device and tablet users!
For Marvel's most up-to-date release schedule for your favorite comics, visit http://marvel.com/newcomics.
The Hype Box
Can't-miss news and updates from across the Marvel Universe!