Comics
Published May 26, 2022
When Lightning Strikes Twice: The Return of the Thunderbolts
Creators Jim Zub and Sean Izaakse fire up the latest iteration of a tried and true Marvel mainstay in this August's 'Thunderbolts.'
On August 31, one of Marvel's most storied franchises makes a monumental return with writer Jim Zub and artist Sean Izaakse on THUNDERBOLTS (2022), a new series set squarely in New York City following the events of DEVIL'S REIGN. Both creators have history with the Thunderbolts, who celebrate their 25th anniversary this year.
[RELATED: Redeeming Justice … Like Lightning! The All-New Thunderbolts!]
The original run of THUNDERBOLTS first struck in 1997 when Kurt Busiek and Mark Bagley pulled off the epic reveal of the Masters of Evil posing as Marvel's newest heroes. Through the ensuing 25 years, the Thunderbolts name has encompassed a number of groups seeking redemption. Will this go-around hearken back to days of yore…or try a new mission statement?
We spoke with Zub and Izaakse ahead of THUNDERBOLTS (2022) #1 to learn more!
Prior to working on THUNDERBOLTS, what were your thoughts on the team as readers and fans?
SEAN IZAAKSE: Mark Bagley is one of my favorite classic artists so everything he drew or worked on was something I wanted to pick up and THUNDERBOLTS (1997) was one of them. The villain reveal shook me even more than the twist in The Sixth Sense! I remember in the original team that I was just enamored with Citizen V's costume design. Citizen V is the whole reason I love Baron Zemo.
My favorite issue of THUNDERBOLTS was when Hawkeye fought the whole team for leadership. So, yeah, as a fan I have a bit of history following the team in the early days of their run. It's still crazy to think I'm drawing the new version of the team that I read as a kid.
JIM ZUB: The original THUNDERBOLTS launch by Busiek and Bagley is still one of the best surprises I've ever experienced in Super Hero comics. The "villains in disguise" reveal was masterfully done and generated a ton of momentum to carry the book forward. It's a classic for good reason.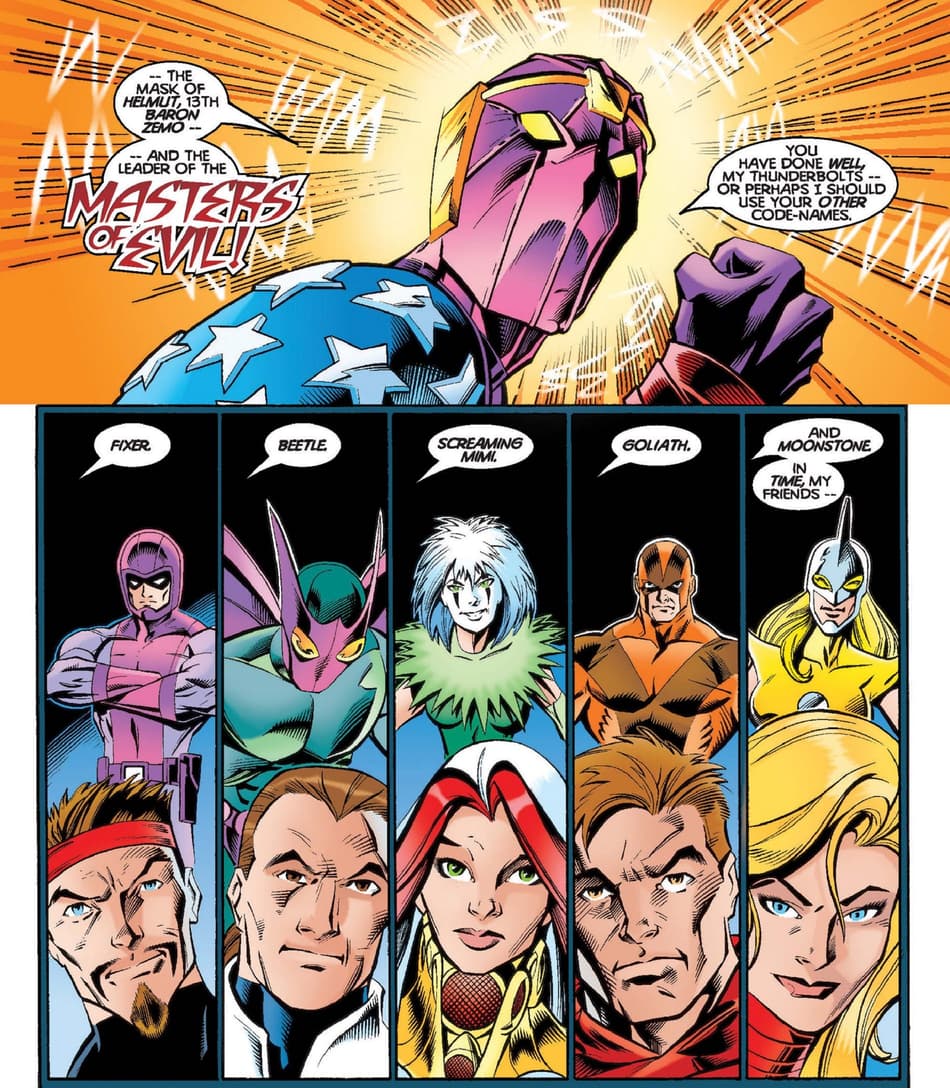 You've both worked on THUNDERBOLTS before this—can you give a brief backstory on your past association with the group?
JIM ZUB: THUNDERBOLTS (2016) was actually my first writing work in the mighty Marvel Universe, so I definitely have a soft spot for the title and am absolutely thrilled to be back launching this new version with Sean here in 2022.
SEAN IZAAKSE: [2016's] THUNDERBOLTS was the very first gig I got at Marvel. Huge thanks to Jim for recommending me. Funny story—when I was asked to work on THUNDERBOLTS, the character I was most excited to draw of that version of the team was Winter Soldier and he only showed up on the last panel of the first issue that I drew. But like with most projects, I usually end up enjoying drawing the characters that I previously had no interest in and then they become my favorites. In this case drawing Moonstone, Songbird, and Atlas was particularly fun. In the next issue though I did get to draw more Winter Soldier and Captain America.
How did this particular iteration of THUNDERBOLTS come together and how did you both become part of the project?
JIM ZUB: Editor-in-Chief C.B. Cebulski and I were talking about the post-DEVIL'S REIGN landscape Chip Zdarsky was putting together, and the concept of spinning out a new team book from that aftermath seemed pretty natural. At the same time, I'd been itching to do something Avengers-adjacent and Hawkeye was a logical choice to front this team. As ideas bounced back and forth between C.B., [series] editor Tom Brevoort, and I, the concept started to take shape. It was a really organic and fun process and they gave me lots of room to add unexpected elements into the mix.
SEAN IZAAKSE: I had just finished working on FANTASTIC FOUR: LIFE STORY (2021). I won't lie, I was very hesitant about taking on THUNDERBOLTS, another team book. I was burned out and really tired. It had been a rough year. But Jim knows me quite well and came at me with a pitch that was really difficult to turn down. He knew that Hawkeye is one of my favorite Marvel characters and totally used that to hook me to the book. Also, my first thought was that maybe I could use this to make a Hawkeye costume design. How many people get to redesign their favorite characters officially? I couldn't say no.
That, and Jim told me about how the first arc ends and I thought it was great. Also in the first issue there's some stuff in there that goes back to one of my favorite issues of WEST COAST AVENGERS and it'll be cool to see if anyone spots what I did to homage it.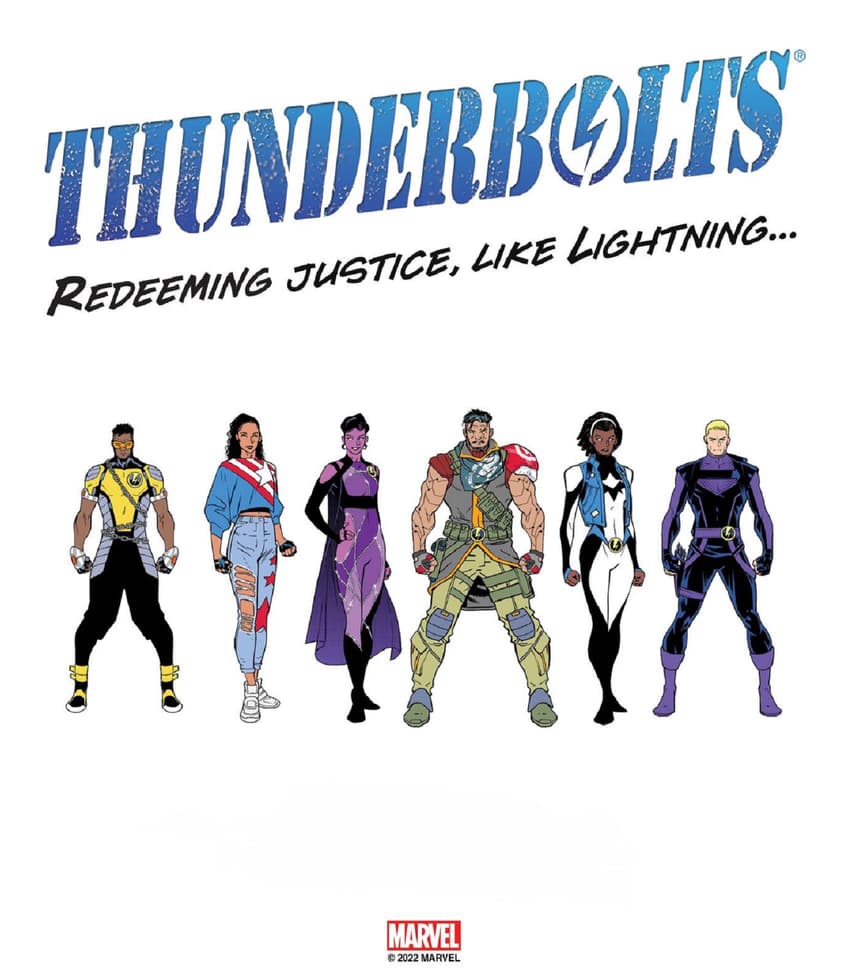 What's the high-level mission statement of this series? We know it takes place in New York City in the aftermath to DEVIL'S REIGN, but what else do readers need to know going in?
JIM ZUB: The version of the Thunderbolts that operates during DEVIL'S REIGN is a team of criminals deputized by Mayor Wilson Fisk acting under the auspices of the law in New York to enforce his anti-Super Hero legislation. They're utterly amoral and corrupt.
Both Luke Cage and Clint Barton have led the Thunderbolts in the past and they don't want Wilson Fisk's version to be the last word on that team. At the same time, the Thunderbolts are the only legally sanctioned team allowed to exist in New York City, so they decide to use that legal loophole as the basis for this new version of the team—a group specifically built to both reform and redeem the Thunderbolts "brand."
How did you select the roster? It's a fun mix of characters!
JIM ZUB: Since the team are "New York's Only Official Super Heroes," we wanted the majority of them to be based in NYC. Clint Barton has called New York home for quite a while. Monica Rambeau is a longtime resident too. America Chavez recently moved to the city as part of her "Made in the USA" series. Persuasion (AKA Purple Man's daughter Kara Killgrave) has been hiding out in New York for some time. Victor Alvarez is local and since he carries the "Power Man" title Luke Cage doesn't want to see that go to waste either.
Why did Hawkeye make sense as team leader? Obviously, he's done it before, but you've also got a veteran in Spectrum—will that cause any tension?
JIM ZUB: Absolutely. Both Clint and Monica Rambeau have led teams of Avengers in the past and each has lots of experience, but also different leadership styles so, right from the start, things are stressful. Monica doesn't necessarily want to be leader here, but she naturally gravitates to that position, especially when things get out of hand. Clint is rushing headlong into this and wants to recapture the rush he had when he headed up the West Coast Avengers, but just wanting things to be like they were doesn't make it so. Add in the limitations and expectations as a part of New York's policing system and the whole thing is going to get interesting.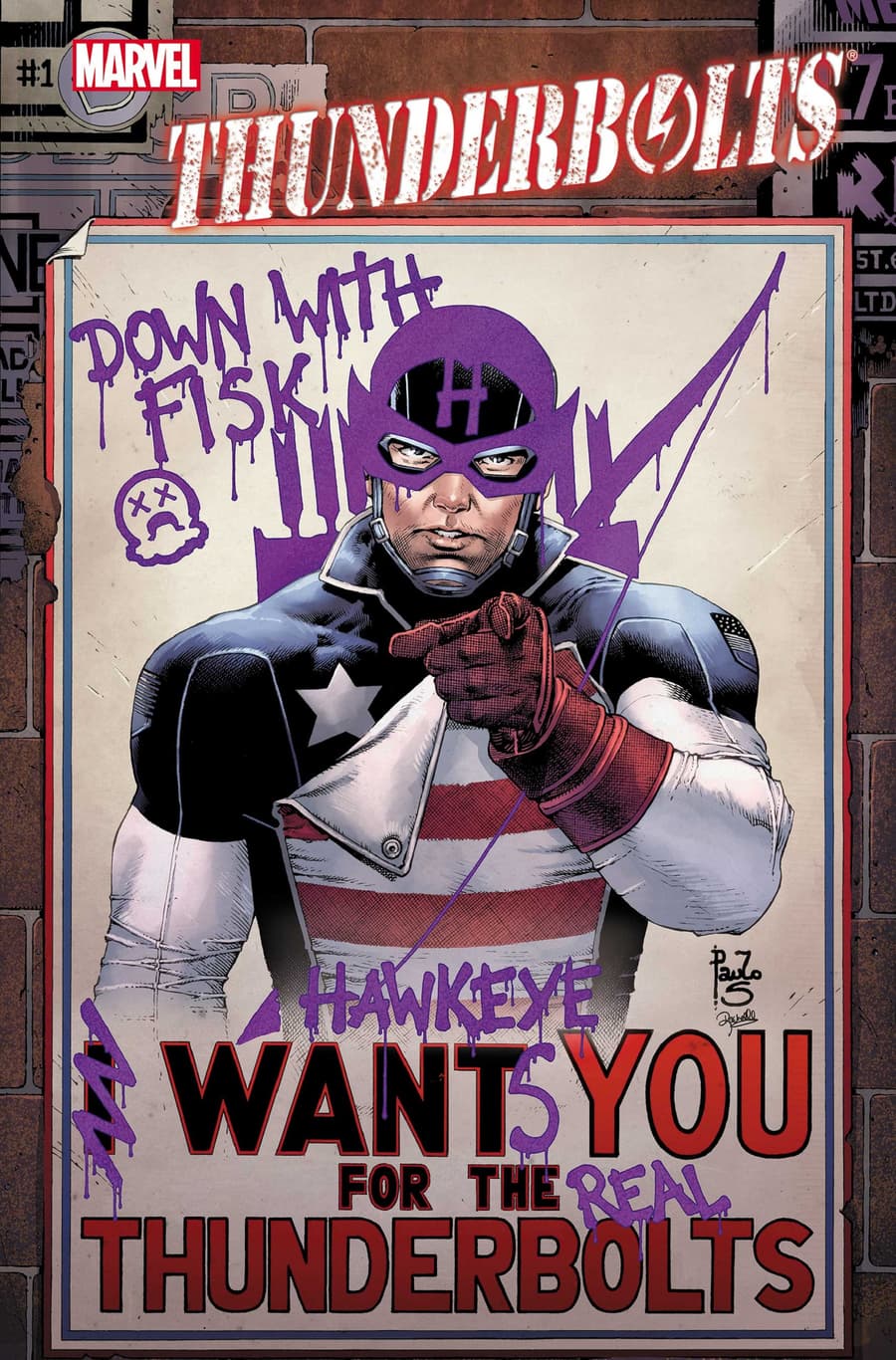 Who among the cast are you most enjoying either writing or drawing?
SEAN IZAAKSE: Hawkeye obviously. So there might be a couple tweaks in costumes between issue #1 and the rest of the series. Sometimes elements I like when coming up with a design don't work as well sequentially, so I sorta leave them off. But that's a minor thing. So Hawkeye definitely and some of the others I'm still getting used to. I'm enjoying drawing Power Man a lot too!
Persuasion and America Chavez are interesting because their costumes are going to change throughout the series so what might work this issue for me might not the next.
JIM ZUB: Clint's interactions with Helen, a new character doing public relations for the team, is probably the most fun to write at this point. The banter between them is a lot of fun. She acts as a grounding force for Clint's assumptions and reminds him that this team is answerable to the public in a way he's really not used to.
Tell us more about the new character joining the team, Gutsen Glory. What went into his conception as a character?
JIM ZUB: Guts is a new character we've purposefully made in the mold of a throwback 90's character. He's a military man festooned with high-tech weaponry and a mysterious past. We're leaning into a bunch of clichés at the start and then slowly peeling back those surface layers to show readers something a bit deeper as the series continues.
SEAN IZAAKSE: When I got Jim's description of the character I went back through a whole bunch of 90's character designs with the pouches and the tertiary color schemes. I wanted to try to bring that out in his design. Lots of the 90's characters had shiny cybernetic parts but I wanted to make him stand out by being less shiny but still have cybernetic parts that sort of assemble. A bit more of a covert cyborg soldier. But he still has the other classic hallmarks of a 90's character—scars and a cybernetic eye and big guns. I hope people dig him.
What's the story behind the "Redeeming Justice" variation on the team's familiar catchphrase? And, how will this book honor the 25-year history of the Thunderbolts while also pushing them into the future?
JIM ZUB: There have been a lot of different versions of the Thunderbolts over the past 25 years, lots of reinventions and unexpected team lineups but, at the heart of every one of those runs is the concept of redemption—villains trying to be heroes, heroes struggling against corruption or corrupted systems, or characters striving to pull themselves back from the brink of disaster.
The Thunderbolts have never been ideal in word or deed and the deep flaws they carry keep readers constantly guessing in terms of what they might do next. This Thunderbolts team lineup is very different than in the past but thematically we're targeting concepts that get right to the heart of what the Thunderbolts represent. I can't wait for readers to see how it all plays out.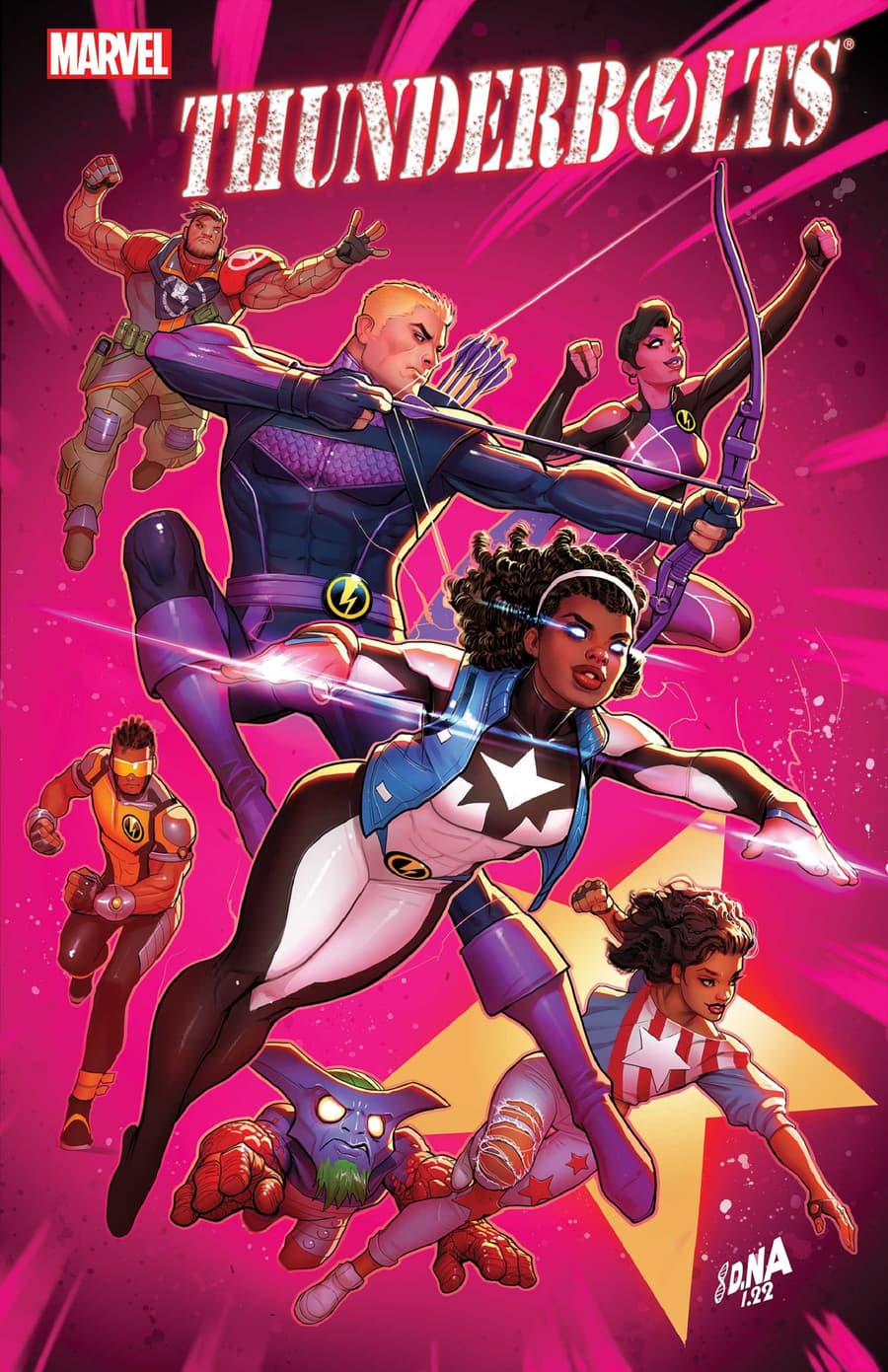 The Hype Box
Can't-miss news and updates from across the Marvel Universe!