Comics
Published September 16, 2020
Jordan Blum and Patton Oswalt Put Their Heads Together for 'M.O.D.O.K.: Head Games' #1 This December
The showrunners of the upcoming Hulu series team up for a journey into the mind of M.O.D.O.K.!
Before he hits the small screen, the harrowing "head" of AIM is getting a new comic! M.O.D.O.K. will get mental in M.O.D.O.K.: HEAD GAMES #1, written by none other than Jordan Blum and Patton Oswalt, the showrunners of the upcoming animated Marvel's M.O.D.O.K. on Hulu! Scott Hepburn will provide the art for the comic, which makes its debut this December!
Here's the cover by Cully Hamner!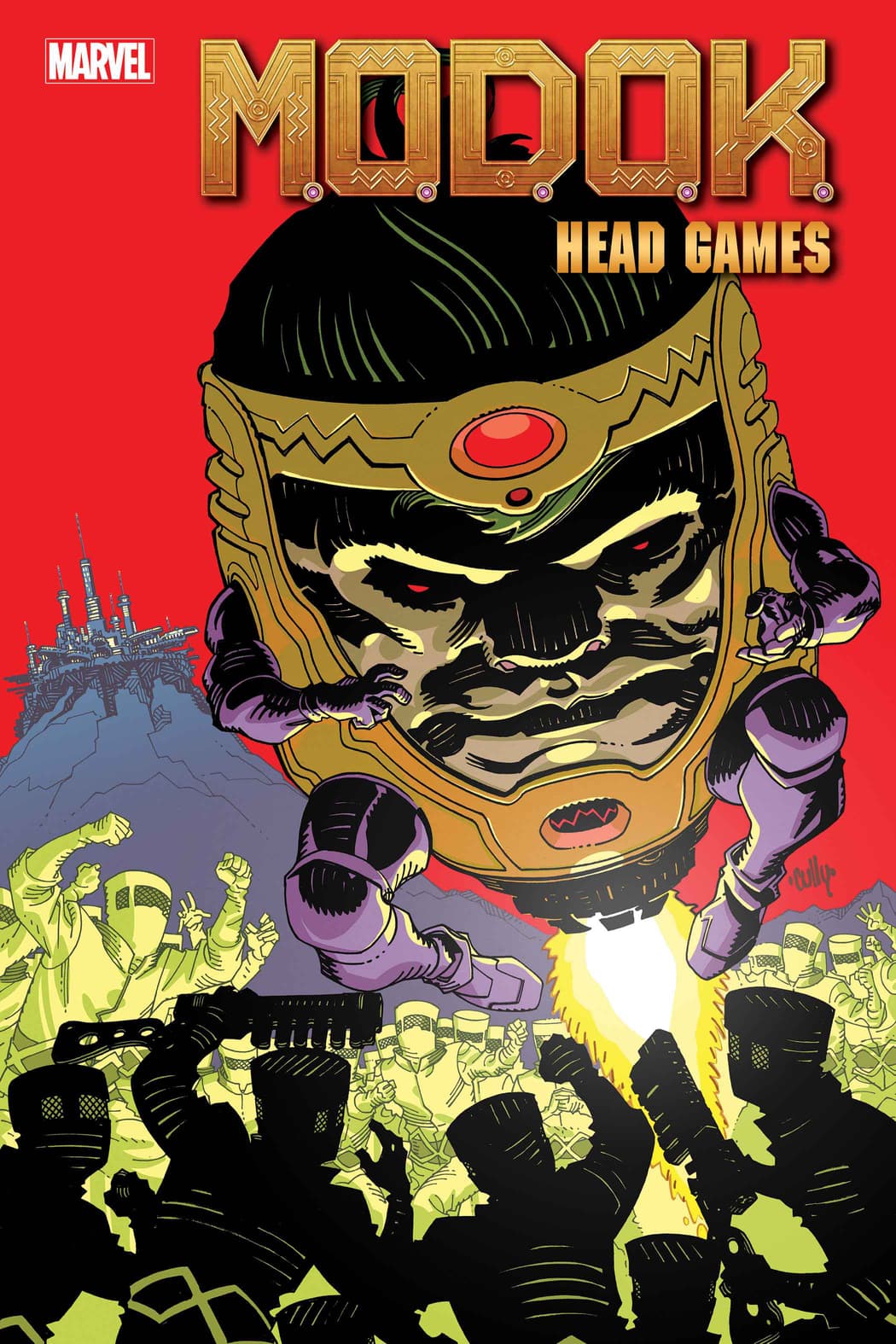 Blum and Oswalt (who will provide the voice of M.O.D.O.K. on the show) talked to A. V. Club about working on the comic together:
Oswalt: "One of the things that tickled us about M.O.D.O.K. was his insistence on keeping up this intimidating/frightening front even when all visible evidence pointed to the opposite. Even from the git-go, those early Kirby issues, he's still frothing and gnashing about the majesty of himself even when he's been knocked to the ground. The malevolent Weeble was love at first sight for us. So after exploring every aspect of that in the series — showing him in lonely moments when he's got no one to impress but this desperate self-image he keeps trying to prop up — it was super-fun to bear down on M.O.D.O.K. trying to unravel a specific mystery about his origin."
Blum: "Obviously, we were huge fans before we ever pitched the show, but after Marvel agreed to make it, we went back and tracked down every M.O.D.O.K. appearance in the comics. I had read a lot growing up, especially the Mark Gruenwald/Captain America Serpent Society issues, but reading everything really filled in some gaps. What you find is M.O.D.O.K. is an incredibly versatile character. He can be very Silver-Agey and arch, other times incredibly menacing and violent like in the video game and obviously very comedic like in GWENPOOL or our show. Trying to marry all these versions is what led to the idea for the story we're telling in the comic. ... We were really stoked to write "Marvel Comics Proper" M.O.D.O.K. and not just the funny version in our show."
From Patton Oswalt and Jordan Blum, showrunners of the upcoming animated Marvel's M.O.D.O.K. show on Hulu, comes a journey into the mind of one of the biggest heads in the Marvel Universe! M.O.D.O.K. is the ruthless and brilliant leader of the terrorist organization AIM, outsmarting heroes and outmaneuvering his cutthroat colleagues gunning for his position… but when he begins to be haunted by memories of a family he never had, it leaves him unsure if he is losing his freakishly large mind, or if perhaps there is a lot more to this enormous mind… or if there is something more sinister behind these visions.
M.O.D.O.K.: HEAD GAMES #1 arrives in comic shops and digitally this December!
Be sure to ask your local comic book shop about their current business policies to observe social distancing or other services they may offer, including holding or creating pull lists, curbside pick-ups, special deliveries and other options to accommodate. Find and support your local comic book shop at http://comicshoplocator.com or by visiting http://marvel.com/lovecomicshops.
For digital comics, all purchases in the Marvel Comics app can be read on iPhone®, iPad® and select Android™ devices! Our smart-paneling feature provides an intuitive reader experience, ideal for all types of mobile device and tablet users!
The Hype Box
Can't-miss news and updates from across the Marvel Universe!