Comics
Published October 13, 2017
Kirby 100: Banner-Hulk
Stan Lee and Jack Kirby team-up to tell a Hulk story for the ages!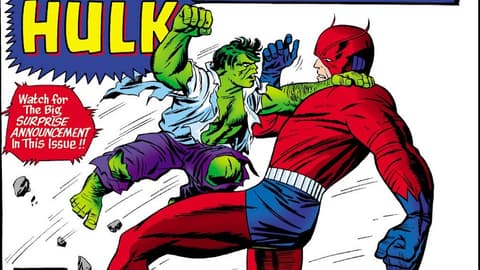 1917 to 2017: 100 years of Kirby.
Join us to celebrate Jack "King" Kirby's 100th birthday by learning about the characters and stories he created that changed comics forever. To commemorate Jack's centennial, we've sat down with the modern-day creators he influenced—and the decades of work he gifted us all.
One year after the first volume of INCREDIBLE HULK ended with issue #6, the Jade Giant threw down once again—this time with his former Avengers teammate Hank Pym—in the pages of TALES TO ASTONISH #59! The team-up proved to be such a hit that Hulk stuck around the series until it became the second volume of INCREDIBLE HULK with issue #102.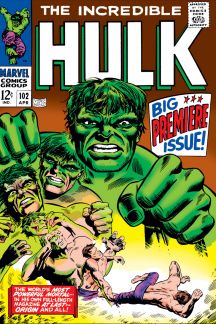 Though he drew covers for the Hulk's monthly return, Jack Kirby wouldn't start penciling interior adventures until issue #68, when he reintroduced The Leader. At the time, Bruce Banner had been branded a potential Communist for seeming to help The Hulk—whom the government had a great suspicion in. Banner even appeared to die by a gunshot wound at the end of issue #69!
In TALES TO ASTONISH #70, the U.S. Army investigated the Leader's lab in search of The Hulk—before concluding that the Jade Giant had escaped and that Banner's body went missing. Turns out, Banner's old friend Rick Jones previously snuck into the lab, stole the body and drove it to one of Bruce's own laboratories—where he hoped to revive The Hulk, and with him, Bruce!
Rick succeeded in reviving them, but inadvertently brought Bruce's consciousness back in the Hulk's body. Banner quickly realized that, if he changed back into his human form, the bullet lodged in his brain would kill him instantly. To stave off such an event, Dr. Banner needed to stay in his Hulk form as long as possible.
The Leader, meanwhile, unleashed a 500-foot-tall Humanoid to take on all comers. In response, The Hulk and the army formed a temporary truce to deal with the new, more urgent menace. The Leader's invention, however, proved powerful enough to withstand the onslaught—until issue #71.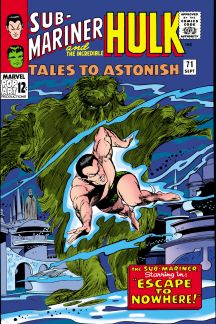 In that book, General Ross launched a missile called "the Sunday Puncher" at—and seemed to destroy—the Humanoid. In response to the attack, The Leader commanded his creation to immolate itself, so that the military had nothing to study. And The Hulk remained in his Banner-controlled state until he found a solution and turned back into his human form.
Stay tuned to Marvel.com for more Kirby klassics! And join the conversation on all of our social channels with the hashtag #Kirby100.
The Hype Box
Can't-miss news and updates from across the Marvel Universe!