Comics
Published December 7, 2017
Kirby 100: Death Before Dishonor
Nick Fury and S.H.I.E.L.D. meet up with the menace of A.I.M.!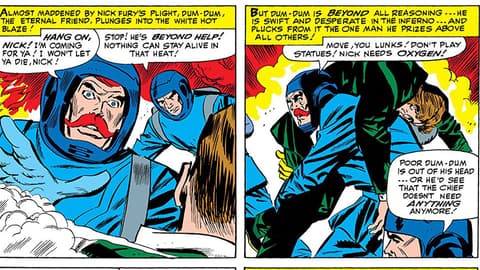 1917 to 2017: 100 years of Kirby.
Join us to celebrate Jack "King" Kirby's 100th birthday by learning about the characters and stories he created that changed comics forever. To commemorate Jack's centennial, we've sat down with the modern-day creators he influenced—and the decades of work he gifted us all.
With 1966's STRANGE TALES #148, the formula for Nick Fury's segment of the book got a bit of shake up when Jack Kirby not only drew layouts for Don Heck to finish, but also scripted the story with regular writer Stan Lee reportedly on vacation! The resulting story, called "Death Before Dishonor," began with a bang as Marvel's top spy waded through fire while S.H.I.E.L.D. agents—wearing protective gear—fought the blaze with a series of chemicals.
Though the others wrote Fury off as dead from exposure to the elements, Dum Dum Dugan plowed through, tossed his Howling Commandos leader over his shoulder and made way for the Vita-Fluid-filled Restora-Tank. Distraught over the potential loss of his friend, Dugan responded with appropriate shock when Fury appeared behind him and revealed that a Life Model Decoy floated before them.
Fury and Jasper Sitwell then recounted how the fire started in the prisoner holding area. The head honcho wanted to question the captured members of A.I.M. in person, but instead used an L.M.D. as his eyes, ears, and mouth. This proved a good call as Advanced Idea Mechanics somehow used a remote detonator to blow their own people up!
The action then shifted to the public face of A.I.M., Count Bornag Royale, watching his enemies deal with the fire from a secret base. While he left to manipulate the Free Nations' Justice Department to bring Fury in front of their Board of Inquiry, an A.I.M. contingent promised to grab an L.M.D. for research purposes. After checking out an x-ray projecting gun and hearing from Sitwell how easy breaking into his office proved, Nick sat down for another nail in the coffin: the official summons to appear before the Board on Inquiry.
Nick agreed to appear, and on the day of the supposedly secret meeting, A.I.M. took advantage of the timing to raid the S.H.I.E.L.D. L.M.D. facility. After listening to many bad-mouth him, Fury got fed up, smashed through a window of the Helicarrier, and used a belt parachute to land on the ground where Dugan awaited his arrival.
In the next issue—which featured a script by Denny O'Neil along with Kirby layouts and Ogden Whitney finishes—Fury and his soldiers make an epic move to save their facility while also putting a huge dent in A.I.M.'s operation!
Stay tuned to Marvel.com for more throughout Kirby Month and beyond! And join the conversation on all of our social channels with the hashtag #Kirby100.
The Hype Box
Can't-miss news and updates from across the Marvel Universe!