Comics
Published September 14, 2017
Kirby 100: Meet…Doctor Doom!
David Baldeón looks back at the introduction of the FF's greatest foe!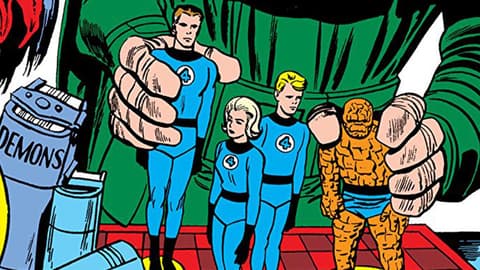 1917 to 2017: 100 years of Kirby.
Join us this month to celebrate Jack "King" Kirby's 100th birthday by learning about the characters and stories he created that changed comics forever. To commemorate Jack's centennial, we've sat down with the modern-day creators he influenced—and the decades of work he gifted us all.
Sometimes a comic comes along and changes everything for a reader. For SPIRITS OF VENGEANCE artist David Baldeón, it turned out to be FANTASTIC FOUR #5. As he explained in yesterday's Kirby 100 installment, seeing the King's work in that classic 1962 issue in a Spanish reprint completely changed how he looked at comics. He left behind other books and fully focused on Kirby!
Looking back at this issue, it's no wonder that it so completely captured the future artist's imagination. Not only does this installment introduce the world to none other than Doctor Doom, but it also features kidnapping, villainous origins, time travel, and the male members of the FF playing pirate!
"I'm not sure I took it all in," Baldeón recalls. "Not in the first read, at least. It was all image after image after image. The nets, Blackbeard Thing, the sequence of Thing putting on his pirate disguise—I had never seen something like that. Mr. Fantastic stretching from boat to boat! That panel alone broke all the ideas I had in my head about comics. And Doom's story! It was just too much. But I do remember the feel of 'there's so much more.' There [are] other stories behind and around this thing I'm reading, it's all part of something bigger, and not knowing exactly what was exciting and enticing."
To get into a little more detail, the issue kicked off with this new villain, Doom, vowing to defeat the Fantastic Four. Back in their building, Johnny and Ben get into a fight over the Torch's Hulk comic book before Reed and Sue break it up. They really stopped, though, when Doom surrounded their building with electrified cables and asked for Sue to come up, followed soon by the others.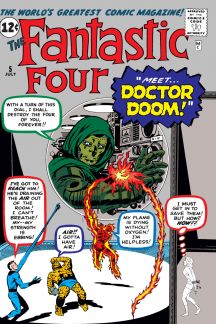 "I think this probably was the first time I saw Doctor Doom," Baldeón remembers. "I had already read quite a few Marvel comics, but mostly Spider-Man. And of course, I didn't have the slightest idea of who he was and what he meant! I did know, though, that that was not your average, run-of-the-mill villain. That design!"
Doom showed his true evil by bringing the team back to his castle and then demanding Mr. Fantastic, Thing, and Human Torch go back in time to steal Blackbeard's treasure and return with it. Thrust into the past, Thing donned Blackbeard's togs while Reed and Johnny dressed as standard pirates and they got the job done. Though Doom clearly became the most memorable part of this story, Blackbeard Thing has also taken on a life of its own.
"Honestly, I think it was just Kirby's magic," says Baldeón. "The Thing as Blackbeard is just one of those ideas that just cannot work or make any kind of sense, unless you're Kirby and do it effortlessly, with just the right amount of epic and comedy and power and pure raw energy to make it not only possible, but iconic."
Upon the team's return, Doom turned out to be a robot, setting the stage for a recurring twist still used to this day. The real Doom then began to suck all the oxygen from the room, but Sue saved the day by rescuing her teammates. In the end, they escaped with their lives, but didn't get their hands on the villain who would become nearly synonymous with the team itself!
"Looking back at it now, it's just incredible that there's so much information and so many concepts seamlessly contained in just one issue," Baldeón concludes. "It has not lost one ounce of power, and it still works like clockwork. It is strange to think of 'clockwork' when talking about such an apparently raw, untamed sci-fi/fantasy story. But still, there it is. The pacing, the comedy. You can see why it is a classic. I go back to it and completely understand why it made such an impact."
Stay tuned to Marvel.com for more throughout Kirby Month and beyond! And join the conversation on all of our social channels with the hashtag #Kirby100.
The Hype Box
Can't-miss news and updates from across the Marvel Universe!